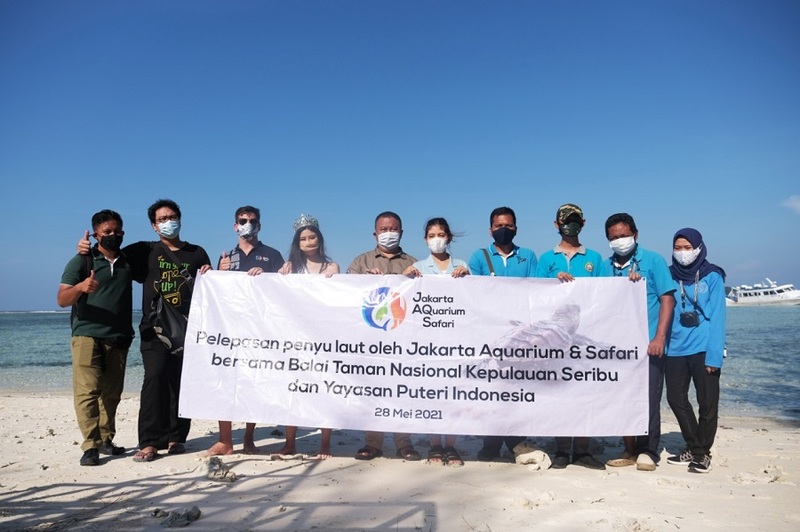 Jakarta Aquarium and Safari (JAQS) released sea turtles back to the wild for the first time as part of what they see as their obligation to support wildlife conservation, as a centre for conservation and education. JAQS, despite its appearance as a centre of entertainment, also facilitates education and raises awareness of species, their ecological importance to nature and to humans, and what threatens them. Saving and rehabilitating turtles is one of their many activities in this respect.
In fact, JAQS often takes in animals that are sick, damaged, or weak, exposed to heatstroke, or caught in fishing gear for example, and returns them to full health so they can be released into the wild with every opportunity to succeed in life and continue to breed. This particular sea turtle release was done as part of their responsibility as an ex-situ Conservation Institution (Taman Safari Indonesia Group), under the supervision of BKSDA (Balai Konservasi Sumber Daya Alam) and the Ministry of Environment and Forestry (KLHK).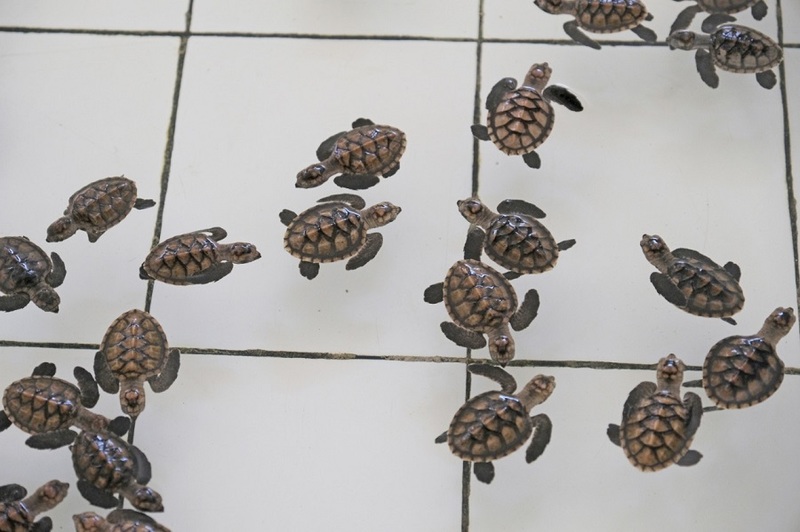 "Jakarta Aquarium and Safari is really happy to collaborate with Pulau Seribu National Park Center and Puteri Indonesia Foundation to release these turtles and hatchlings as a form of our responsibility as a conservation institution that cares about the animal and environmental conservation," said Fira Basuki, Head of Social, Branding and Communication JAQS
A mature turtle and dozens of hatchlings were released into Cikaya Beach, Karya Island, Panggang Island Village, Pulau Seribu North District, which is just off the North Jakarta shore. JAQS was represented by Aaron Morgan Jupp, a Curator and Putu Ayu Saraswati, Puteri Indonesia Lingkungan 2020 and accompanied by Pulau Seribu National Park team, Pulau Pramuka, and the Jakarta Aquarium and Safari team.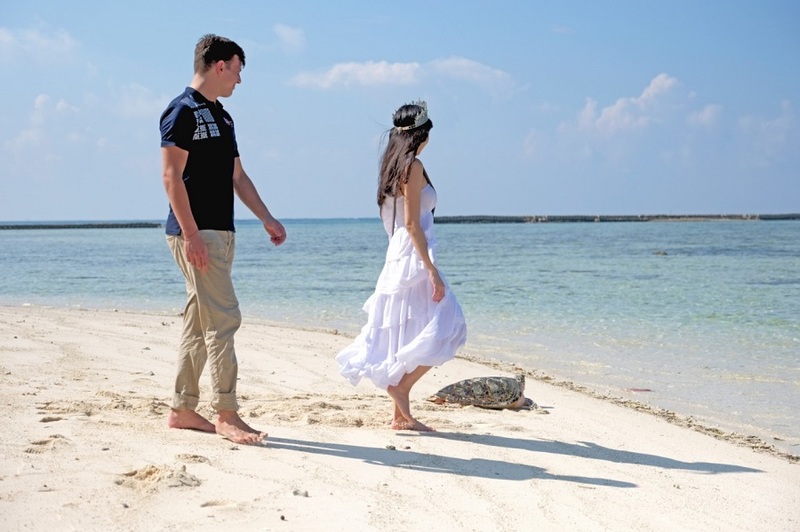 What was released was an adult Hawksbill Sea Turtle (Eretmochelys imbricata) and 30 hatchlings. This environmental conservation activity was also carried out to commemorate World Environment Day which falls on June 5, 2021.
"Actually, we housed a total of 6 animals. 1 Green Turtle and 5 Hawksbill Turtles. Some are still living at the Pramuka Island Turtle Sanctuary Center awaiting release - they are not quite ready for the wild so they need more time to build strength, muscle mass, and overall weight," said Aaron.
Of the seven species of sea turtles worldwide, the Green Turtle and Hawksbill Turtle most often live in Indonesian waters. Both are seriously endangered, classified as endangered and critically endangered respectively. The reduced population of this species has drastic consequences for their stability and future existence; because fewer animals reproduce, reduced genetic diversity in populations makes them vulnerable to greater risk of disease, parasites, and other stressors.
Sea turtles can take up to 50 years to mature before they are ready to reproduce and even when they are able to create the next generation of animals, the survival rate is close to only 1 in every 1000 babies born who will reach adulthood and reproduce themselves. Sea turtles are not often successfully bred in captivity due to many factors, obstacles to finding healthy animals that can actually reproduce are not common - as most animals rescued in aquariums are often too young, too sick, or otherwise.
The world must recognize that global warming is a significant threat to sea turtles, as warmer temperatures create an imbalance in the sex ratio. The sex of turtles is determined by the temperature at which they are incubated at 27.7 degrees Celsius and below that temperature males are often born, while temperatures above that produce females. If global temperatures continue to rise and the sand in which eggs are laid continues to warm, then all future sea turtles are likely to be female, so the species could face extinction without an adequate male ratio to mate.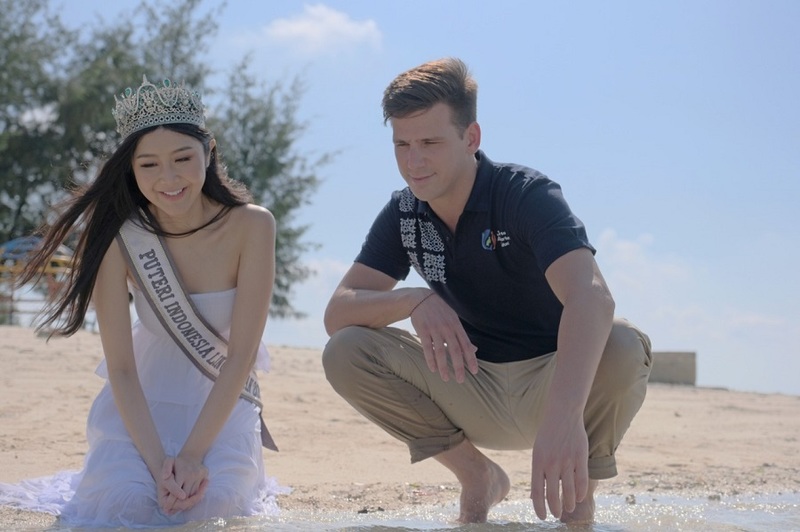 "We can help this situation, by safely collecting eggs and incubating them at the right temperatures that produce males and then releasing them when ready to hatch. Support from legitimate organizations that do this and reduce our carbon footprint as consumers can go a long way in addressing this issue. Each individual returned to nature has the potential to contribute his or her own unique genes to the population and support the species as a whole," said Aaron.
The Acting of Panggang Island Village Head, Iskandar, said that his party welcomed the activity, as an effort to promote the Enchantment of Pulau Seribu Tourism where the Archipelago area has the potential to be developed. "It is hoped that this activity can have a good impact on the development of community-based tourism. And these activities can be sustainable," said Iskandar.
Puteri Indonesia Environment 2020, Putu Ayu Saraswati expressed her joy when she was chosen to accompany JAQS in this turtle release. Ayu said, "Pulau Seribu is not only a place for recreation but also a combination for education and conservation that has a good impact on the surrounding environment. That's why I am happy when Jakarta Aquarium and Safari invites me to participate in releasing turtles for the sake of preserving animals and the environment. If we can take care of animals and the environment properly, it will certainly have an economic, social and cultural impact."
In addition to releasing turtles, other activities include planting 50 mangroves on Pramuka Island, one frame transplanting seagrass.
"In addition to releasing the hatchlings, we are also planting mangroves with Puteri Indonesia Environment 2020, then planting seagrass," said Kusminardi, Head of SPTN Region III Pramuka Island, Seribu Islands National Park Center. "We wish them a long and prosperous life, enjoying coral reefs and the open seas in the wild - contributing to the management of these coral reefs and seagrass beds by maintaining ecological balance - eventually finding a mate to mate and producing many babies for the future," said Aaron.
"Of course, we will carry out this release activity regularly, as well as with other animals that we have bred at the Jakarta Aquarium and Safari, for example, rays, sharks, and many more," said Fira.
You can support the Jakarta Aquarium & Safari wildlife conservation action by visiting the Conservation Institute as well as a recreation area located at Neo Soho Mall, West Jakarta. Open every day from 10.00 AM to 21.00 PM.
For ticket information and other details, please visit the website www.jakartaaquariumsafari.com
Jakarta Aquarium & Safari
NEO SOHO at Podomoro City Floor LG 101 - LGM 101
Jl. S. Parman Kav 28, Jakarta Barat
+62 21 2789 3435
[email protected]
www.jakartaaquariumsafari.com