Founded in 1970, IHS is a vibrant community of expats and Indonesians with a keen interest in art, culture, history and passion for all things Indonesian.
Coming to Jakarta, you'll find yourself in a country with unimaginable proportions, possibilities and points of interest, but the recommended mission is clear: for those interested in archaeology, art and history, ethnography and religion and local culture or geography, the Indonesian Heritage Society (IHS) is your go-to place. No prequalification is needed aside from curiosity for Indonesian Archipelago and moderate English skills—there are plenty of events within the various Language Sections in French, Italian, Chinese, Korean and Japanese. IHS has an excellent reputation among locals as well and recruits many members from the Indonesian community.
"Unity in Diversity" (Bhinneka Tunggal Ika) is the national motto written in the preamble of the constitution by the founding fathers of an independent Indonesia. It might sound a bit lofty, but this unifying idea could also be the custom-made headline of IHS. The range of the non-profit organizations diversity is best shown on the day of the Selamat Datang, happening this year on the morning of Wednesday, 11 September, where IHS will showcase in one go the distinct range of activities for friends of Indonesian art, culture and history. Members and newcomers are equally invited to this annual event at the Erasmus Huis within the Dutch Embassy.
At the event, active IHS volunteers will take visitors on a journey through the culture of Indonesia. They will offer details on IHS sections and invite all to register for all kind of groups and events. The spectrum of tours, talks, lectures, workshops, study groups, excursions and other activities offers something for everyone.
The Evening Lecture Series (ELS) is a great platform to learn about IHS. These events usually attract many non-members in a colourful mix of people who enjoy the relaxed atmosphere of socializing and inspiring message in the hospitable setting of the Erasmus Huis. The monthly talks showcase controversial topics of contemporary Indonesia, and include "travels" through history, arts or philosophy.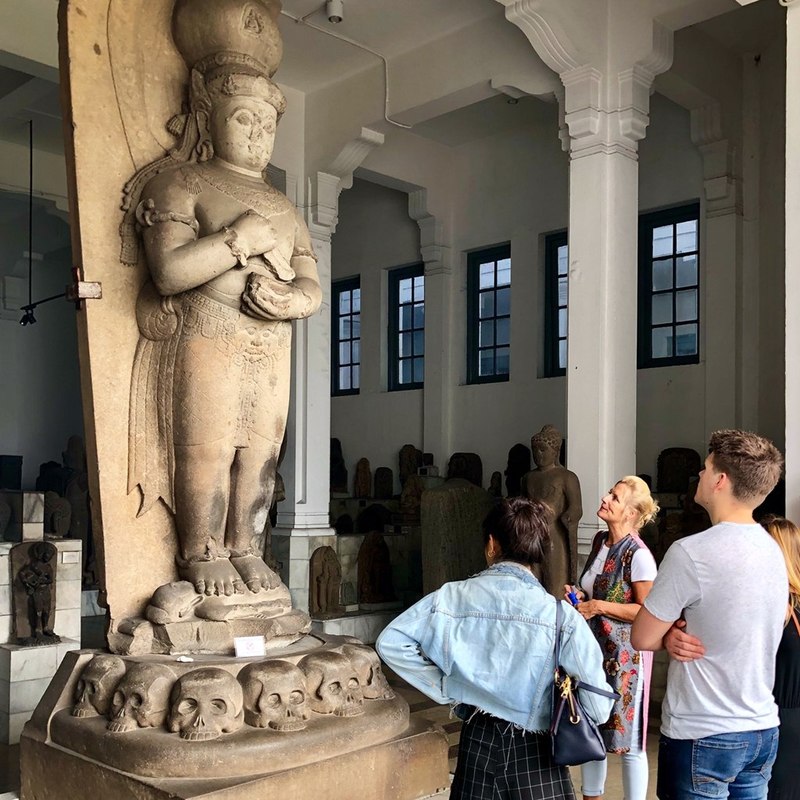 The Museum Tours at the Museum Nasional Indonesia are certainly the most visible part of the IHS community activities. Well-trained volunteer guides of IHS conduct regular tours four days in a week in various languages, which are very popular with foreign visitors and locals. The Guide Training Course is open to all members, but capacity is limited. This passion demands a high level of commitment and also asks for an on-going discipline of the guides, but it's certainly one the most rewarding experiences for everyone.
Rumahku, Coffee Morning and the Night-Study-Group are other intriguing monthly lecture events, where senior and new speakers, authors, artists or scientists spark interest with their in-depth knowledge on a certain topic. Rumahku, literally meaning "my house", is an event held at very delightful places, such as Ambassadors' residences.
Other popular events organised by IHS in addition to the above include the colourful "Blue Lotus" social event, which heralds into a quieter summer break. Then there is the "White Elephant" gathering where one can make bargains in favour of the IHS involving donators who are happy to get rid of some stuff. In addition to these proven concepts, IHS likes to stay on the trendy side: each season the sales team releases a range of new handcrafted signature IHS merchandise, which are sold to support the association financially. This season, you might want to check out the "Made in Indonesia" special events.
IHS is a volunteer-run organization led in a very professional style and supervised by a Board of Trustees. In addition to the President, Vice Presidents and Treasurer, there is a whole row of Co-chairs responsible for the mentioned areas. In addition, some of them hold positions found in any well-functioning company: Public Relations, Marketing, Events, Sales, IT, etc. Therefore, depending on their own preferences, everyone can contribute and find a place within IHS.
IHS currently consists of members from 41 different nationalities and Indonesian nationals united to achieve one goal: to explore Jakarta and Indonesia, to learn about all kind of aspects within the Archipelago and to share this knowledge. Speak to any active volunteers of IHS and they will tell you they don't "work" for this organization—they live this cultural network with great passion.
Do not miss the opportunity to join the "Selamat Datang" Event on Wednesday, 11 September!