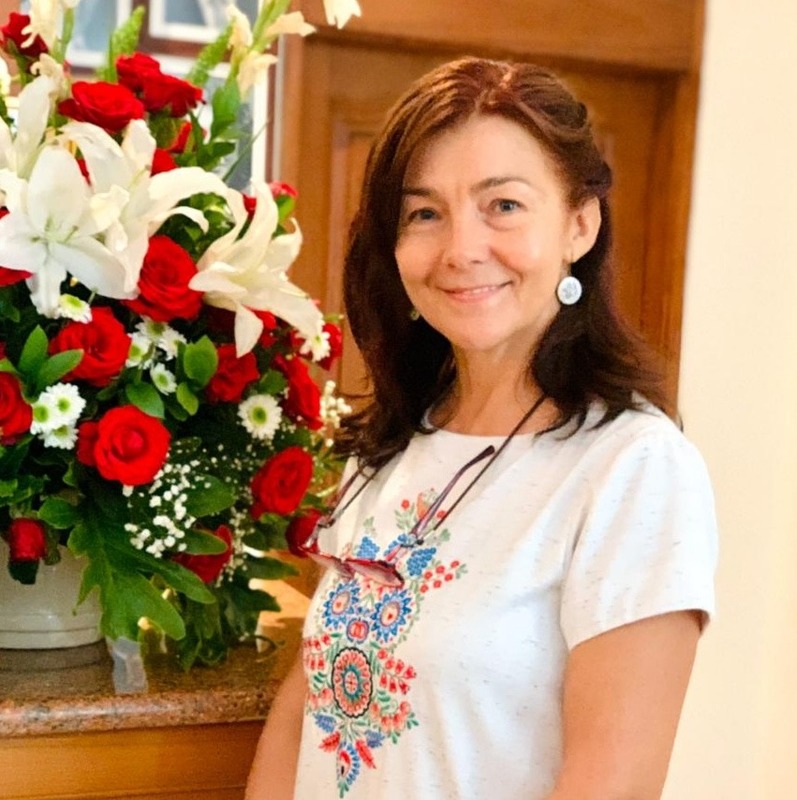 We are now living in a special time like never before. And like other people, it is not easy for Mrs. Beckova to just stay at home doing her part to fight against Covid-19. On the other hand, for her, it is a challenge and time to realise what's important in life and what should be prioritised.
Mrs. Beckova, who is also a talented painter, finds this difficult time as a time for family, praying and paying attention to her hobbies, such as reading, gardening, painting and also doing a lot workouts and learning Indonesian and Russian languages, which are normally difficult to do amidst her daily state-duties as spouse of H.E. Jaroslav Chlebo, Ambassador of Slovak Republic to Indonesia. Mrs. Beckova really cares about her staffs' health, and she also took the time to make her own homemade masks.
"Initially, we were looking for suitable masks for us and our household staff because unfortunately it was impossible to get the masks. That's why I started to sew the masks. For me, sewing is not a problem because it's one of my hobbies. And when I discovered Mayestik market, I found that place as a fabric paradise. I buy beautiful fabric from time to time and made something nice for myself," says Mrs. Beckova.
As she is concerned about material, she made simple masks using fine cotton table napkin fabric, which is washable and can be ironed to kill bacteria. After she posted the pictures on her Facebook, some of her friends were interested to have the masks and asked her to provide the masks for them too.
"At the beginning my driver delivered the masks to my friends and later on they picked up the masks to my residence by their driver and some using online pickup services. And after I posted on Instagram, I started to make more orders for unknown people. That's why I decided to sell my handmade masks. And I would like to use the proceeds for charity," Mrs. Beckova added.
And it became more attractive when she collaborated with a prominent writer Erza S.T. (IG: @madame_exotique) made a quiz on Instagram for his followers who wrote mini paragraphs about Slovakia's destinations that they are interested to visit in the future. She gave her own hand-sewn masks for three lucky winners.
"From my point of view, this situation teaches us a lot of things. We are seeing less pollution because of reduced traffic jams, less flight and the closure of many factories. We only buy necessary things and we care for each other more. Of course, on the other hand, people are afraid about coronavirus and their healthcare. But I'm sure, one day when this situation comes to an end we will pay more attention to what's important for us: for our families, friends and those who need our help," Mrs. Beckova stated.