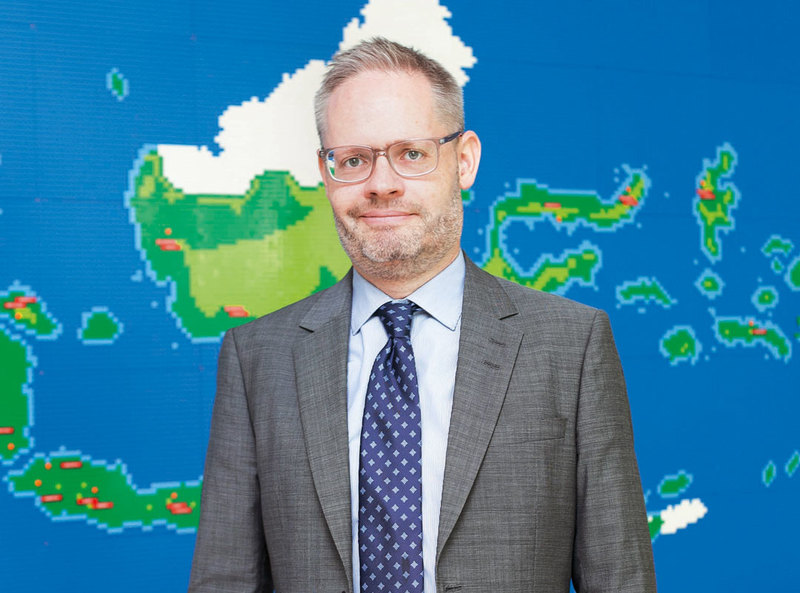 The Ambassador of Denmark to Indonesia shares Nordic value and principles in cultivating strong bilateral ties with Indonesia.
What have been the Embassy's most important events and achievements over the last year?
We are quite busy in general with a strong presence here. We invest considerably in our cooperation with Indonesia. One highlight is how Indonesia joined the Partnering for Green Growth and the Global Goals (P4G), which is a Danish initiative started a few years ago with the purpose of fostering public-private partnership through implementation of sustainable development goals. We are happy to welcome Indonesia into this global partnership in September. We think there's a lot of potential for the country to benefit from this. As is the case in other countries, the government will need help in achieving its sustainable goals in the form of funds, resources and know-hows from other shareholders. That's what this multilateral partnership is hoping to achieve.
On the bilateral side, we have started a food & agriculture cooperation with an emphasis on dairy industry—something Indonesia is aiming to be self-sufficient at. Also on organic foods and how to produce that catered to a rising segment of consumers interested in that.
We have also done a lot of work in Lombok in many areas, one of which being post-disaster recovery. We addressed one of the slightly overlooked problem after an earthquake, which is hazardous waste. Collapsed buildings left asbestos and other potentially toxic materials lying around with damaging consequences in the long run. We did some work on those on trying to handle these wastes following the disaster. We are happy to contribute after the Palu disaster, where Denmark, along with France, was one of the few countries deploying teams on the ground. We established water treatment and provided close to 800,000 litres of drinking water for those in need. We are happy to contribute in a time of great need for Indonesia.
Also in Lombok, in the last year we've been developing a comprehensive energy plan, with projections showing that the island would actually be able to achieve close to 60 per cent renewable energy in 2030, but, most importantly, with the same or cheaper price than traditional coal or fossil fuel energy plant. We have managed to show that going green and transitioning towards renewable energy is not only feasible and technologically possible, but in fact can also constitute the cheapest option available.
For many years Denmark has been providing more traditional development assistance to Indonesia, which is slowly being phased out. This year we will finally conclude our major portfolio of projects in Central Java, most of them in waste water, clean energy, or waste to energy. We've invested in four big plants in the province and they have been completed and handed over to the government.
Have there been any major VIP visits to or from Denmark? Who was involved? What were the results of the visits?
We would've certainly liked to see more visits especially at the highest level between both our countries. Due to the election here in Indonesia as well as in Denmark, which was in June, both countries have been somewhat occupied, especially within six months before the elections. I expect to see more VIP visits in the coming months; we've got a lot of things planned.
Even despite these challenges, we have seen quite a few visits. The Indonesian Ministry of Education visited to talk and learn more about childhood education, which is one of Denmark's strong points, we were also visited by the Minister of National Development Planning of Indonesia to discuss sustainability and renewable energy, sustainable finance, public-private partnerships, and other issues.
What are the main points of interaction with the Indonesian Government at the moment?
We are very happy with our cooperation with Jakarta. We've achieved a number of results on energy efficiency. We've hosted a big pre-C40 event before the World Mayors Summit in Copenhagen. The main event had around 100 mayors from around the world to discuss many issues leading to improvement of major cities around the world, especially on issues such as air pollution, and climate solutions needed to build a sustainable, healthier, resilient and inclusive future.
I've already mentioned food & agriculture cooperation, and we have extensive programmes focusing on plastic issue, especially waste management, building a circular economy, also in dealing with waste debris and plastic waste management. It has been a positive experience for me, especially seeing these issues gaining more traction in Indonesia, where a lot of people are starting to act on it and get the momentum going.
There seems to have been an increase in cooperation between the Nordic embassies resulting in the joint Nordic National Day and other joint endeavours. Please tell us more about this.
We've just celebrated the joint Nordic National Day a couple of weeks ago—the fourth time we had it in Indonesia, so it's a well-established celebration for Nordic countries—Denmark, Finland, Norway, Sweden—as we share the same values and societies based on common principles. All of us care about issues like climate change, gender and racial equality, and we maintain a high standard for education, among other things. Being far away from home, it just make sense for us to walk hand-in-hand as Nordics in many things.
Last year we did a road trip across Java to talk about Nordic urban solutions; about what is it that makes our capital cities ranked the most liveable in the world. We went to Surabaya, Jogja, Bandung and Jakarta to talk about it. We also realised in that trip that when we come as five Nordic countries together, we're not seen as just a single distant country but we represent the world's 11th biggest economy.
Thank you, H.E. Rasmus Abildgaard Kristensen, Ambassador of Denmark to Indonesia.