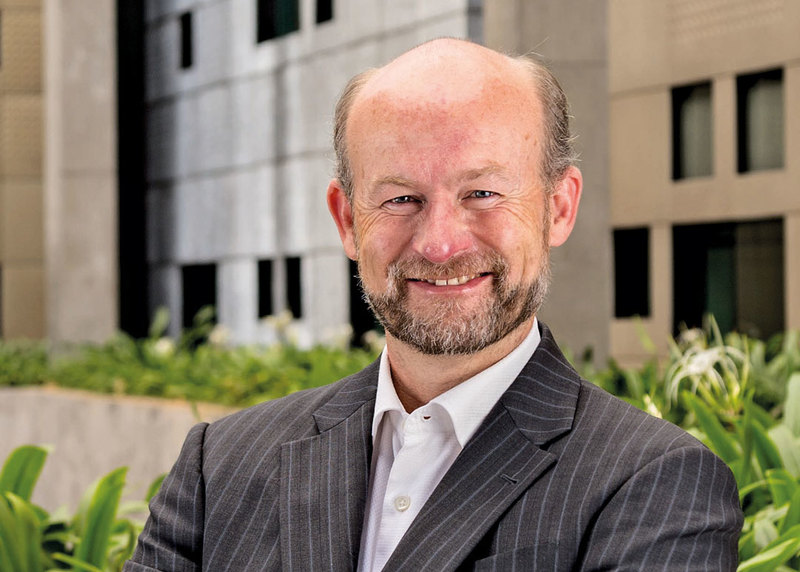 Australia's Chargé d'affaires to Indonesia, Allaster Cox, talks to NOW! Jakarta about the two country's strong relationship and what's in store in 2020.
Australia and Indonesia enter 2020 hand-in-hand with a strong diplomatic relationship. Please can you share highlights of what you've achieved in 2019?
2019 was a year in which both countries were focused on domestic politics and elections. In April, President Joko Widodo was re-elected for a second five-year term and, the following month, the government of Prime Minister Scott Morrison was re-elected for another three-year term. Our leaders know each other well and have met many times. Mr. Morrison visited Jakarta for President Widodo's inauguration in October and we are planning for President Widodo to visit Australia in the first quarter of 2020.
In March 2019, Australia and Indonesia signed the Indonesia-Australia Comprehensive Economic Partnership Agreement (IACEPA), which creates a framework for our countries to unlock the potential of the bilateral economic partnership, fostering greater economic cooperation between businesses, communities and individuals. Australia ratified the agreement in December, and we look forward to Indonesia's ratification soon.
We also substantially concluded the Regional Comprehensive Economic Partnership (RCEP) agreement, which covers the 10 ASEAN nations as well as Australia, China, Japan, Korea and New Zealand.
Like a number of other countries, in 2019, Australia celebrated its 70th anniversary of diplomatic relations with Indonesia. But the Indonesia-Australia relationship began much earlier. Australia was one of Indonesia's strongest supporters for independence from immediately after its August 1945 declaration. Australia was the first foreign country to make contact with President Sukarno to talk to him about recognition of the Indonesian Republic.
President Sukarno chose Australia to represent Indonesia in the UN discussions that led to formal independence on 27 December 1949. In November through to December last month, we held an exhibition at Jakarta's National Museum titled Two Nations: A Friendship is Born to share this story with the wider public here in Indonesia. The same exhibition was also in Surabaya, Denpasar and Makassar.
Please tell us what are your major objectives in the agenda for 2020?
2020 promises to be another very busy year for the relationship. Our number one priority is for IACEPA to enter into force and beckon in a new era for our economic relationship. This will be a timely boost to international trade and investment in the region at a time when it is under significant strain.
A visit to Australia by President Widodo early in 2020 would provide an opportunity to further strengthen our Comprehensive Strategic Partnership. As neighbours in the dynamic Indo-Pacific region, we have lots to discuss! We share the second longest maritime boundary in the world and have a very close security relationship, including cooperation on counter-terrorism and defence, so we are frequent visitors 'next door'.
In November, we launched the Australian Embassy's Australia Connect campaign – an exciting program of events that will in 2020 showcase Australia's creative sectors through music, film, food and art. In 2020, we will hold our flagship film and food festivals in addition to many other exciting cultural and sporting activities. Stay tuned!
Which areas especially are you looking to improve in Australia-Indonesia cooperation?
One of the Embassy's most important priorities is getting Australians and Indonesians to understand and get to know each other better. For too long, the average Australian has known too little of Indonesia or has an outdated image of the country. This is despite the waves of happy Australians who return to Bali each year. It's confounding when you think that Australia's best universities have some of the world's most outstanding scholars on Indonesia and that the government-to-government relationship is so strong.
It is a little-known fact that Australia's National Library has probably the world's best collection anywhere of post-colonial Indonesian publications, of every kind. Australia's National Gallery in 2019 concluded the biggest exhibition of contemporary Indonesian art shown anywhere overseas. There is now a lot more work underway to make Australians and Indonesians more familiar and comfortable with each other. Here in Indonesia, our Australia Connect campaign will help deepen cultural connections and the New Colombo Plan – which provides for Australian undergraduate students to spend time in Indo-Pacific countries during their university studies – is developing a big new cohort of younger Australians with real experience of Indonesia. Indonesia is the country of choice among 40 locations for more than half the students.
According to Tourism Australia, Indonesia was Australia's 11th largest inbound market for visitor arrivals in 2018. Are you aiming to improve that?
Yes, we are. Indonesia is one of Australia's fastest growing inbound tourism markets and tourism is Australia's fifth largest export to Indonesia. Australia would love to welcome more Indonesian tourists to our fantastic beaches, cafes, cities, rainforests and, of course, our vast outback. Perth is less than 4.5 hours flying time from Jakarta, and less from Bali, so with a number of new flights coming on line in 2020, we expect to see a continued rise in the number of Indonesian visitors to Australia.
In 2020, to capitalise on growing interest in holidaying in Australia, Tourism Australia will begin rolling out their "Philausophy" campaign, which was launched internationally late last year. This new campaign is part of a move to showcase the strengths of Australia's people and our way of life, which is why many people choose to holiday in Australia.
Conversely, Australia has traditionally been 1 or 2 on the arrivals list to Bali, but there is great debate on environmental concerns which could affect this. What are you advising potential tourists?
At any one time, there are about 20,000 Australians on the holiday island and Australians have forever had a long love affair with Bali for good reasons – Bali is an incredible place to holiday, to meet up with friends and family and relax. It's a beautiful island. Many of those Australians that visit Bali share a strong bond with Indonesians they meet during their stay.
In coming years, it is my hope that Australians will begin to think about other destinations in Indonesia and explore more of this spectacular country. Lombok, Flores, Raja Ampat, the jungles of Kalimantan and Sumatra and the cultural wonders of Yogyakarta and its environs. There is so much for Australians to explore in Indonesia and I think it's just a matter of time before Australians seek out other destinations within the country. It would also ease the strain on Bali's natural environment.
Thank you, Australia's Chargé d'affaires to Indonesia, Allaster Cox.