Even though Allaster Cox only recently arrived in Indonesia, he is no stranger to the country. Having joined the Australian Department of Foreign Affairs in 1978, he was posted in Jakarta for the first time from 1992 to 1996. His previous posts include postings as Ambassador to Vietnam and High Commissioner to Brunei Darussalam.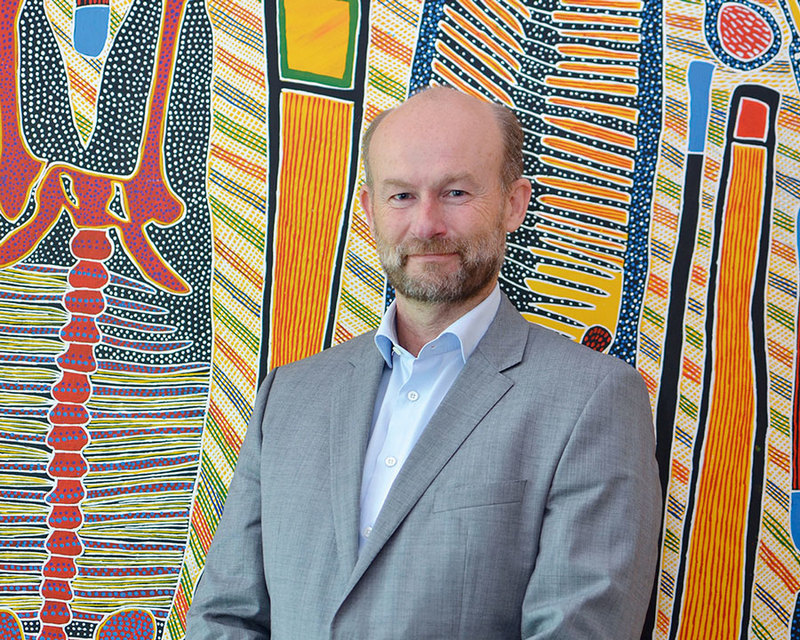 He spoke to NOW! Jakarta about the relationship between Australia and Indonesia on a political, economic and cultural level as well as the Embassy's priorities for 2018.
I assume you find Jakarta has changed a lot since the last time you were here?
I am very pleased to be back here. Jakarta has indeed changed a lot. Some things still remain the same - everyone still talks about macet, which I also already experienced in 1992. On the other hand, the country is more open than before. There is a lot of debate about politics and political affairs. The economy has developed - there is a growing middle class, increasingly apparent from the abundance of shopping malls. When I was first here, Plaza Indonesia was the only grand and fancy mall, but now there are many more across the city. This is reflective of an increasing demand for goods that can be purchased by the middle and upper class and shows the growing wealth of Indonesia.
Australia and Indonesia have a very unique relationship - one that hasn't always been easy, but nevertheless remains strong. When you look back at 2017, what would you say were your most important achievements?
2017 has been a significant year for us. President Joko Widodo visited Australia in February where he and Prime Minister Malcolm Turnbull signed a declaration on maritime collaboration. We are currently working on an action plan because we would like to strengthen the cooperation in the maritime domain.
We also opened our fourth post in Indonesia, in Surabaya. In addition to the Embassy in Jakarta and the Consulate in Bali, we opened in Makassar, South Sulawesi in 2016 and now followed up in Surabaya. With the help of these four posts, we intend to push out particularly the people-to-people and trade and economic relationships beyond Jakarta to East Java and to Eastern Indonesia.
We made progress on the Indonesia-Australia Comprehensive Economic Partnership Agreement, particularly towards the latter part of the year, with offers from both sides.
In 2017, we introduced our "Year of Australian Lifestyle" with a focus on film, design, fashion, food, music, dance, science and technology, all of which we put under the rubric of #AussieBanget.
We also had collaborations in the security domain. Australia and Indonesia co-hosted a meeting in Manado in June where we looked at the regional impact of problems like in Marawi in Mindanao, the Philippines, after the ISIS-backed attacks and tried to come up with a regional response regarding this issue.
Furthermore, we worked very closely with Indonesia in humanitarian affairs on the Myanmar-Bangladesh border, and continue to do so, assisting the hundreds of thousands people, the Rohingya, who fled across the border.
On an economic level, how do Australian businesses currently fare in Indonesia?
Trade and investment is healthy, we have around 15 billion dollars of two-way trade between Australia and Indonesia - and we want to try to grow that in the period ahead.
We would like to boost and continue to support trade in things like beef and cattle. Indonesia has lifted the import quotas, which freed up the market. Australian beef producers certainly welcome that. We are also constantly looking for new opportunities for horticultural products like fruits and vegetables.
We have big manufacturers in food and beverage, like Coca-Cola Amatil, and we would like to continue our collaboration with Indonesia on building out the supply chain, where we can supply raw or semi-processed food for Indonesian manufacturing and then allow Indonesia to add value and either produce for the domestic market or export.
Another area we are keen to build and grow is services, including banks and the finance sector. The Commonwealth Bank of Australia has a relatively strong presence here, while Telstra has links with Indonesian partners to deliver IT services. This area of collaboration is still growing.
Australian businesses are looking at Indonesia as a place for potential opportunity.That's why we are negotiating the Indonesia-Australia Comprehensive Economic Partnership Agreement, to expand opportunities for investment and trade growth between us. Once the agreement is finalized, it will hopefully encourage more investment and trade between the two countries.
In November, Australia received the "Negara Sahabat" award for partnership in Islamic education from the Ministry of Religious Affairs. How does this partnership look like, and what are you trying to achieve in this field?
We have been in partnership with Indonesia in education, including Islamic education, for over 30 years. We'd like to think that the "Negara Sahabat" award represents the recognition of all the work we have been doing over the years. Since the early part of this century, we helped the Indonesian government building Madrasah schools - around 500 to date. More recently, we worked with the government to help strengthen the accreditation system, particularly of the 1500 Madrasah schools, to get it up to the national standard. We also collaborated with the Ministry of Religious Affairs to build up in-service training systems.
This collaboration is consistent with our overall objective: Madrasah are responsible for educating about 13 percent of all students in Indonesia, which is a large number. Therefore we are trying to build up their capacity to deliver services to students in order for Indonesia's human resources to be the best they can possibly be.
In the Islamic sector, we also have a program called PIES (Partnership in Islamic Education Scholarship) where the Australian National University hosts five Indonesian PhD candidates from Islamic higher education institutions for two semesters, enabling them to receive specialist supervision from Australian academics.
Australia remains one of the most popular locations for Indonesian students. Have you seen a further increase in numbers?
Education has long been a very important part of our relationship with Indonesia, dating back to the original Colombo Plan in the 1950s. One in four Indonesians who study abroad obtain their higher education in Australia. We have around 40 universities in Australia as well as vocational education colleges to build up Indonesian skills. This links back to the education collaboration I mentioned earlier, which aims to build up human capacity and the human infrastructure of Indonesia.
This year, we expect to see 20,000 Indonesians studying in Australia. Over the last three years, we've seen a growth of about 14 percent in student enrollments in Australia. This includes the 300 or so scholarship holders who come to Australia with Australian scholarships, while we try to encourage the Indonesian government through the LPDP program to send their scholars to Australia as well.
In 2014, the government introduced the New Colombo Plan, which aims to send young Australians on scholarships and other non-scholarship educational programs to Southeast Asia, with Indonesia being the most popular destination. By the end of 2018, more than 5,000 Australian students will have studied and done internships in Indonesia under the New Colombo Plan.
The Australian Embassy often hosts events that foster cultural exchange between the two countries. What projects are you currently working on?
Our first big project for 2018 will be the Festival Sinema Australia Indonesia, a film festival that we are hosting simultaneously in Jakarta, Surabaya, Makassar and Denpasar from 25 to 28 January, coinciding with our National Day. In addition to screening Australian and Indonesian films, we will host a short film competition supporting the development of emerging Indonesian filmmakers. The grand prize for the competition will be a trip to Melbourne to the Melbourne International Film Festival.
We will also host the inaugural Indonesia-Australia Digital Forum on 31 January and 1 February here in Jakarta at the Fairmont Hotel - which is maybe not completely cultural but linked to social media and the digital world. It is an initiative that was agreed on by our leaders when they met in February. The forum will see a range of high-level speakers and workshops on different topics, from e-health to FinTech and cyber security.
These are only the first two events of the new year for us, and there will be many more to come.
Could you give us an outlook for 2018? What will be your priorities in the new year?
We certainly hope to continue our strong bilateral relationship. We are anticipating President Joko Widodo's visit to Australia to Sydney in mid-March for the ASEAN-Australia Special Summit, which will be hosted by Prime Minister Turnbull. We are hoping that the two leaders will be able to review the progress of the Indonesia-Australia Comprehensive Economic Partnership Agreement, as well as the collaboration across all the pillars of our work.
We want to build the capacity of our new posts in Makassar and Surabaya in their ability to reach out to their local communities. In fact, 2018 is all about building on the work that has been done over the last few years, particularly under Ambassador Paul Grigson's term in Indonesia to further boost the people-to-people and the business-to-business relationships, based on the government-to-government relationship, which is already very strong.