Since he arrived in Jakarta three years ago, H.E. Cho Taiyoung has immersed himself in the Indonesian culture and aims to learn as much as possible about his temporary home country.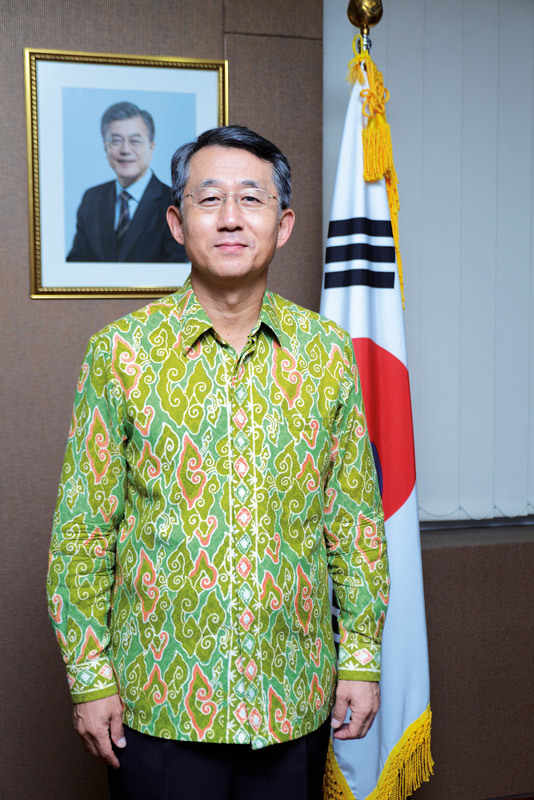 During the interview with NOW! Jakarta, the friendly and humorous Ambassador not only spoke about the relationship between Indonesia and South Korea, but also surprised us with his Indonesian language skills and singing local pop songs.
What are the main pillars of the relationship between South Korea and Indonesia?
Our diplomatic relations began in 1973. We may not have a long history, but I can say for sure that we have deep, wide and strong relations with Indonesia. In that sense, there are many pillars that define our relationship.
In the past, our relations were mainly built around trade and investment. Our trade with Indonesia reached its peak in 2011, with US$ 30 billon in bilateral trade. It has decreased since then due to the state of the world economy, which has slowed down. I do think, however, that it will go back up again soon, and I expect an increase of bilateral trade again.
We are also one of the major investors in Indonesia. There is a large Korean community in Indonesia, mostly in and around Jakarta, and the majority is engaged in business. We also have a big presence in labor-intense industries, and Korean companies are altogether employing 1 million Indonesian workers. Therefore, I would say that economy is the biggest pillar in our bilateral relations.
We have also deepened our defense industry ties. We both used to see each other as the market in this particular area. However, things have changed over the past years. Previously, we used to export and import defense equipment from and to Indonesia, but we have since moved to the next level, as we are now in cooperation to produce jet fighters together, jointly.
Lastly, there is the whole field of culture. I am very happy that so many young Indonesian people seem to enjoy Korean culture. Every year, we organize a Korean festival in Indonesia, and this year, it will take place throughout the whole month of September.
As you just mentioned, there are a lot of Indonesians who are fascinated by Korean culture, including K-pop, Korean films and dramas. Where do you think this enthusiasm comes from?
I believe that nowadays we'd like to enjoy high quality cultural products including music, films, and TV shows. When you look at Japanese electronics, for example, you can see that many people admire them because they have a high quality. In Korea, on the other hand, you see a lot of cultural products. We have invested a lot of money and time into them, and I think Indonesians are fascinated by the high quality of these products and because Korean culture is very unique and dynamic.
In Bandung, there is a community named Bandung Hansamo (Bandung Korea Community) that has around 2,000 members. They get together regularly, learn Korean dances, both traditional and K-Pop and study the Korean language together. Some of them are very fluent. I really appreciate their enthusiasm.
There are many similarities between Indonesia and South Korea. They are, for instance, both APEC and G20 members. Do you think these similarities have helped to strengthen the relationship?
We have a similar-sized economy, and we also share the same values. Like South Korea, Indonesia is a democratic, open and free society, and it has a market economy. These kinds of things are important in building a friendship. Indonesia and South Korea are also part of MIKTA, an informal partnership between Mexico, Indonesia, Republic of Korea, Turkey and Australia, led by the Foreign Ministers of these five countries. It was created in 2013. We all want to make a contribution to the world, but in order to do so, we need a certain amount of capacity. We are not superpowers, but if we as MIKTA speak up as one, our voice will more likely be heard. There is a synergy effect. We want to increase the cooperation among these five countries and have already implemented quite a few projects. And whenever there is a world issue that needs to be addressed, we issue a joint statement.
The last time President Joko Widodo visited Korea in May 2016. What were the long-term results of this visit?
The visit by a foreign head of state always provides momentum. In that sense, President Jokowi's visit to Korea last year helped to further push the bilateral relations between our countries. We reached many agreements that are now still being implemented. For example, President Jokowi wanted us to participate in the development of special travel destinations. Indonesia has ambitious plans to promote more locations across Indonesia as potential tourism destinations. You could say that they would like to create more Balis. We are working together with Indonesia in this field and help and support them to develop the designated areas.
In terms of tourism, more and more Indonesians travel to Korea, not only for leisure but also for business. MICE tourism has become more popular over the years. What are you doing in this field?
Over the last three years, the number of Indonesians travelling to Korea has increased quite significantly. Three years ago, about 200,000 Indonesians travelled to Korea whereas now the number has already reached 300,000, a 50 percent increase. We want to encourage more Indonesians to visit Korea, and we hope to make it easier for them, not only in terms of obtaining a visa, but also in other areas that might impact their travel choices. The majority of Indonesians are Muslims, so we are now doing our best to make Korea more Muslim-friendly, to provide halal food in restaurants and to increase the number of prayer rooms (musala) where they can pray. So, currently, we are focusing on Muslim-friendly tourism.
What would you still like to achieve during your time here?
Last year, President Jokowi visited Korea, therefore I would like to see our President visiting Indonesia in return this year or next year. As an Ambassador, there is no greater duty and job than to prepare a President's visit and make it a success. Furthermore, I would like to have a deeper understanding of Indonesia and learn more about the country's history and economy so that I can someday call myself an expert on Indonesia.
Personally, I feel very comfortable here and I wish I could stay for another ten years. I need to get more serious about learning the Indonesian language. Of course, my job as Ambassador keeps me quite busy, but I still want to improve my Indonesian language skills. I recently began to take private lessons again. But even though I think I am making progress, I still need to practice more. I try to read Indonesian newspapers, I study, and I am happy to say that I can sing already 18 songs in Indonesian – some from the 1970s and 80s, but also more recent ones, for example "Jangan Menyerah" from D'Masiv. I want to increase that number to at least 20.