H.E. Ishii Masafumi began his tenure as Ambassador of Japan to Indonesia earlier this year, but his history with the country dates back to the 1990s.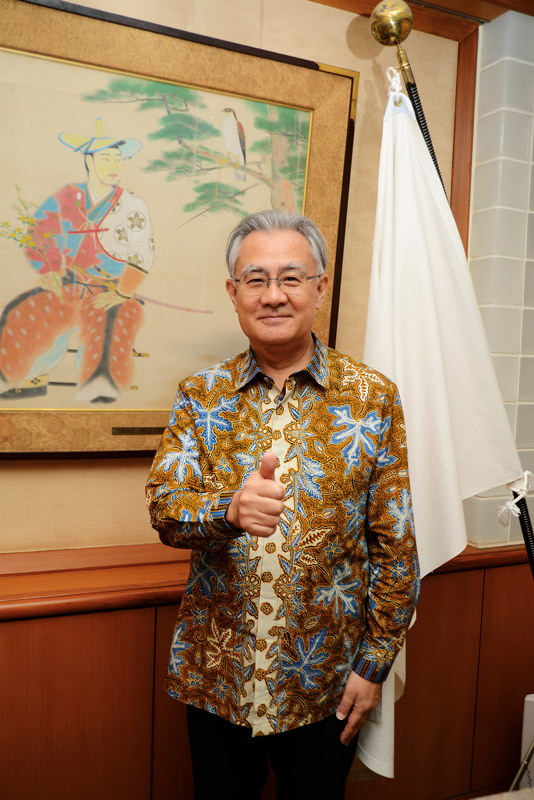 In an interview with NOW! Jakarta, the Ambassador talked about the difficult time Indonesia and the whole region faced during the financial crisis, his priorities as Ambassador and why it is important to always keep looking to the future.
You have been in Jakarta as Ambassador since April. How have you settled in so far?
I have settled in very well, I think. As you can see from our website, returning to Indonesia felt like coming back home as I have been here before in the late 1990s and enjoyed it very much. Japanese people who have worked in the field of Japanese-Indonesian relations seem to keep coming back, because Indonesia has a certain charm.
As you just mentioned, you have a long history with Indonesia. In 1998, you were appointed as Director for Southeast Asian relations at the Foreign Ministry of Japan. It was the time when the region faced an economic crisis and Timor Leste became independent. How do you remember that time?
At the time, I came to Indonesia every month, sometimes twice a month. I recently met former President B.J. Habibie, and we talked about those difficult times for Indonesia. The economy was slow and there was political turmoil. But in a way, at the time, the Japanese people and our government were reminded of Indonesia's importance - even though, of course, Indonesia was not the only country in the region that was suffering from the financial crisis - because when the crisis hit Indonesia, we realized how important the country is to us as strategic partner. Luckily, Indonesia has recovered since then and is doing better these days, both economically and politically.
You came to Indonesia again in 2011 to attend the ASEAN Regional Forum Disaster Relief Exercise, only two days after the Great East Japan Earthquake. How have Indonesia and Japan worked together in this regard, and does the collaboration in this particular field still exist until today?
Indonesia and Japan have many things in common - including having experienced natural disasters. Our cooperation in this field is mutual. When Indonesia was hit by the Tsunami in 2004, Japan was quick to help. In return, in 2011, we really appreciated the support from the Indonesian Government and its people in response to the Great East Japan Earthquake. We supported the establishment of BNPB, the Indonesian National Disaster Management Authority. We also dispatched relief teams on multiple occasions, for instance when the AirAsia Indonesia plane crashed in December 2014. When another earthquake struck Aceh in December 2016, we were among the first to offer assistance as a foreign government. Japan is also supporting the AHA Centre, the ASEAN Coordinating Centre for Humanitarian Assistance on Disaster Management, both technically and financially.
But as I said, our cooperation is mutual, and the exchange of knowledge is crucial. Japanese experts have been studying the volcanic eruptions of Mount Merapi for years, and it helped us to prepare and learn how to handle unexpected natural disasters, for instance when Mount Unzen in Kyushu erupted in 1991.
During your tenure as Ambassador in Indonesia, what areas would you like to focus on?
There are almost 20 000 Japanese people living here, and around 1800 Japanese companies are operating in Indonesia. As the Ambassador of Japan to Indonesia, my most important task and priority is to protect their safety and promote their prosperity.
I think Japan and Indonesia share a mutually beneficial relationship. Therefore, it is also my responsibility to strengthen this relationship: to promote Japanese investment in Indonesia and asking the Indonesian Government to introduce investment-friendly regulations and conditions. It is a win-win situation, since it will encourage Japan to further invest in Indonesia, while at the same time, Indonesia does need foreign investment to progress even further.
Japan is one of Indonesia's biggest investors. What are the sectors that are the most thriving and the most promising?
Previously, the energy sector was the strongest, but more recently the investment goes more directly to the manufacturing sector. Japan is the second largest investor in Indonesia with US$ 5.4 billion in 2016 and US$ 2.8 billion in the first half of this year. Japanese companies in Indonesia have created around 5 million jobs, out of which 95 percent are held by Indonesians, and they are contributing almost 20% to the country's export.
In the region, Indonesia has the largest number of Japanese companies with 1800, followed by Thailand with almost 1800 as well and Vietnam with almost 1600. In the Philippines there are around 1400, and in Malaysia, there are around 1300 Japanese companies, while the number in Singapore is 1100.
Next year, Indonesia and Japan will celebrate 60 years of diplomatic relations? What kind of activities and events are you planning to celebrate this milestone? Can we expect state visits as well?
We signed the official document for diplomatic relations on 20 January. Therefore, starting next year in January, we are planning a series of events and festivities - you will have the opportunity to enjoy something in almost every month.
It would be great if there was an exchange or high-level visit. Such a visit would show the importance of this milestone, but it is too early to specify who will be able to come and when.
While celebrations and festivities are important, we would also like to look to the future. Our focus will be on youth exchange and capacity building for the future. At the same time, we would also like to take the opportunity to give a sort of forecast of what Indonesia will look like in 2045, the year it celebrates 100 years of Independence. Based on that, we will identify new areas of cooperation between Japan and Indonesia.
On the Embassy's website, we can regularly read about your activities. It is an interesting way to learn more about your daily schedule, but also about your impressions of Indonesia. Is this your preferred way of communicating with the people and keep them updated?
I do like communicating through "modern means", like our website and social media. At the same time, it always helps to meet people face to face. Although I spend most of time in Jakarta, I think that all of Indonesia's 34 provinces have their own charm, character, culture and language. I would like to go to every corner of Indonesia and reach out to the people, to tell them who we are and what we are doing here and ask them what we can do for them.
You once said that Indonesia is like an older sibling to Japan. Could you explain what you meant by that?
Both nations share the same values, and I like to think of Indonesia and Japan as brothers. Japan may have been a "big player" in the past, but looking into the future, Indonesia has much more potential - just by the sheer size of the country and the population and the GDP that will take off. The average age of Indonesians is 28, whereas the average age of the Japanese is 46. Japan is an ageing society, but Indonesia has a bright future. Looking at all this potential, I refer to Indonesia as Japan's bigger brother.
Lastly, do you have any personal goals that you would like to achieve during your time in Indonesia?
As I mentioned, I would like to visit all 34 Indonesian provinces. It is something you can only accomplish while you are posted here. I am not sure if I can achieve this goal, but I am certainly going to try.
---
The Jakarta Japan Club is the largest Japanese community in Indonesia, which aims to improve the trade relations between Japanese companies and Indonesian government and society.
First established in 1970 and also acting as a chamber of commerce, the Jakarta Japan Club regularly organizes business and networking events. With over 3300 individual members, the club also represents the interests of its corporate members and tries to further develop the trade and industry between the two countries.
In addition to the business networking events and seminars, the Jakarta Japan Club also hosts cultural and recreational activities and for Japanese residents in and around Jakarta in order to give them a sense of having a home away from home.
Visit www.jjc.or.id for more information and upcoming events of the Jakarta Japan Club.