H.E. Patrick Herman, Ambassador of Belgium to Indonesia for the past 2 1/2 years, recently talked to NOW! Jakarta's Alistair Speirs about the relationship of the two countries on a political, economical and cultural level.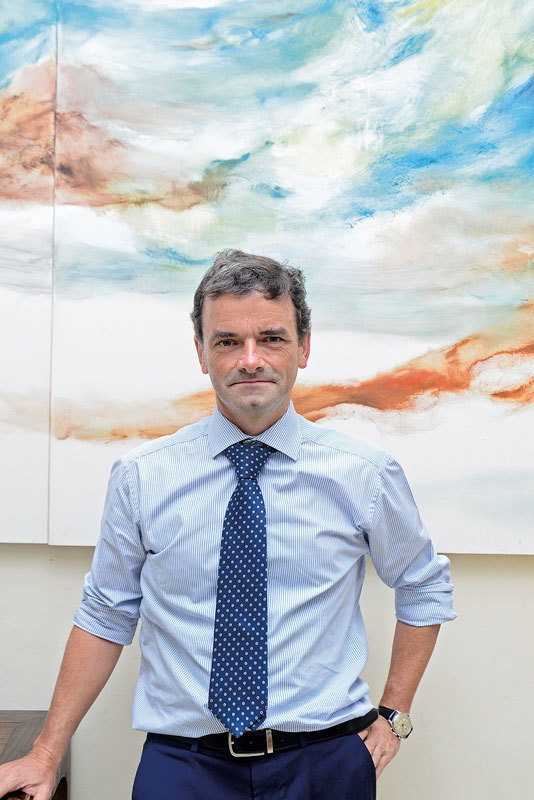 Please tell us about the most important events for you since we last met in March last year?
The Visit of Princess Astrid of Belgium in March 2016 was the most important recent event. She was head of a delegation of 350 participants which included business people, university delegates and government officials. It entailed very fruitful events on maritime matters, "green tech" and smart cities, not just in Jakarta but Bandung, Karawang and Bekasi. The major focus was on economic aspects plus technology, but overall it was especially good for our image and for the image of Indonesia in Belgium.
Then of course was the visit of President Widodo to Brussels, including a special visit to His Majesty the King, with five or six ministers involved. This was a precursor to the upcoming State Visit on 10th October 2017, the highest type of visit, and this is special because it includes the opening of Europalia Indonesia 2017, a huge event showcasing Indonesia in 50 towns and cities in Belgium, France and Netherlands. Europalia encompasses a whole range of artistic events, including visuals arts, sculpture, music, theatre, wayang and more, even including fashion and gastronomy.
Have the recent events surrounding the local government elections affected relations in any way?
There is indeed a concern which we announced last week through the publication of the results of the Eurocham Business Confidence Index, and which we shared with Indonesian friends. We are all concerned about the growing amount of intolerant behavior and political pandering that has been happening. On the whole, the Indonesian Government has a balanced view of world affairs and they understand that this is needed to make Indonesian economy more effective and the President has reacted well to the sectarian imbalance. We are attentive to the problem and know that on the whole the Indonesian economy is resilient and democracy is quite strong and the country is evolving in the right direction.
Was Indonesia a participant in the "She Decides" Conference in Brussels recently? What was the outcome of the conference? What did it achieve?
Indonesia is not yet formally part of the process but was closely associated from Brussels. The initiative came from the Dutch Minister of Women's Affairs and Development and our own Development Minister, with a clear objective to send a message to the developing world that planned parenthood should be supported more, not less. The idea is to start with a core of countries to work on a program after the Brussels of conference in order to get a coalition of concerned countries to a good level. Indonesia was thus not in the first launch but we are speaking to friends here and find the initial response quite encouraging. The results will be announced in the coming weeks and months. In a country of 250 million people, most of them young, this country should in my view be an important partner.
Your Deputy Prime Minister Alexander De Croo launched a bilingual website "Body and Rights" recently. Does this have any effect here in Indonesia?
That's related to the same campaign: young women being masters of their own bodies. The website provides an e-tutorial on sexual and reproductive health and rights (SRHR).
Tell us about any successes for Belgian trade or industry in Indonesia over the last 12 months.
We recently had a briefing from the European Union about the evolution of Foreign Direct Investment to Indonesia and we were No 4 of all EU Countries last year, after our Benelux partners the Netherlands and Luxemburg and the UK, but before Germany and France. We have some very large investments, but also a lot small/medium Enterprises (SME's) bringing their technology here to set up. Belgium is not a very large "branded" country, but more focused on upstream and a large part of the GDP comes from SME's. This is a huge opportunity for Indonesia which is itself SME reliant. But it's also a challenge since Indonesia is difficult to penetrate for new investors. There are serious compliance costs which are an administrative burden for SME's, it's much easier for a large company to pass the 'hurdles' than an SME. This is a pity since SME's are a huge potential for investment and employment here.
Are there any other great projects you would like to share with us?
Traditionally we have been active in the field of maritime infrastructure: dredging, environmental works, marine works and here there are quite a few exciting developments. There is more cooperation between Indonesian ports and Belgian companies involving management training and environmental training for port authorities.
Belgium has a short coastline but has three large ports including the second largest in Europe Antwerp. The next thing we are concentrating on is funding the effort to fight slavery in the fishing industry (together with other projects in workers' rights). This issue applies to human rights standards in the sector and related sectors, striving to improve workers conditions. It's still maritime but focused on HR and CSR in the maritime industry. The fisheries standards were adopted in January, now working on the regulations and a conference coming soon.
Europalia 2017 will start on 10th October 2017 with a State Visit by President Joko Widodo. Tell us more about this huge event in Belgium.
Europalia is an Art Festival that has taken place in Belgium and neighboring countries for 47 years. It attracts between 500,000 and 1,000,000 people every two years and has events ranging from 200 to over 300 depending on the sponsoring country. In 2017 it will be Indonesia that is featured and will consist of four elements: Heritage, Contemporary, Exchange and New Creations across the various disciplines: exhibitions, dance, theatre, music, literature, cinema, conference... It is organized through a dialogue between the Guest Country and the Europalia Working Committee, with leadership selected by the Ministries involved and very senior curators appointed for the disciplines from both parties. With the main exhibitions taking place in Brussels, but with performances and exhibitions taking place in 50 cities in the region, we are confident that Indonesia's gift to the world in art and culture will be very well promoted.