H.E. Peter MacArthur arrived in Jakarta last September and sees great potential in the relationship between Indonesia and Canada. The Ambassador spoke to NOW! Jakarta about shared goals, areas of interest and his personal focus during his tenure in Indonesia.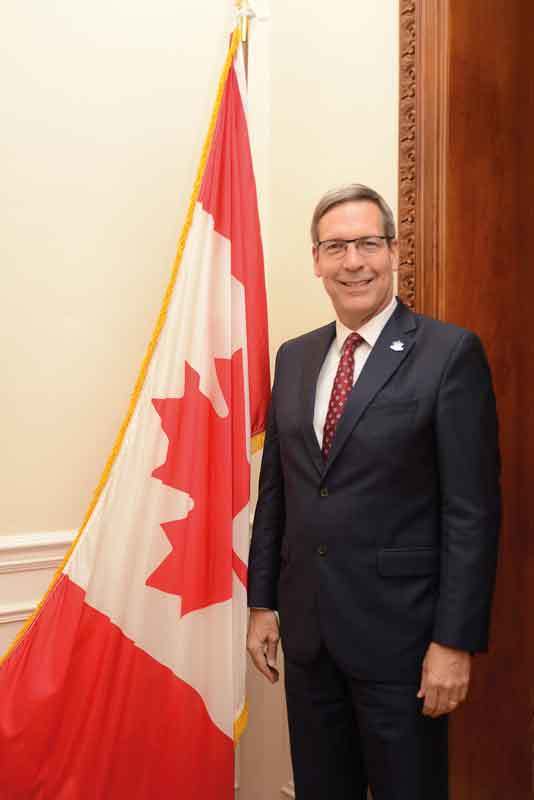 How would you characterize the relationship between Indonesia and Canada over the past year?
It is a satisfactory relationship, moving towards successful. I am impressed by the extensive collaboration I see already and am excited by the great potential that exists to further grow the relationship.
The key areas in which we work here are very much aligned with the Government of Indonesia's priorities, such as infrastructure, inclusive economic growth, diversity and tolerance.
Canada and Indonesia are quite strong trade and investment partners, more than many people would expect. We have more than a $3 billion trading relationship and a multi-billion dollar investment relationship, in terms of Canadian investment in Indonesia and increasingly, I'm happy to say, Indonesian investment in Canada.
We also work together in poverty reduction, governance, human rights as well as security and defense cooperation against common threats, including terrorism.
We try to boost Indonesia's capacity to collect taxes or help small- and medium-sized enterprises to internationalize and export.
People-to-people ties are also growing. Last year we welcomed 23,000 Indonesians to Canada, which was a 20% increase from last year. We also saw a 25% increase in the number of Indonesians applying to study in Canada. I think Indonesian parents and students recognize the quality universities and colleges we have, combined with our very welcoming and open society. More than that, when you are a foreign student in Canada, you can work part time, unrestricted. Secondly, once you graduate successfully, you are able to work unrestricted for up to three years - you pay back your student loan, but most importantly, you get valuable work experience which you can take back home with you.
Canada and Indonesia enjoy a strong partnership – and Indonesia remains a key multilateral partner in the context of ASEAN, Asia Pacific Economic Cooperation (APEC) and G20. This year, we are also celebrating the 40th anniversary of the Canada-ASEAN Dialogue. I am happy to mention that last year Canada appointed a dedicated Ambassador to ASEAN, Marie-Louise Hannan.
In November 2014, the Embassy released a statement that said, "Indonesia represents a growing market for Canadian goods, services and investment". How has this prediction developed?
Since 2010, bilateral trade flows have increased by 30%, with Indonesian exports to Canada increasing exponentially. Bilateral services trade is growing especially in the travel and transportation sectors. Investment flows are robust with Indonesia the second largest destination for Canadian investment in Southeast Asia in 2016. Indonesian firms are also increasing their presence in Canada in the forestry and energy sectors like Asia Pulp and Paper and Pacific Oil & Gas.
A number of flagship Canadian companies are present or active in the Indonesian market, such as Sunlife, Manulife, Fairfax, Bombardier and BlackBerry. Indonesia was BlackBerry's biggest market in the world with 60 million BBM users - and the device is now produced here in Indonesia. There are also some Canadian brands that are quite prevalent in this country like Circle K - they run over 500 stores across Indonesia - and ALDO footwear.
My trade colleagues are busy growing this part of the relationship. In the past year, the Embassy hosted 10 incoming trade missions in sectors from renewable energy, enhanced oil recovery for oil and gas and information and communication technologies.
Our export credit agency, Export Development Canada (EDC) has opened an office in Jakarta last year in recognition of the huge potential we see here.
In addition to our traditional strong focus on the extractive and agriculture sectors, going forward we see much potential in partnering with Indonesia on mutual priorities: clean technologies, infrastructure development and maritime surveillance.
You mentioned the mining, oil and gas sectors earlier, where Canada is a major player. How do Canada and Indonesia work together in this field?
We have a lot of history. Canada's Husky Energy, for example, has been active in Indonesia since 1970 and is about to begin gas production from its Madura Strait gas field in partnership with CNOOC of China and Samudra Energy Ltd. This is a great example of the benefit that Canadian expertise can bring in Indonesia's extractive sector.
Canadian suppliers of products and technologies and expert services remain active in Indonesia. But obviously for the private sector and investors, regulatory certainty is crucial, and rules of the game must be applied fairly.
We note the almost complete absence of mining exploration in Indonesia. In the late 1990s, there were almost 100 Canadian companies exploring for new reserves and resources in Indonesia. Today there are none. This is a result of legislative changes, and the framework does not make it interesting at the moment for foreign - including Canadian - exploration companies to come into the market. One of my jobs as Ambassador therefore is to encourage the Indonesian government to change that legislative framework and to make it easier for foreign companies to come and find those reserves that Indonesia's future depends on.
Canada currently has various cooperation projects focusing on the extractive sector, including the $16.6M "Extractive Sector for Sustainable Development" project that supports the coordination of sustainable policy reforms, the $8.2M project on "Sustainable Development of Artisanal and Small Scale Gold Mining" to reduce the use of mercury, and the $1.2M "Transparency in the Extractive Sector" project to assist Indonesia to achieve compliance with the global standard set by the Extractive Industries Transparency Initiative.
Canada has been doing a lot to support the Indonesian government, building economic foundations and more. Could you give us concrete examples?
The governments of Canada and Indonesia have worked in partnership for more than 60 years to reduce poverty in Indonesia, with Canada providing nearly $2 billion in development assistance over that period.
Over the last twelve months, Canada has collaborated with the Government of Indonesia to support sustainable economic growth and build sound economic foundations at both the national and local levels, for instance through the C$ 19 million ASPIRE project (Accelerating Sustainable Public-Private Investment for Infrastructure Renewal) to help mobilize private money to combine with public money in order for Indonesia to meet its severe infrastructure constraints, the C$ 9 million World Agroforestry Center's agroforestry and forestry in Sulawesi project, as well as the C$ 15.5 million READI (Risk Management, Economic Sustainability and Actuarial Science Development) project, through which Canada is increasing the number and quality of Indonesian actuarial science graduates to develop a regional center of insurance excellence in the country.
Canada has also supported the promotion of democracy, pluralism and religious and tolerance in cooperation with Islamic universities in support of these values and supports grassroots efforts across the archipelago, many of which focus on diversity and inclusion.
As an embassy, we have a foreign affairs, trade and development function, and we also have a police and military and immigration presence. These are the main areas we focus on, and increasingly we are able to work together more holistically in support of Indonesian objectives.
What is your personal focus? What do you hope to achieve during your time here?
Personally, I would love to find more ways to collaborate on religious freedom. We have a long history of working together in this area, and Canada's McGill University, which I'm a graduate of, educated many of Indonesia's foremost Muslim scholars since the 1950s. Until today, it's a center of excellence for Islamic Studies. Back in 1956, President Sukarno received an honourary degree from McGill University during a visit to Canada. He was the first Asian leader to deliver a speech to Canada's Parliament during the same visit.
Another area I'm interested in exploring is Canada and Indonesia's relationship as Pacific neighbours. We both manage fisheries, a large coastguard fleet and service small seaside communities far from our capitals that have an economic necessity, and the government's role is to help them prosper. Taking care of the environment and ensuring our oceans remain healthy and our fisheries sustainable is a natural area of collaboration for Canada and Indonesia – and one where we both could do more.
The third area I'm interested in is education. I'd like to see many more young people coming through here, including Canadians, to learn more about Islam, but also the geography, culture and cuisine of this very multifaceted country. At the same time, we will continue to promote Canada as the best place in the world to study and attract more Indonesian students to Canada.
Follow the Canadian Embassy on Facebook or on Twitter.