Alistair Speirs, Publisher of Now! Jakarta brings us a very special interview of a lady who, if you don't know, you should do, because she is the lady behind one of Indonesia's most trusted and most visible companies, the Bluebird Group. You can see their taxis everywhere, but there's a lot more to it than just the taxis, and in this interview, we try to uncover how Bluebird has faced the pandemic and what their plans for the future are, and Noni Purnomo delivers the information with style.
AGS: Let's talk about the history of Bluebird your family started many years ago. I think your grandmother was the lady who started it all. This itself is a very good sign back in those days to have a lady entrepreneur taking on the institutions all around her and creating something, which is now probably one of the biggest taxi companies in the world, is it not? I think at one point you had more vehicles than any other single taxi company, is that correct?
NP: Yes, at one point, but it has changed a lot now though, unfortunately, but I think we're still one of the largest in the world.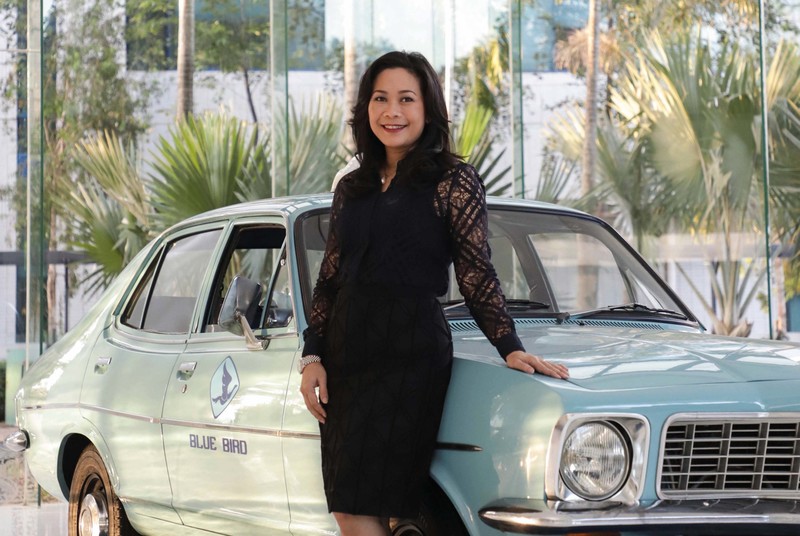 AGS: This pandemic has really hit everybody very hard. The transportation industry has been hit extremely hard along with aviation and hotels, an industry which you serve a lot and has pretty much closed down. How has the Covid pandemic affected Blue Bird overall?
NP: Yes. Bluebird has been around for more than 48 years, as you mentioned, it was started by my late grandmother and then continued by my father who built the company from two vehicles to about 30,000 vehicles at this moment in total, not just taxis as you mentioned earlier. As many of us know Bluebird is well known as a transportation services company that is focused on giving really reliable, safe, and comfortable services to our customers, and we would like to focus really still on that, even though we are facing a lot of challenges.
The COVID situation has badly affected a lot of industry and especially the transportation industry. It has affected negatively our performance and our revenue from April, for example, was down by about 70%. That was just the beginning of the COVID situation in Indonesia, and it was a pretty huge hit at that time. So what is very important for us and which we have been doing is seeing how we balance managing the crisis itself, which is real. I mean, when your revenue is down by 70% and you have so many people that you need to take care of, and at the same time we still need to build for the future. We still need to do some investments for the future, because we strongly believe that the market will eventually pick up again.
So the first thing we did was to conduct a financial health check. It is very important when a crisis hits that we really know ourselves much better than anybody else if I can put it that way. So we did a financial check, just like we do our health check to make, to make sure that we will be able to sustain this kind of challenge and for how long and establish what kind of measurements we need to do. Because the last resort we want to do is cutting off of our human resources. So we try our best to manage the crisis as well as possible including trying to talk to our partners, trying to get leniency on our loan payments from the banks for example. And the good thing is because we have a very good relationship and a very good historical record with our financial partners, and they trust that we are going to be able to bounce back as well. That was very helpful support from our partners.
But also we are trying to look for what is the new behaviour or the new way of transportation that reflects the changes caused by the COVID-19 situation. So, as we all know, especially back in April, it was the first time in my life to see Jakarta in the middle of the day on a Monday afternoon, completely empty. Nobody has ever seen that, so it was a shock. It was a real shock for the transportation industry. What we're trying to do is to map out the new behaviour because people do not go out as much as before, but when they are staying at home, they also still need to have their life needs fulfilled.
So that's why in April we switched and we pivot ourselves to add new services to our lines of service, which is the delivery of goods and food. I gave the task to our IT people, and well, if you ask them, they may not really have liked it at that time, because I said, you have to sprint to put in my BlueBird BirdKirim, our new service. It was tremendous pressure, but they managed to do it. So I think it is very important that we quickly pivot and look for different opportunities in order to survive. Some people might ask why do we have to do these things? How do we get that energy? I come back to the what my late grandmother told me before she passed away, she said our responsibility as the management, as the owners of Bluebird, is not just for the shareholders, our responsibility is actually for the wellbeing of every single person whose life depends on Bluebird. That includes especially our drivers and employees, but also our customers who still need to go out, who still need to go to the hospital, the doctors and nurses, who trust our service to still go to the hospital to help their patients. So we have to keep moving. I think that's, that's the main driver of our energy.
AGS: In fact, you do have a very good reputation for supporting your drivers and their families. Did you do anything special for them during this period? Because I know that's one of the priorities that you've always had which gives them a feeling of being family, and in turn, they pass that onto your customers. And that's one of the other reputations that you've built over the years.
NP: Yes. Yes. Thank you, Alistair. At the beginning of the pandemic in April, we tried to help them as much as possible by supporting their needs like food. So we give them free breakfast and dinner because they come back to our depot every single day. So they can also stay with us because we have our own dormitory. The company also provide them with health apparatus like free masks and free disinfectants that they can use it to clean the cars as well. And this, in fact, can be used by our passengers as well, because it is very important for that service to be seen. Above all of the things, we do understand the implementation of PSBB limit people's mobility, which also affected our drivers' income.
Thus we're giving them a staple food like rice, sugar, oil, and those kinds of the basic needs of households, and on top of that in May we still gave scholarships to the children of our drivers because now more than ever, I think we need to be able to support the education of our next generation. This year we still gave more than 1,300 scholarships to the children of the drivers. So I think that those are the basic things that we can provide as much as possible. The good news is that in June, July and August I think that the situation started to come back, but as we all know, now there's a new PSBB (partial lockdown) again.
So of course it affected us again. So at this moment, we're trying to figure out how can we support our drivers and our employees again. We have done a lot of business process efficiencies, business process reductions, and the whole structure. So I think this time we want to focus on two things; one is how to retrain good drivers and how to retain good employees because it is very important to us. And on top of that, of course, we still have to be lean and everything. We need to do a lot of cost efficiencies. So we are also changing a lot of our business processes, for example, because we have a lot of depots and each of our fleets has their our own maintenance or service stations and each of those service stations used to have their own stock of spare parts. That's why at this moment we try to centralize them in order to reduce the prices. So it's more efficient through economies of scale, and we also can reduce the number of spare parts. We can increase the turnover of the spare parts usage itself so that we don't have to have a lot of stock in our supply. We are trying to make the whole organization as lean as possible and as cost-efficient as possible.
AGS: I'm glad to hear that. Look, the example that you give to others is, is great, whether it be from the human resources side, from the change in the way of doing business, and of course in sustainability. I have always had a great admiration for the positive reaction that you engender in your customers. Well done and I'd like to thank you very much for coming to share the update on what Bluebird's doing.
We need to inspire people at this time. A lot of people are using the COVID pandemic as a reason not to do things. So to see that you are using this as a time to do new things is very inspirational and congratulations from all of us here at Now! Jakarta, Now! Bali and MVB. We thank you for being with us today and look forward to seeing you in person one of these days, rather than across a crowded computer. Thank you very much.
NP: Thank you so much, Alistair. Thank you for the opportunity.
For the video version of this interview, click here!