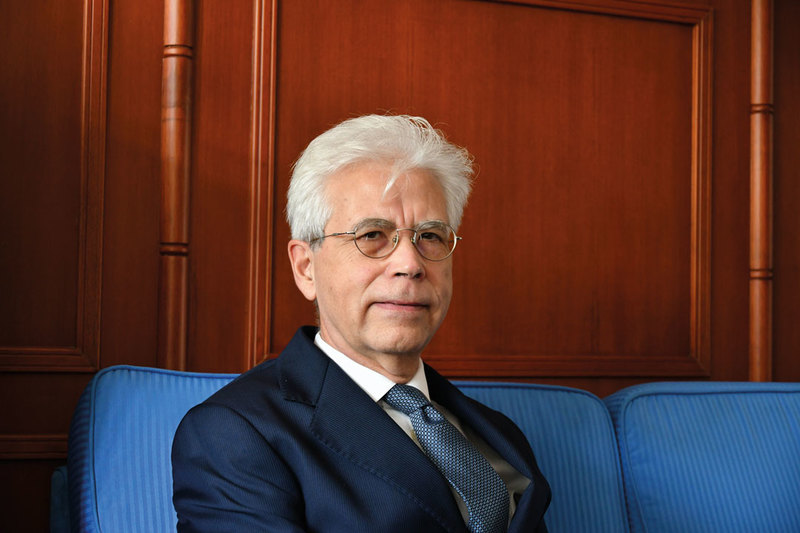 Italian Ambassador to Indonesia, H.E. Vittorio Sandalli spoke to NOW! Jakarta about the importance of cultural exchanges, the increasing interest of Italian businesses towards Indonesia and an exhibition that paves the way for even brighter diplomatic ties.
Italy is one of the most successful tourism destinations in the world. What aspects do you think you can help Indonesia with? Culture and history would seem to be a very good area?
Italy, boasting more UNESCO World Heritage Sites than any other country, is undoubtedly one of the top tourist destinations in the world, visited each year by over 53 million people. Tourists in general, and more and more Indonesians each year, mainly visit Italy for its rich culture, cuisine, history, fashion and art, its beautiful coastline and beaches, its mountains and priceless ancient monuments. On the other hand, we see that a growing number of Italian tourists choose Indonesia as their holiday destination, attracted by its natural beauty, its cultural diversity and its friendly, welcoming people. I would definitely say that culture is a unifying element and a stepping stone for collaboration between the two countries in the tourism sector. In this area, for example, Italy can offer its expertise in the preservation and restoration of cultural heritage. But we can also learn a lot from Indonesia's experience of harmonious coexistence between different ethnic, religious and linguistic groups.
The EU's continuing dialogue on palm oil import reduction seems to have prompted a response from Indonesia targeting food and beverage imports from EU. Has this already affected Italian products coming to Indonesia?
First of all, I would like to stress that the EU is not targeting palm oil and its producers. The EU is one of the major importers of Indonesian palm oil and its market is open, especially in comparison with other importers. The EU aims to continue to import palm oil, provided that its production is carried out in a sustainable way. In line with its international commitments and as an essential step to achieve its decarbonisation by 2050, the EU is trying to reduce the carbon footprint of the transport sector by mainstreaming renewables, including sustainable biofuels. Indonesia has been making strides towards a more sustainable production of palm oil in recent times, and this effort will definitely be taken into account when the relevant European legislation is revised. In general terms, we believe that the palm oil issue should be addressed through a constant dialogue and the use of the appropriate channels: we shall pursue every opportunity to exchange data and information with the RI Government in order to find a mutually beneficial solution.
We are nonetheless concerned about the recent news that, despite the absence of a formal regulation in that sense, imports to Indonesia of alcoholic beverages and dairy products from EU countries, including Italy, are currently being targeted. I believe that retaliatory measures affecting other products should be put aside, trying instead to look at the wider picture of the enormous potential for economic cooperation existing between the EU and Indonesia.
I would definitely say that culture is a unifying element and a stepping stone for collaboration between the two countries (Italy and Indonesia) in the tourism sector.
Italian design expertise has been on show a lot this year, is this part of the focus of Istituto Italiano di Cultura? What else are they looking at?
Design is a distinctive trait of the "Italian Lifestyle" brand, which is recognized and appreciated worldwide. Over the last decades, the design industry has underpinned the country's development, becoming a strategic sector of the national production system and increasingly contributing to its exports. Aesthetic excellence has constituted a formidable competitive advantage for Italian companies on international markets and has translated into original, culturally bound and unique products in great demand. It is therefore natural that our Cultural Institute would dedicate great attention to it, also by organizing the 3rd edition of the Italian Design Day at the National Museum of Jakarta. However, the Institute's mission is that of promoting all different aspects of Italian cultural heritage, and this is reflected by its program of activities for 2019, which includes literature, visual arts, music, cinema, theatre and so on.
Will the re-election of President Jokowi present more opportunities to develop trade capacity with Indonesia?
We believe that President Jokowi's re-election will provide much needed continuity in the Indonesian Government's action as well as a more stable and predictable environment for foreign businesses to operate in. After a relative slowdown of economic activity during the presidential campaign, when foreign companies were somehow affected by the instrumental use of economic issues for political purposes, there are now great expectations for a re-launch of both trade and investments. Of course, it will be very important to see if the administration will make good on its promise to further open up the market to international actors. We also have high hopes in the timely conclusion of the CEPA negotiations between Indonesia and the EU, which should disclose tremendous opportunities for both parties involved.
Are there more Italian companies coming to Indonesia now? Who are the most successful at the moment?
We register an increasing interest by Italian companies in the Indonesian market, attracted by its great potential for future expansion and diversification in almost all areas. Right now I would say that the most significant and successful presence of Italian operators, such as ENI, SAIPEM or ANSALDO, is in the energy sector, although we also have several companies active in sectors such as machinery, retail, consumer goods, infrastructure, automotive, chemicals, tourism, financial services and so on. Furthermore, interesting opportunities exist for mutually beneficial collaborations in the fields of transportation, defense, pharmaceuticals, agriculture, etc.
However, there are still some obstacles that prevent an even higher engagement by Italian companies in Indonesia, such as the numerous tariff and non-tariff barriers, uncertainties in the regulatory framework, red tape and administrative hiccups, etc. Moreover, a higher degree of transparency in the decision-making and operational processes of projects would be desirable.
You also had a top level exhibition, The Beauty of Knowledge, which showcased Italy's 'powers in health, environment, space, food and nutrition and cultural heritage', please tell us how this went.
In March this year, also to mark the 70th anniversary of Italy-Indonesia diplomatic relations, we were very proud to put on display at the National Museum of Jakarta the exhibition Italy – The Beauty of Knowledge. It is an exhibition hosted all around the world that illustrates the Italian excellence and achievements in science and technology. By showing the emotions of Italian Lifestyle through scientific research and its protagonists, it explains the contribution our Country has given to the great adventure of knowledge and technological development. From the Renaissance to the conquest of space, Italy has been on a long journey of research and beauty, discoveries and innovations that are defining its future. The initiative has been a great success, with over 25,000 visitors and a wide resonance on Indonesian media, and has helped pave the way for possible future activities in these fields (Italy and Indonesia are currently negotiating a MoU on collaboration in science, technology and higher education).
Thank you very much, Vittorio Sandalli.