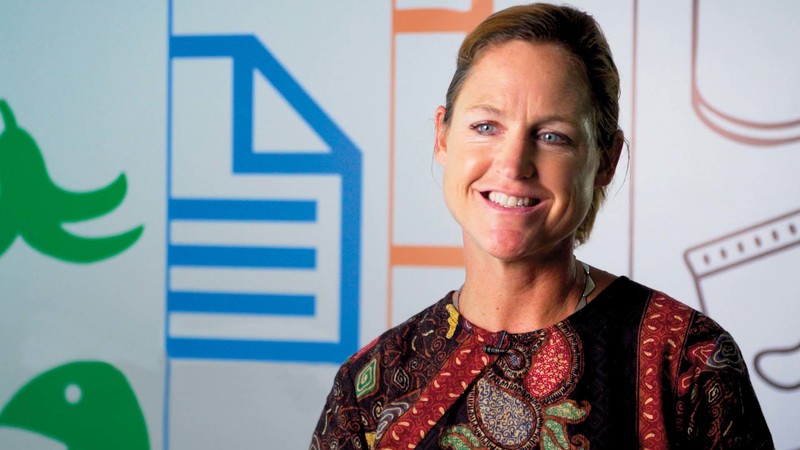 Dutch, married and mother of 4, Corine Tap is the first woman leading the Aqua business of 12,500 people and 21 factories which is Danone's number 1 water business and the largest B Corp in Asia. She is also leading the Danone Waters Division for South East Asia and is leading the transformation of the business with great commitment for sustainability and innovation, including bringing Danone's One Planet One Health to life in Indonesia. As part of Now!'s Special section "The Increasing Importance of Women in Society" publisher Alistair Speirs was very excited to get some great insights from this very achieved woman in this interview.
As President Director of one of Indonesia's largest and most prominent companies, do you think you have achieved something special as a woman in business, or is this just what you expected to do?
I have tried my best to be a female role model to other young women wanting to use business as a force for good. Under my leadership, Danone-AQUA has become a certified BCorporation, which means we have met the highest social and environmental responsibility standards, on top of maintaining excellent performance and staff welfare.
We have made significant progress in campaigning for the circular economy through our commitment to PRO (packaging recovery program), building our Recycling Business Units, launching AQUA 100% Recycled, and even launching a clothing line with H&M out of recycled plastic.
We contributed a donation to frontline workers and vulnerable populations throughout the pandemic.
I feel blessed for the opportunities I have been given in my life, as a human being, and clearly feel it as my responsibility to make the most out of leading this great company, that has been spreading goodness for so many years to Indonesians through everything we do.
We are far from perfect but challenging ourselves constantly if we are using our company's means as a force for good helps us to sharpen our vision and ambition constantly
Do you think your path to the top was difficult as a woman? Were there those much vaunted 'glass ceilings' in place?
Being a woman leader has its challenges. As a mother of four, I have many family responsibilities and want to be there for my children too. Fortunately, I came from an egalitarian culture that values gender equality. The Netherlands has an excellent work culture that does not penalize motherhood and supports women›s advancement in the workplace.
I have also been fortunate to work at Danone which commits to provide equal opportunities to every woman and man employed in the company, wherever they live and work in the world. We believe this is a matter of social justice, which is a condition for sustained market economy development.
Danone is aware that diversity in management teams makes for better business performance. We recognize that women still face hurdles as they move up the career ladder. To help them on their way, we created EVE in 2010, a seminar especially for corporate women to empower strong, inspirational women to spearhead change within the organization.
We also support women in business, through our Aqua Home Service Program, thousands of women, previously housewives, have now been equipped to run their own business as an Aqua agent and earn an additional salary for the family. When we put diverse and inclusivity at the heart of what we do is where we have the biggest impact.
Living in such cultures and getting plenty of opportunities to grow and make an impact I have always felt equally challenged and supported and for sure always inspired and encouraged!
Do you think women bring different values and different approaches to business? What are they?
I feel that care for all stakeholders› welfare, nurturing lives, communities, and the environment, balance purpose with profit. Research has shown that companies with the most balanced gender equality do much better in the long run.
The more we embrace and welcome diversity, being it gender or people with different backgrounds, different perspectives, the more we represent the world outside our companies and therefor are better able to serve our consumers and customers better.
How do you manage the family-company balance? Is that aspect a challenge?
I have been blessed with a partner who supported me in every way possible. We have also been fortunate there is much support for me to pursue both my corporate aspiration and fulfill family responsibilities.
Danone has also been very accommodating and understanding of my commitment to my family. Yes, keeping the balance has always been a continuous challenge, but I have a great support system and great people around me to help make it happen.
In the end it is about good planning and making sure you have enough time for your work, yourself and your family, all equally important to ensure sustainable success and well being.
Know what the activities are that fuel you with new energy, for me that is being in nature, on the back of my horses, or diving the reefs of Indonesia and picking up plastic from nature whilst doing that!
As well as accepting that you are not perfect and will not be able to do always everything. So being able to let go of some ambitions is important too.
What advice would you give to any aspiring lady in business? Is that any different to what you would say to a young man?
I don't want to stereotype males and females, as both genders will benefit exploring all aspects of their personality and being. However the way we are brought up and conditioned by society can affect the way we see the world, see ourselves, and shape our professional trajectories.
I want both my sons and daughter to believe that they can pursue their passions and talents, that they feel supported in their personal journey to explore life to the max, and make a positive impact on those around them.
In some cultures patriarchy is still very much alive and well, and we need to open the eyes of young men and women, our sons and daughthers to the power of diversity. In some societies women are not brought up to believe as much in themselves, and often lack role models inspiring them to be the best they can.
To young women, my advice to you is to always trust your intuition and don't consider your femininity as a weakness. It is your source of power, and it is your source of wisdom. Use it well to gain an advantage in business dealing, or in fact in the family. Be in charge of your own destiny.
To young men, I hope you'll place as much importance to cultivating humility as you would to competitiveness, productivity and resourcefulness. You will do better in the workplace to develop a wholesome personality.
To all: think what you want to achieve in life, and what you need in order to get there, including from your support system, your family and friends around you. Be agile, and take advantage of every learning opportunity you have. And most importantly embrace and enjoy every single moment of it.
Many thanks.