The driving force behind a flourishing bilateral relationship, H.E. Peter MacArthur talks to NOW! Jakarta about Canada's impactful policies in Indonesia, blue economy and hopes for the upcoming presidential term.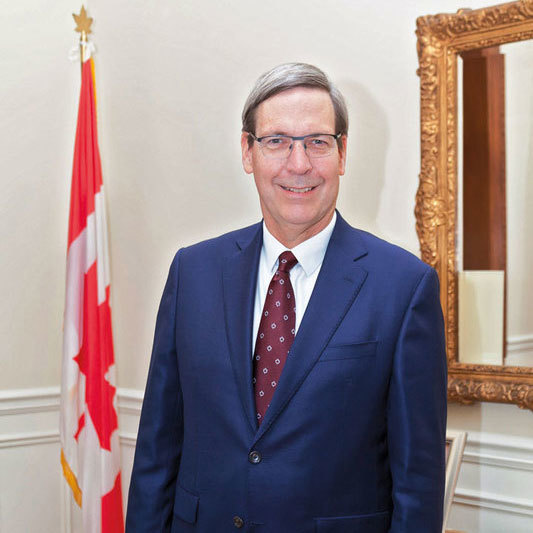 What has happened over the last 12 months that you are particularly happy about in the Canada – RI relationship?
Among other things, we've just launched an 8 million dollar program called Berani to help with reproductive health in women and girls and we'll also be announcing a new programme to strengthen women's voice and leadership.
On the trade and investment side, in 2018, Canada's exports to Indonesia rose by 24%, which is a significant increase at a time when the world economy and trade is a bit subdued. We have increasing interest in Indonesian investment in Canada, mainly in the natural resources field and we maintain a healthy interest in the financial services sector, for example, including pension funds, infrastructure possibilities down the road with emphasis on connectivity, which is also one of President Jokowi's top priorities.
I'm also very happy to see good security cooperation between our two countries in counter-terrorism and capacity building, for example. We're working closely with the local Indonesian security authorities to deal with everything from cyber to human smuggling and terrorism, which is a common challenge for us all.
Any areas you feel could be improved?
If Indonesia were to be more open to foreign direct investment, the country would employ more young people and would grow faster and increase its manufacturing exports. That's an area where I hope to see some improvement in the coming years.
Another one, and I know your finance minister has already taken steps in this direction through a tax amnesty program. Compared to Vietnam, in terms of population and GDP, this country collects half as much tax revenue, which enables public expenditure, health and education to be higher per capita in Vietnam. Over time, this wider tax base would reduce inequality, which would improve social cohesion and be less of a trigger for people to demonstrate discontent.
You are particularly concerned over the sea: sustainable fisheries and fishing communities. Have you had any progress in this area?
When Canada chaired the G7 last year, we initiated with a G7 Ocean Plastics Charter that many countries are signing on to and that was followed by Our Ocean conference, which Indonesia hosted last year in Bali, where Canada announced some funding for the blue economy through the World Bank. A month later Canada co-hosted with Japan in Kenya a blue economy international conference. And I'm happy to say, out of all of this, the Indonesian government is one of the first, if not the first in the world to essentially set up a national plastic action partnership.
This partnership is aimed at, in the case of Indonesia, reducing plastic marine waste by 70% by 2025. I'm happy to say that Canada sits on the steering board and we are determined to accentuate the circular economy and monitor progress.
I'm happy to say the government of Indonesia is determined to make progress in reducing the amount of plastic waste through reusing, recycling or incinerate the plastics so they don't pollute the ocean for hundreds of years.
Education is a major area that Canada is focused on. Do you see continued interest by Indonesians seeking education in Canada?
The number of Indonesians studying last year rose by 50%. I think there are three reasons for this. First, Canada offers quality and consistent education in universities and colleges. It's a public system with a consistent quality that is not always found everywhere in the world. We have a public sector standard of quality education and it's quite affordable considering the value you're getting.
Second reason is we are very multicultural. It's very open and welcoming. It's safe, relatively speaking. People of all faiths feel very much at home. Half of the people living in Toronto were born outside of Canada. One fifth of Canadians were not born in Canada. So we're very open. We are a community of communities where nobody has a majority.
And the third reason, which I'm sure your readers will find interesting, is if you're a foreign student of any nationality studying in Canada, you can work part time up to 20 hours a week while you study and after you graduate successfully, you can work in Canada up to three years, unrestricted.
This means two things: most importantly, you get valuable experience. Secondly, you go home with money and you've paid off some debt.
There have been quite a number of indicators that Indonesia is moving towards more radical Islam. What measures are you taking to promote religious freedom, which is an area Canada is concerned with?
One way is by providing a model through political leadership. The cabinet of ministers in Canada are elected, they're not appointed. That cabinet is 50% women, it has a number of Moslem ministers, a number of Sikh ministers, Hindu ministers and a number of ministers who don't believe in religion.
After recent events we stand in solidarity with other nations around the world to ensure that hate speech and hate literature are fought through legal enforcement, and that includes on the internet and other online platforms. We ensure that if anybody delivers a hateful speech or writes something hateful that they are taken to court and punished.
Canada has a major insurance investment in Indonesia. How did this happen and how is it assisting the development of Indonesian insurance expertise?
Two companies, Sun Life Financial and Manulife, joined more recently by Fairfax has been in this market for decades now, they employ over 20,000 Indonesians. They're growing fast because your middle class is growing fast. Sun Life and Manulife have joined hands with the government of Canada and the University of Waterloo to train hundreds of Indonesian youths to become actuaries.
We believe Jakarta could become a regional centre of excellence for actuarial sciences in support of the financial service industry, particularly insurance, but also in any kind of wealth management, for example, crop insurance to fight climate change and dealing with risks. That's an on-going programme, and in my view, one of our little gems that I'm happy to bring to your attention.
Presuming that there are no surprises in the confirmation of the new President and Vice President, what are your hopes and desires for a continued and perhaps improved relationship between the countries?
I'm encouraged that the third largest democracy in the world has carried out the most complicated one-day election in history, and the government with its re-election is adding the priority of human capital and developing the young people in this country.
I would hope under the new Jokowi administration that there would be greater scope for Canadians and other foreign companies to develop its infrastructure through this proven P3 technique, which reduces corruption, gets projects done faster, higher-quality, better-maintained, longer-lasting, without falling into a debt trap and without overly taxing state-owned enterprises, which are currently being stretched.
Many thanks, H.E. Peter MacArthur.
---
This article is originally from paper. Read NOW!Jakarta Magazine July 2019 issue "Health, Sports, and Recreation". Available at selected bookstores or SUBSCRIBE here.