Since its 2017 launch, Y Waste, a digital food donation platform has been providing a solution to reduce organic food waste in Australia and New Zealand, saving thousands of from food insecurity in both countries.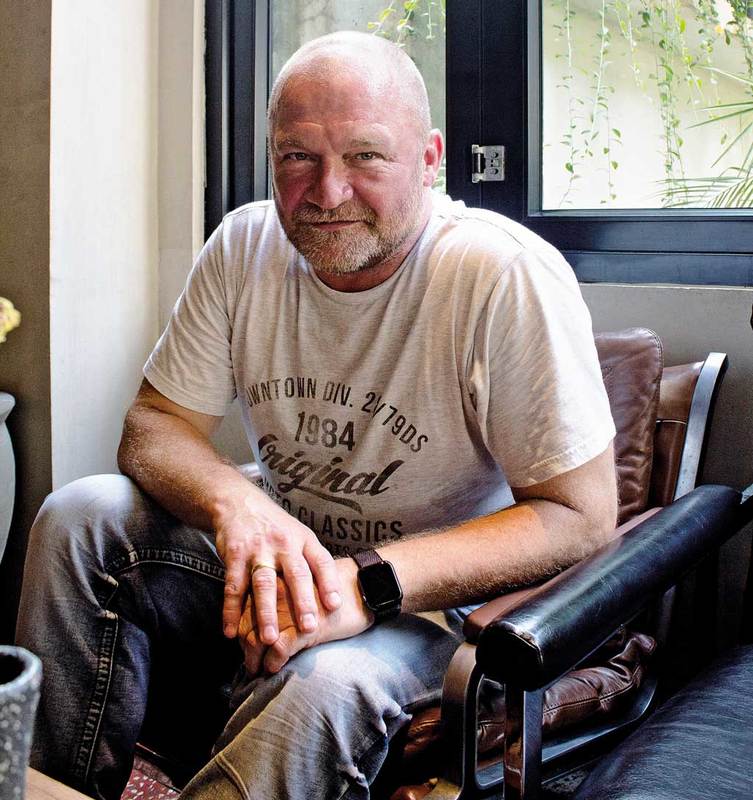 CEO and Co-founder Ian Price's recent visit to Jakarta carried the mission of expanding the program's reach by engaging local partners to help solve the urgent waste issue in Indonesia. NOW! Jakarta sat down with Ian at Hotel Monopoli Kemang for a deeper discussion about Y Waste's pilot project in the country.
The app was established two years ago. What was behind the idea of having this app right now? Do you have certain moment that move you about environmental crisis?
I always love to recycle and we have been seeing environmental destruction around us. I have worked in public service for years as a police officer. Looking at the society around me, I realised this is how I could make a difference. I've noticed how traditional food donation system hardly works. Food charity and food donation activities are always facing physical or logistical limitations.
You need a huge set up and a distributing intermediary is usually slow to distribute the food, making the process all the more challenging. You also need time to pick it up and move the food somewhere else. It has come to a point where the food donation and outlet have to remove seafood, salad, sandwich, hot food, because they have already gone bad. In the end, it was thrown away. In 2017, we started the enterprise and developed the apps to address the problem in food donation activities.

Tell me how this mobile application could reduce food waste and help people with food insecurity? How does it work?
We connect the end-receiver who ends up eating the food with the one who want to donate it. We cut that middleman in food charity, directly connecting those two through the apps. Now, with the app—and it doesn't matter how much, even just one meal—people can donate food and give it directly to whoever needs it. People could discover nearby food outlets where they could get that food donation. This app also saves the people their dignity because Y Waste gives people choice. It's great value is that the restaurant owner of any food outlet can see who they are actually helping.

Who is eligible to receive the donation?
The app allows food outlets to provide free meals every day for donation, then people who deserve it could claim the food by validating the code that we've given. We don't give the code to friends and family or random people. We are working on with Foodbank of Indonesia to screen for individuals who actually need this code. Once approved, one could use the code to get the free meal using the app. We call it Magic Portion.
After that, they go to the restaurant, show the receipt on screen, which the food outlet will validate, and then the free meal is handed over. We make the app as simple as we could and with our user-friendly interface, the process is as easy as ordering GOJEK. We help to reach the target to get more food rescued from being wasted. And with that code, registered people in need are eligible for one free meal every day until Foodbank of Indonesia decide otherwise.

Tell me about Magic Portion?
We call it Magic Portion because we like to target food waste at the end of the day. Details are unspecified but it is not food scrapping or anything like that. It's unsold food from the restaurant or food from certain occasion. Because sometimes food outlets don't know how exactly what food they have left, we decided that they don't have to be specific meal. Not having this specified actually makes it easier to rescue the food.Quality of the food is guaranteed because it is given directly from the food outlet. For example, someone go pick up the food at Indian restaurant but they just don't know it is chicken curry of beef curry and they didn't want the wrong order. Sometimes, chefs also have experiments in cooking and it is not to be sold. Some vegetable, fruits, or yoghurt which have one-day left and need to go off the shop from Supermarket can also be donated.

What made you decide to come to Indonesia and implement the technology here?
Indonesia is the second largest food waste producer in the world after Saudi Arabia. Beside Jakarta, we also have been communicating with Singapore. I thought it's an emergency that a nation with a wealth of natural product throws away food at such high amount. At the same time, it is not news that Indonesia is facing national food insecurity.
It's a similar case when we started in Australia and adapted the technology in New Zealand. There is a big problem with food waste and there is also people with food insecurity. The resources are already there. We prevent the food from being thrown away. They only need tredistribution. In Australia, 20 percent of the children comes to school hungry, and with a total of 3,6 million people, this is classified as food insecurity. In Indonesia, around 40 - 50 percent schoolchildren in Jakarta and Banten goes to school hungry, meaning 8 million people are facing food insecurity.
With latest expansion in Jakarta, I hope Y Waste and our partners could help reduce city food waste and freeing people from hunger.

How much food potentially can be rescued if food outlets practice this new way of donation? Who are Y Waste partners?
If food outlets use this app, 90 percent of food waste can be potentially rescued and distributed in quality condition to the people who need it most. It's definitely an effective tool and it's a win-win solution for everyone. So far, in Australia, we do both commercial and food donation platform in total over 100,000 meals. I think we have donated around 40,000 meals to people in need so far. We have 600 restaurant partners in Australia with more coming on board everyday.
We have made a Pay It Forward so people could also donate by purchasing meals at certain food outlets to be added to the restaurant's current donation on the app. We also have a partnership going with UNICEF Australia.

What is your plan specifically for Y Waste Indonesia?
We team up with Esti Puji Lestari to lead Y Waste in Indonesia. We have been engaging and inviting partners to join with this Indonesian initiative. Currently, our partners include Jayson's Meats, El Asador, and Auntie's Kitchen. We are also approaching popular franchises, such as KFC, McDonalds, and Sun Pride. Hopefully, they are willing to donate their food and help so many people in need.

---
All we need to do is to redistribute what you have left at home or your restaurant and you'd be helping eliminate hunger.

- Ian Price, CEO and Co-founder of Y Waste
---

How can the culinary side benefit from this initiative?
In Australia, and possibly in Indonesia as well, throwing away food costs money. If you're looking to prevent that waste cost, you can save money and, at the same time, deduct their tax payables by producing zero waste. The economic and human incentives is there. It's simply more sustainable for their culinary business,
Moreover, we do not require anyone to produce extra. It's all already there. All we need to do is to redistribute what you have left at home or your restaurant and you'd be helping eliminate hunger.

What is the future like for Y Waste? What are your hopes?
I would imagine if I am struggling to feed myself and family that would the only thing I could think of. How can I feed my children today.If one can eliminate hunger, then they redirect their resources for other needs, perhaps to get an education or secure a decent job. With Y Waste, you don't have to worry about primary needs. If you want to turn around people's position in society, we need to remove food insecurity. And that's what we have been doing right now.
---
This article is originally from paper. Read NOW!Jakarta Magazine May 2019 issue "Can Jakarta Really Change?". Available at selected bookstore or SUBSCRIBE here.