NOW! Jakarta spoke to Ambassador of Ireland, H.E. Kyle O'Sullivan ahead of the end of his appointment in Indonesia. He discussed the role of the resident Embassy and of his time here in the country.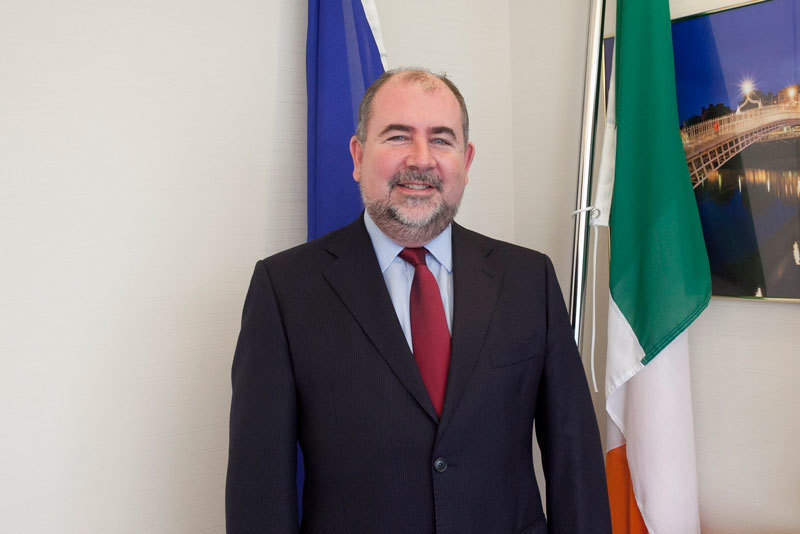 The Embassy has been open for a few years now. What are some of the achievements in the Irish- Indonesia relationship in this period?
I came here in 2014 to set up the resident embassy. We have built a presence, trying to do something about our profile, get ourselves a little better known. A lot of Indonesians know about Europe but there are many different countries in Europe, and little known here about Ireland. Some of what we do is cultural work, some social media and some is promoting tourism and education.
There has been some tax about a double taxation treaty. Can you tell us more about this?
We've been pushing for a double taxation avoidance treaty (a DTA) with Indonesia for several years now. We have bilateral tax treaties with 74 countries including most of the major players in this region. It gives exports and services certainty on tax and we have been trying to convince the Indonesian side that this is worth their while as well. A big interest from our side is aviation leasing. It's a specialised financing arrangement.

As airlines expand here they prefer to lease rather than buy new aircraft, often via Irish-based companies. Specialised aviation leasing companies come in and buy the aircraft and lease them back to the airlines. Ireland supplies around 50% of the leased aircraft in the Indonesian market. A DTA would cut down on the paperwork and the uncertainty about tax rates or withholding taxes. I hope we can get DTA negotiations moving in the next few months.
Can we expect a few cultural programmes in the year ahead? What are some of the developments, if any, in terms of cultural exchange between the two countries?
We have always had Irish mainstream culture present here, like the Boyzone concert [in August] but we're pushing other things. We have two Irish gamelan orchestras visiting Indonesia this Autumn, one from Cork and the other from Dublin. The Dubliners received a set of instruments from the Sultan of Yogyakarta back in 2014.

There is also an Indonesian bagpiper! He's already an expert and we have been working with him. We brought in a number of Irish movies to the Europe on Screen festival this year, including the Breadwinner —an animated movie set in Kabul, made in Ireland and co-produced by Angelina jolie.
How has tourism developed between the two countries? More Indonesians are travelling and Ireland is certainly on the radar. Have you seen an increased interest in tourists from Ireland to Indonesia too?
Numbers have gone up four times since we opened the Embassy. This year we expect 5,000 Indonesians to visit Ireland. It was 1,000 four years ago. They're travelling to other parts of Europe but now spending time in Ireland too. It's easy for Indonesians to get a visa. There is no fee or need for fingerprints.

They like the golf, the countryside, the food. We mostly have rural family farms in ireland so good, quality of beef, lamb and vegetables. The food isn't always sophisticated but it's local and fresh. We have good salmon. The beef is all sustainably raised, and grass fed. We had about 20,000 Irish people visit Indonesia last year. Most of them went to Bali, but of course it's interesting for them to see more of the country.
Your appointment as Ambassador is ending shortly. What are some of your best memories from your time here and can you share what your plans are?
We are leaving in August. We'll be back in Dublin for a short period before moving on again. I've been here with my three kids and they have had a great time. As a city, Jakarta has a real texture to it- the people everywhere, the smell of food, the noises. In comparison, other cities, often feel quiet and empty.

Some of Indonesian's urban landscapes are completely unappreciated, Kota Tua here in Jakarta, Semarang's old centre, Bandung. These are older urban centres but they are not sterile, there's life in them. My favourite trip is the railway line to Bandung. The last hour as you come into Bandung- there are steep valleys rice paddies and great bridges. It's a fantastic tour, it's reasonably priced and you get Bandung on one end and Jakarta on the other.



_______
This article is originally from paper. Read NOW!Jakarta Magazine August 2018 issue "Capital of Culture". Available at selected bookstore or SUBSCRIBE here.