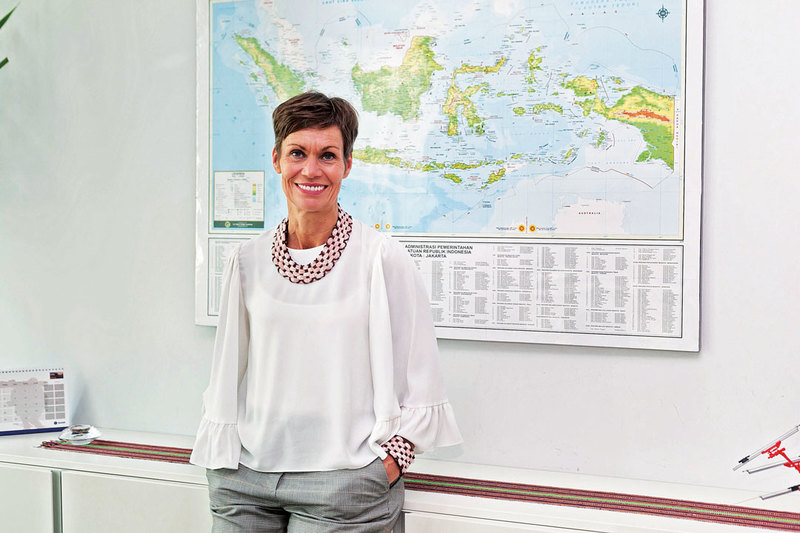 Swedish Ambassador to Indonesia, Marina Berg tells NOW! Jakarta about the Swedish ways and how it led to strong diplomatic ties between Sweden and Indonesia.
What have been the Embassy's most important events and achievements over the last 12 months?
The Embassy is doing a wide range of events every month. Some of them in cooperation with Business Sweden (BuS). The sum of all events is the result and we conduct long-term thinking in achieving our goals.
The Swedish Foreign Policy is based on values; we strive for increased democracy, gender equality and sustainability. The Governments Drive for Democracy is cutting through all foreign policy areas, including international trade. Sweden's trade policy is a central part of strengthening democracy and human rights in the world. Research shows that stressing democracy and human rights significantly advances economic development. A key part of our drive for democracy is working to ensure that women enjoy the same rights, resources and representation as men.
I would like to mention particularly an event that was successful: Smart City for All. A two-day workshop on constructive discussions on what Swedish industry can offer to make cities livable. It also included a business delegation to Bandung and a meeting with West Java Governor Ridwan Kamil.
The workshop was conducted together with BuS and MVB and it gathered companies like White Architects, Scania, IKEA, H&M, SKF, among others. Also, the Swedish Energy Authority participated. Governor Ridwan Kamil honoured us on the second day of the event and gave a speech.
Sweden can offer a collective knowledge and experiences to build Cities that are both liveable and sustainable. The concept Smart City Swedenhas a clear vision with the aim to improve the quality of life for all people. Focus could not just be on the urban areas or one group of people, it should be constructed for all people, and to make sustainable solutions an integrated part of all the businesses.
Also, the concept is built on a Triple Helix model that stands for getting the counterparts to work together, from planning throughout implementation. Close cooperation should be conducted between the Industry, the Government and the Academia. It is important to ensure a holistic approach, timely funding and public benefits.
We hope for good results from this event and we will actively follow up, both in Jakarta as well as when building the new capital in Kalimantan. Policies and political reforms must balance the need for sustainable thinking while at the same time supporting the private sector and economic growth.
Besides from supporting Swedish businesses in Indonesia, the Embassy promotes Sweden and Swedish values. We regularly conduct different campaigns like for instance the Swedish Dads or Wikipedia. We often turn to young people with the aim to increase awareness about democracy and human rights. These activities, however, are well tuned in with promoting business investments in Indonesia. With Swedish industries come long-term commitments and true partnership, high-quality products, sustainable and environmental thinking, as well as good labour standards and CSR.
What are the main points of interaction with the Indonesian Government at the moment? What are the main challenges?
When it comes to trade and investment, the main interaction and reason for dialogue with the Indonesian Government relate to how to sustain the fantastic economic growth of 5,2 per cent as well as how to meet the needs for the majority of the people, i.e. those who are under 30 years old and in productive age.
If Indonesia is to preserve its growth and reach its goal of being the 3rd largest Economy in Asia and the 4th largest Economy in the World by 2050, as well as reaching its exports target by 2019, Indonesia has to open up for free trade and investments. The key is to lower its imports taxes and ease the regulations. Trade agreements must be reached with its traditional and non-traditional partners. We are specifically interested to reach an agreement between EU and Indonesia, CEPA, by 2020. Sweden has become a rich country by conducting free trade policy. That is the winning concept.
Have you seen an increase in interest in Indonesia from Swedish companies or in Swedish products and services by Indonesian companies or consumers?
Presently we have more than 90 Swedish companies established in Indonesia. We see more and more companies showing interest in the market. A lot of them are high-tech start-up companies. If the regulations for investing in Indonesia as a foreign company were to be reformed and Indonesia become a more friendly country for FDI, we would for sure see even more Swedish companies entering the Indonesian market.
We see a growing interest from the Indonesian side in Swedish services and products. Governmental reforms in the area of trade would therefore be very much welcomed.
There seems to have been an increase in cooperation between the Nordic embassies resulting in the joint Nordic National Day and Nordic Chamber of commerce. Please tell us more about this.
The Nordic cooperation has always been very strong in many areas aside from Foreign Policy. We share the same values and cultures. We often communicate in our own languages. The Nordic countries are small countries, and together we get more leverage.
This year it was actually the third time we celebrated the Nordic National Days together. Working together is more fun and it is also a way of showing Jakarta and Indonesia the Nordic way of doing things, i.e. we are efficient. We want to save people their time and money.
What are your plans for the next twelve months.
Next year Sweden and Indonesia are celebrating 70 years of diplomatic relations. For this reason, we will have a series of activities. The theme will be sustainability. (I would love to come back on this)
We will continue with the activities that we have started. We will follow up on the Smart City event and also on Energy for Waste. At this moment we do not have more detailed planning than this.
Thank you, H.E. Marina Berg, Ambassador of Sweden to Indonesia.