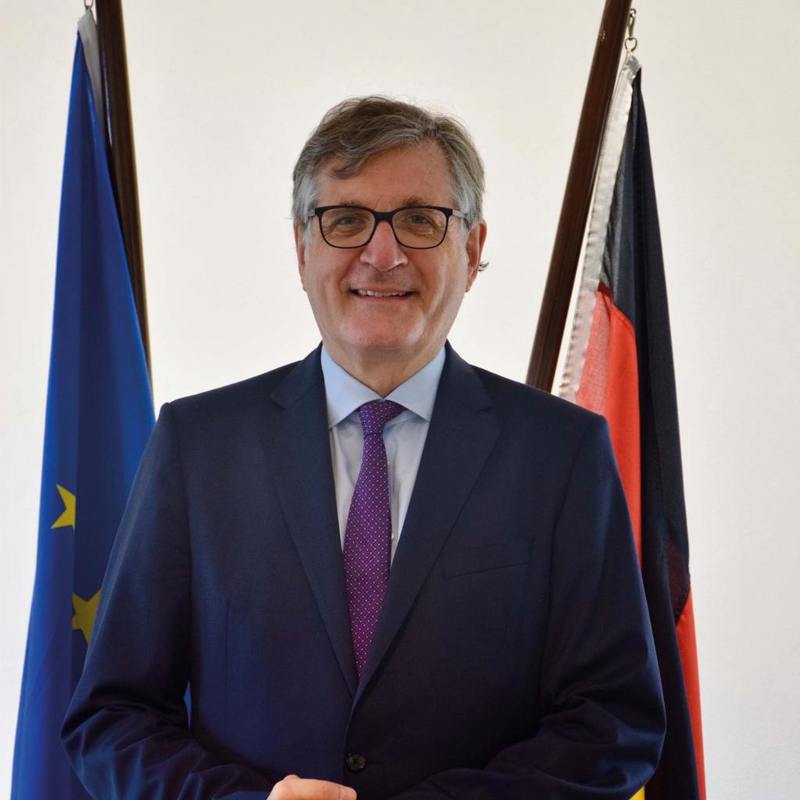 German Ambassador to Indonesia, H.E. Peter Schoof, shares many points on how bilateral relationships between the two countries remain strong despite less than ideal circumstances.
In what ways has the Covid-19 crisis affected the German Indonesian relationship?
Thank you for inviting me for this interview, Alistair. I'll just say it's a pleasure to be with you. I feel very honored to be your guest today. Your question, of course, deserves different layers of answers, and I would like to pick up the most important ones. The first, of course, the Covid-19 pandemic requires a high and extensive degree of international cooperation to combat. And the very positive factor to start with, is that our countries, Indonesia and Germany, have committed to be together in the spirit of multilateralism to come to term with this. We have seen similar spirits in a number of events that took place in New York, which is something called the Alliance of Multilateralism of which Germany, Canada, and number of countries in Europe, is a part of, and also Indonesia is a significant partner.
There is another grouping called the ministerial coordination group on Covid-19, which is a small group led by Minister Retno Marsudi. The foreign ministers of countries like Singapore, Brazil, Australia and others are focusing on the question of how to maintain and keep supply chain and medical items open. So that is a very good thing. I think, mutually, we are really like minded in this difficult time and we know that multilateralism is very important now more than ever.
The very positive thing that I would share is a very personal experience. Of course, you can imagine such a crisis created a lot of difficult, complex situations, between people to people agenda, from a couple who have separated and compatriots who were fighting to go back home. We have seen such excellent cooperation between services here in the Republic of Indonesia and Germany authorities. I mean, we repatriated about 3,000 German and EU citizens in the month of April, mainly from Bali, but also from Jakarta on a special chartered flight commissioned by the German government back home. Indonesia chartered flights to bring back seaman, women from the cruise ships and other vessels that are in the world. And Germany was kind of the hub in that operation. Seriously, I was so impressed by the level of solidarity and comradeship between our two countries in that regard, and that has been a very positive experience.
Of course, we can talk about this later. There were also more difficult parts because many things that we could not take place but I am sure we will come to that in the moment.

How has the German government (and related bodies) been able to help Indonesia in this time? Have you helped on the medical or economic sides of the challenge?
Yes, we have. Big time. First of all, I think there was a small coordination group of supply chain in the medical field. I mean, we have also extended the services our companies with essential roots in the medical fields, lab materials, PCR tests, and so on. We have received a request in March from both the Ministry of Finance and Bappenas to how we could increase our focus on bilateral cooperation more on combating the pandemic. And I am very proud that in the month of June, we were able to actually commit a substantial amount of about EUR 517 million to Indonesia, which was mainly directed to empower activities within the health infrastructure. Another contribution called the active response and expenditure support that is financed by Asian Development Bank added EUR 250 million. We also have a number of technical assistance projects via trainings in hospitals and universities, for example, in Makassar.
We have also continued to support other sectors not immediately linked to the crisis but just as important, for example, there are projects for financial inclusion. Including this and other projects I haven't mentioned, there was more than EUR 500 million that went to Indonesia. I hope, in modesty, we are able to respond rather rapidly to the request of our Indonesian friends.
Let me say that Indonesia is not the only country that has to come to terms bureaucratically with this amount of challenges but also in managing financial resources. Now, the advantage that I have to say, for us, is that we are very long established on corporation partners. We have an advantage that might be a little bit easier for us because we have networks in all provinces in Indonesia where we can try to manage these difficulties, maybe in a more efficient way than others.

Making it better during the down time is extremely relevant. We have been called about the Green Recovery programme. What to do when things are down?
On this front, you may have heard that the EU were able to put together a spectacular amount of EUR 1,8 trillion. It's an unprecedented amount that has been put into place to deal with the situation to support member states and their response to the pandemic. But also to a certain extent to go to the external action, both at the EU level and also at the national level.
The basic philosophy that we try to follow is that this is a chance; this is a monumental situation that we are experiencing right now. And it is a situation where we have seen things that we thought would be impossible. I mean people are staying away from work and not driving cars on the road, cities seemingly empty and so on. We have always heard that mobility is an important driver for growth and suddenly we see sudden impacts of a spectacular nature. Humankind is able to do things that we didn't think were possible.
Then why don't we take this opportunity to really push the important elements of the green agenda and rethink the concept of mobility—to think about all of the possibilities the digital world has to offer to us. There are also many opportunities, and I think one big concern that we have is that this is the situation that is actually an opportunity, if i might say, to also advance our green goals, the sustainability goals. The EU wants to be a carbon-free economic zone by 2050, which is an ambitious target that requires a lot of effort in almost every field of life from mobility, transport, and housing.
Thank you, H.E. Peter Schoof, German Ambassador to Indonesia.