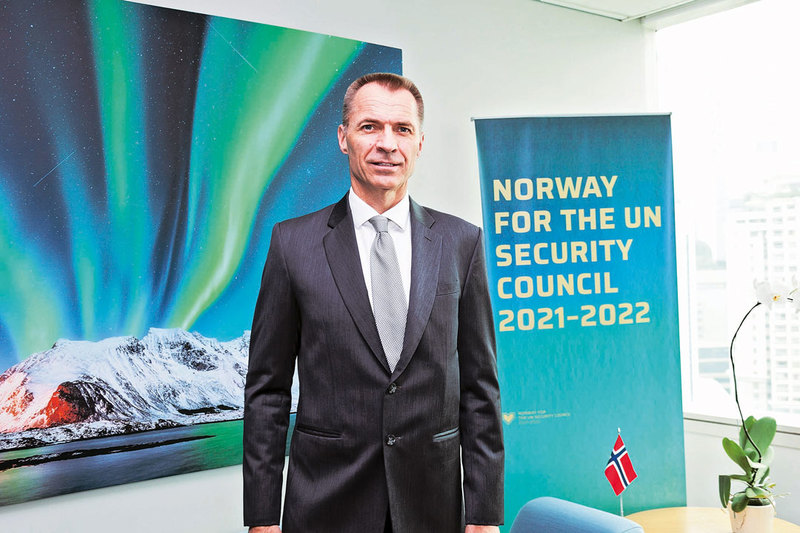 The Norwegian Ambassador to Indonesia shares what's on his busy agenda and highlights main points of cooperation between the two countries.
What have been the Embassy's most important events and achievements over the last 12 months?
It has been a very busy year and we are very pleased with what we, in close cooperation with our Indonesians partners, have achieved. The signing of the Comprehensive Economic Partnership Agreement (CEPA) between Indonesia and the EFTA-countries (Iceland, Lichtenstein, Norway and Switzerland) last December, after many years of negotiations, was a major achievement. Another milestone was the announcement that Indonesia has reduced its deforestation and that Norway therefore will disburse the first carbon payment under the climate and forest partnership between our two countries. This will be the first payment for reduced emissions since this partnership started in 2010. Norway has pledged 1 billion USD to Indonesia for reduced deforestation.
Have there been any major VIP visits to or from Norway? Who was involved? What were the results of the visits?
We have had our Minister for Environment and Climate Mr. Ola Elvestuen visiting Indonesia earlier this year. Minister Elvestuen visited Raja Ampat in West Papua province, and observed the unparalleled biodiversity that the Indonesia forests and oceans hold. During this visit, the Minister also announced the first payment for reduced deforestation, together with his counterpart, Minister Siti Nurbaya Bakar. We have also had our Vice Foreign Minister visiting in May, as well as visits from our Parliament. Such visits are very important to share knowledge and strengthening our bilateral relations.
The Forest and Environment Minister, Ibu Siti Nurbaya, attended the International Conference on Biological Diversity in Trondheim this summer. Given that Indonesia has an exceptionally rich biodiversity, both in its natural forests and in the ocean, the Government's active role in international fora like this is highly valued.
What are the main points of interaction with the Indonesian Government at the moment? What are the main challenges?
We enjoy a close and fruitful cooperation with several ministries, directorates and other entities. The Ministry of Foreign Affairs (Kemlu) is always the focal point for our relations with the Government, but we have also excellent cooperation with many other ministries on issues as climate and forest, fishery and oceans issues, trade, energy, planning and financial matters. The operationalization of the new environment fund, Badan Pengelola Dana Lingkuangan Hidup, will be of particular interest for us in the coming months.
Have you seen an increase in interest in Indonesia from Norwegian companies or in Norwegian products and services by Indonesian companies or consumers?
We have seen an increased interest in the renewable energy sector. Indonesia has an untapped potential in producing energy from solar, hydropower and geothermal, to name a few. We also see an increase in the consumption of Norwegian salmon. We are hopeful that when the CEPA enters into force we will see increased trade and investments between our two countries as the agreement will provide a favourable and predictable framework for businesses and investors.
How is the balance of trade between the countries? What about the balance of visitors?
We are happy to see a significant increase in Indonesians visiting Norway. There has been a steady growth reaching 4,500 in 2018 and the number will be even higher this year. Norway has plenty to offer with our spectacular fjords, mountains, the midnight sun and, not least, the Northern Lights. We can also offer world known artists as Edvard Munch who painted the iconic Scream, playwright Henrik Ibsen and composer Edvard Grieg. In terms of visiting Norwegians, we have around 18,000 visiting Bali annually, which is the most popular destination, and there is a growing interest by Norwegians going to many other places in Indonesia too.
Our statistics shows that Norway exports a little bit more to Indonesia than the other way around. I am convinced that the implementation of CEPA will offer new opportunities for increased trade and investments both ways. Norway has a very open economy and is an attractive country to do business with.
There seems to have been an increase in cooperation between the Nordic embassies resulting in the joint Nordic National Day and Nordic Chamber of commerce. Please tell us more about this.
The Nordic countries have much in common with shared values, culture, open and strong economies, welfare states, etc. If you put the Nordic countries together, with a population of roughly 25 million, we would have been the 11th largest economy in the world. Indonesian businesses should look at the Nordic region as a homogeneous market where the citizens are open minded and with strong purchasing power. At this year's Nordic National Day, which was the 5th time we celebrated together, we focused on climate, education, gender equality and the importance of sustainable oceans, which are all key priorities in our countries.
We are already looking forward to next year's Nordic event.
What are your plans for the next twelve months?
We will celebrate 70 years anniversary for diplomatic relations between Indonesia and Norway. We will also celebrate 10 years jubilee for the climate and forest partnership, and we will mark the 5 years jubilee for our sector dialogue partnership with ASEAN. The next 12 months will be very busy and entertaining. I also hope that the CEPA-agreement will enter into force as early as possible next year accelerating trade and investments between our countries.
Thank you, H.E. Vegard Kaale, Ambassador of Norway to Indonesia.