When Singaporean engineer Jaspal Sidhu first came to Indonesia almost three decades ago, he was alarmed by the country's lack of good, affordable schools. Strongly believing that high-quality education should be accessible to anyone, he founded the SIS Group of Schools, which introduces the world's best performing Singapore education system to Indonesia.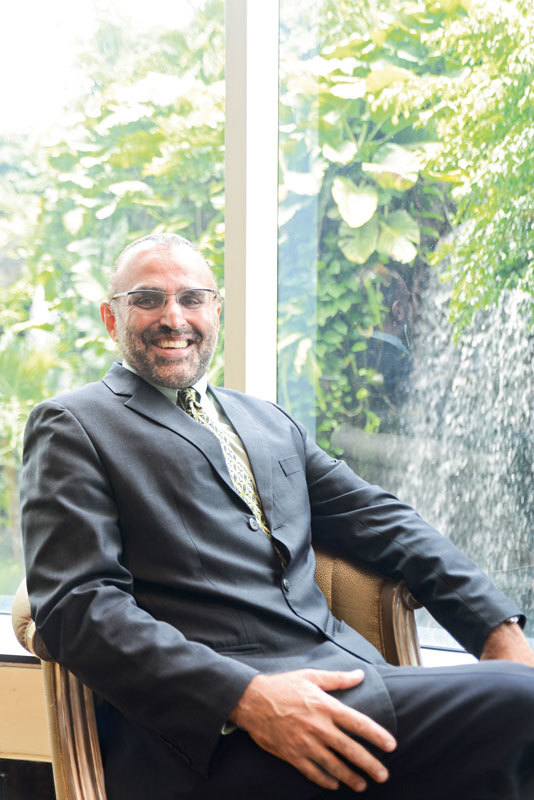 Jaspal Sidhu spoke to NOW! Jakarta about his vision for SIS and his long-term goals in Indonesia.
What encouraged you to become an edupreneur?
I have worked in Indonesia for more than 25 years as an engineer all the way from North Sumatra to Kalimantan. One thing that struck me was an under-performing education industry in terms of quality schools in this lovely archipelago. And when I do find progressive schools, they are simply too expensive. Quality education should be accessible to as many income levels as possible. That was the thought process.
How did you get started? Where was your first school?
I met like-minded people who brought different networks to the table. I approached senior government officials in Singapore and Indonesia who provided me with the impetus. I went to Raffles Institution, one of Singapore's premier schools (my alma mater) who seconded me their head. And I was assisted by world renowned educationists from Singapore and the US. That gave us a great foundation and a perfect start. The first school was the Singapore International School (now called Singapore Intercultural School) in South Jakarta. That school has gone from strength to strength.
It has more than 23 different nationalities studying there. It is probably the only school in the region that has two intakes, January to December and June to July to cater for students going to universities in both the Northern and Southern hemispheres. With our high education standards, good governance and our vision to expand, we then formed a strategic partnership with the International Finance Corporation (World Bank). Today we have 8 premier schools in Indonesia with campuses in Jakarta, Medan, Semarang, Cilegon and Palembang, and we are expanding.
Are you happy with the way things have developed since?
I could not be happier. Last year we formed yet another partnership with The Abraaj Group, a firm with USD10 billion behind them, looking to back great enterprises in various part of the world. Today our campuses boast excellent laboratories, libraries, collaboration work-spaces and modern day technology, all complementing our passionate teaching faculty. We have expansion plans in Indonesia and elsewhere in SE Asia. As I speak, we are acquiring schools in Thailand and Vietnam, and soon Malaysia.
We are expanding our footprint in South Korea. We are managing schools in India and forming partnerships with universities and industry players. Tomorrow, SIS students will be part of a bigger family where they will have more access to internships, student exchange programs, cross-border projects and collaborative platforms. Our teachers will also be part of an organization that will allow them to move to different countries where we have schools.
Why do you believe in Singapore education system so much? What benefits does this bring to Indonesia?
I have always felt the strength of the Singapore education system particularly stands out in the early years; pre-school and primary. These are the foundation years where young learners begin to develop their love for languages, Maths and Science. The Singapore curriculum encourages analytical thinking and inter-disciplinary application. It's not rote learning. The interaction it encourages and creativity element within the program stands out given some of the great work we have seen from our students. Our students are tri-lingual doing 3 languages including Mandarin. Feedback from our alumni, international schools overseas and universities are pointing out that we have a very sound program.
Today, schools in the US, India, Korea and parts of Europe are adopting elements of the Singapore program given the text books they are using. The latest assessments by the Programme for International Student Assessment (PISA), a triennial international survey (by OECD) which aims to evaluate education systems worldwide, have put students in Singapore schools as "the best performers world wide". Singapore is always amongst the top year after year, and Singapore outperforms the rest of the world in the OECD 2015 PISA global education survey and TIMSS rankings 2015. Something clearly works with the program. With SIS here in Indonesia, we bring the "best education system in the world" here. It will benefit everyone. The other aspect that the SIS programme excels in is the manner in which we have imbibed 21st century skills in the curriculum.
At SIS we call it PACE (Perseverance, Analytical Thinking, Collaboration/Communication and Entrepreneurism). I just attended a World Bank conference in Jakarta last week. You hear, that A's and B's are no longer important out there. Employers are looking for creative collaborators. Universities are criticized for not producing great graduates, They, in turn complain that schools do not produce quality high school students. We don't see that happening with our students. SIS students are just different, ready for the world.
What is your long term goal in Indonesia? What do you think you can achieve? What are the obstacles, what are the solutions?
My long term vision is to establish one iconic SIS school in every major Tier A and B city in Indonesia. And then use these schools to lead public-private partnerships where we provide access to public school teachers and share best-practices. And in turn learn from them. You see private schools have a role to play here in such public-private partnerships.
I think we can set the pace in such initiatives. I believe once we demonstrate the impact, we will have lots of interest by groups like the World Bank, NGO'S and other funding agencies for such initiatives. And we will certainly set the trends for other private schools to emulate.
The obstacles will be in two areas. One - social and traditional sentiments where public and private schools have not figured themselves out. Each sometimes unsure what the other can offer. And hence a feeling of hesitation and suspicion arises that becomes an obstacle for partnerships. Two - changing regulations which sometimes drags down enthusiasm and changes the course of the set mission.
But there are ways to overcome this. On the sentiment of hesitation around public-private partnerships, I believe a successful pilot project is the way to go. Once there is success, everyone will want to jump on the band-wagon. Changing regulations, is tricky. But we feel closer relationships and partnerships with the governing bodies will provide the appropriate signals as to when such changes will be in place and why. So we can be ready.
Finally why should Indonesian - or other - parents chose SIS Group of Schools as their preferred educator?
At SIS, any learner will experience one of the world's best education systems where skills around PACE (Perseverance, Analytical Thinking, Collaboration/Communication and Entrepreneurism) will be honed for universities and one day for the workplace. Our parents and alumni tell us SIS is more than a school. They describe SIS as a friend, a philosopher and a guide where Inspiring learning occurs for their Inspired futures.