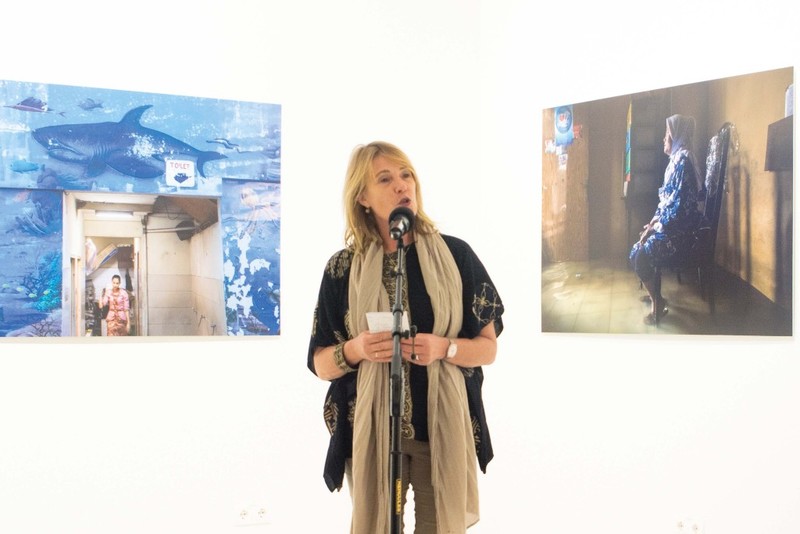 Through various art and cultural performances, music concerts, film screenings, photography exhibitions and other events, the very elements that make Erasmus Huis an essential part of preserving the cultural exchange between Holland and Indonesia, are the same ones that increase coronavirus risk, namely bringing enthusiastic people together. So the gatherings have been postponed indefinitely as a result, but to keep the connection alive, the institution has transformed to digital to continue presenting inspiring shows.
This year has been so special for the Dutch Cultural Centre Erasmus Huis as the institution celebrated its 50th anniversary on 27 March, which means 50 years of cultural diplomacy in Indonesia, of binding and cooperating between the Dutch and Indonesians through arts, culture and knowledge. The institution also successfully received a visit of King Willem-Alexander and Queen Maxima of the Netherlands especially for the anniversary, just before the pandemic hit Indonesia. But now conditions have forced the cultural centre to be transformed into a digital platform to keep the program plans running.
The Director of Erasmus Huis, Yolande Melsert spoke to NOW! Jakarta and told us that it became an urgent case for both countries' native communities to get inspiring cultural events, making the digital platform the best way out to continue presenting them and she also admitted that Erasmus Huis had to work very hard to keep offering cultural events to the Indonesian audience at this time. With its latest program, e-rasmus huis, an online program where the audience can watch a wide variety of arts and cultural events including music concerts, art performances and film screenings and check the upcoming events, she hopes to remain a chosen medium of entertainment amidst the uncertainty of the pandemic.
"In this confusing time, we can see creative beings, such as musicians, dancers, performers, bands, designers take the initiative and find creative ways to relate to the Covid-19 situation. And we are very lucky to have a really flamboyan team, they are taking initiatives and learning themselves about how to do broadcasting. It's important for us because we are facing transformation from producing performances live to digital ones starting in July, and it's a completely different story. And, luckily we have an already huge audience and also we have different platforms, like Twitter, Facebook, Instagram and YouTube. We have about 50,000 subscribers in total and about 25,000 to 26,000 followers on Instagram. Those are one of the main ways we try to reach our audience and to announce things, also we are taking media partners. " Melsert said.
One of the events that received very good responses from the audience is Dutch Film 2020 Family Film Festival, where Dutch films will be shown every month from July to December on Sunday and screened with Indonesian subtitles. The films can be accessible and enjoyed by the whole family. In addition, Erasmus Huis has also succeeded in presenting the DeWolff music group which has many Indonesian fans, as well as a collaboration between Dutch band Ciao Lucifer and Indonesian electronic duo Bottlesmoker.
Melsert also doesn't deny the advantages and disadvantages of digital platforms, but one thing for sure, Erasmus Huis has a wider audience reach to Maluku and Papua. And, like the others, Erasmus is also like climbing the mountain and going step by step for new ways to make the audience feel excited.
"When we first premiered our online event via YouTube, it was a theatre performance, the audience was not that big, around 25 to 150 people. But when they got to know the Erasmus Huis's program they got to know more and they watched the program over and over. Our YouTube viewers are increasing and keep growing everyday, and people still watch it." added Melsert.
For next year, Melsert said that Erasmus Huis will still focus on the digital platform, but did not rule out opening live shows. Flexibility is the key for the institution in promoting safety for everyone. One of which is that the team is currently preparing an online exhibition which will be broadcast in March.
""Films and photography are quite important in Indonesia. We'll do more for art photography. Also, we are going to work together with Dutch and Indonesian institutions to bring over together the filmmakers and technicians to exchange the ideas. And, we still focus on family programs not only movies but also literature performances because we think that it will build democracy and can educate people who are eager to learn and accept the differenties. We have to start with the youngsters, not to intimidate them but to open their minds. We want to be open to everybody." Melsert concluded.