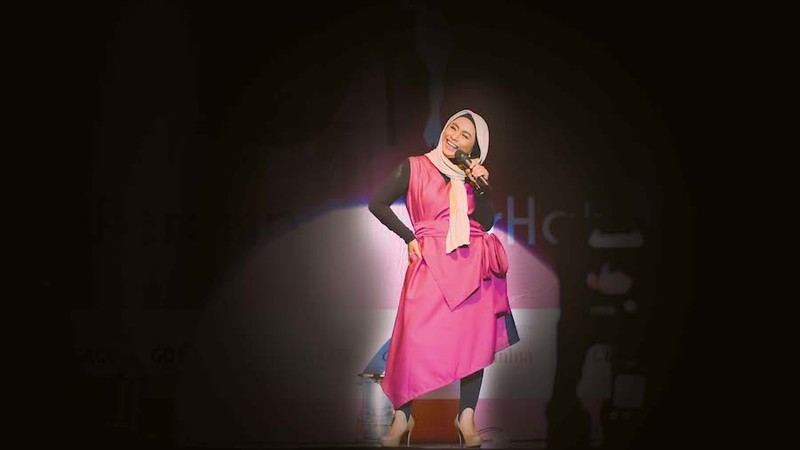 The standup comedy stages of the world have always been dominated by men. Maybe because in the past it was seen to be inappropriate for ladies to be out in in bars and clubs late at night. Maybe, sadly, because the ladies did not feel safe in what were usually male-dominated and alcohol infused environments. But, thankfully, things are changing - even here in, shall we say, rather conservative Indonesia. Eamonn Sadler, impresario of comedy in Asia, is one of the visionaries who has always encouraged female comedians in Indonesia to get out there and show everyone what they can do. Slowly but surely it is working, and there are more and more great female acts coming through the ranks.
Mad About Comedy was established almost twenty years ago. At that time there was no such thing as standup comedy in Indonesia, so all our artists were imported from overseas.
There was comedy in Indonesia of course, in very traditional and often slapstick forms, but standup comedy as it is known in the west, involving a person standing up on stage saying funny things, was unheard of. Around nine years ago there was a sudden and very noticeable wave of Indonesian standup comedy. Almost every TV station suddenly started airing standup comedy-related shows.
Of course, this being very much a male dominated society, the initial wave was largely made up of men. Today however, there is a rapidly growing number of very notable and very funny female Indonesian standup comedians. Their success is made all the more remarkable by the fact that the standup comedy industry globally remains inexplicably biased towards male performers.
One of these remarkable Indonesian women is Ligwina Hananto, who has built a large following of dedicated fans in a very short space of time. Her act is disarmingly honest and often startling in its global relevance, but, more importantly, it is always hilarious. Her Australian education and her Muslim upbringing might clash in another scenario, but in the world of comedy it makes her unique and memorable.
Ligwina is married and has three children. During the day she runs a successful financial training business, but in the evenings she is one of the leading comedians in Indonesia. She started her comedy career when she was almost 40 years old.
How did you get started in comedy?
I have been working as a financial trainer and speaker since 2003 and I have found that it is difficult to keep people interested if I talk too seriously about finance - they are more at ease and willing to learn when I insert jokes in my presentations. So a while ago I started including jokes here and there to keep people engaged. One day I just thought I would collect all my jokes together and present them without the financial content.
My first paid gig was at a women's conference in 2016. It was a seven-minute set and I was really nervous, but I thought I did well. That first gig built my confidence. After that I got to call myself a "standup comedian" and soon people were coming to see me perform my comedy material, not to hear me talk about finances - plus I got paid!
After that I joined a female standup comedy troupe called Perempuan Berhak (a play on words meaning "women on high heels" or "women with rights"). This was the birth of my first long show. My set was 45 minutes. We did one rehearsal and the girls just unanimously decided that I should be the headliner for our show.
After Perempuan Berhak I got calls to perform to bigger audiences - and not limited to all female shows. I performed at Jakarta Comedy Festival and the Ideafest Comedy Festival. I also performed at Ketawa Comedy Club and Mad About Comedy at the American Club in Jakarta. I began to develop and perform my comedy material in three different languages: Bahasa Indonesia, ethnic Sundanese, and English. In Bahasa Indonesia I am a powerful majority - a Muslim Javanese/Sundanese ibu-ibu in a hijab. Nobody can touch me. I can literally stop traffic. In Sundanese I swear a lot. In English I emerge as a minority Muslim, perceived to be reserved and not outspoken. So, when I perform in English the audience are often shocked by what I am capable of delivering.
What would you say is the strong feature of your comedy?
Many of my comedian friends tell me that the strongest feature of my act is how animated I am on stage. I bring out my alter ego "Ligwina the Standup Comedian" by wearing my golden high heels. Those shoes are my mojo. When the shoes are on and I hold the microphone, it's showtime!
How has Covid 19 impacted you as a comedian?
The struggle as a standup comedian during this pandemic is real. I have done some online gigs but it's not the same. I have committed to keep writing new material, especially in English. I've joined a standup comedy online writing class. I have joined online open mic shows just to keep my comedy skills honed. Comedians are not earning any money right now but hopefully when this is over we will be back with a vengeance and better than ever.
What are your plans for the future?
I am now focusing on developing my English comedy. My dream is to perform in neighbouring Asian countries like Singapore, Malaysia and Australia. I would love to perform at international comedy festivals. And, of course, that big dream of having my own English comedy special on Netflix. I think as a 45-year-old female comedian it's important to be confident and ambitious. It keeps me going, and when I am confident and ambitious, there is no limit to where I can go.
Thank you Ligwina. We at Now!Jakarta see you breaking down barriers in the same way as other leading women in business and politics.