H.E. Yvonne Baumann speaks to NOW! Jakarta about the relationship between Indonesia and Switzerland, the role of the newly established Swiss Business Hub as well as her achievements and challenges.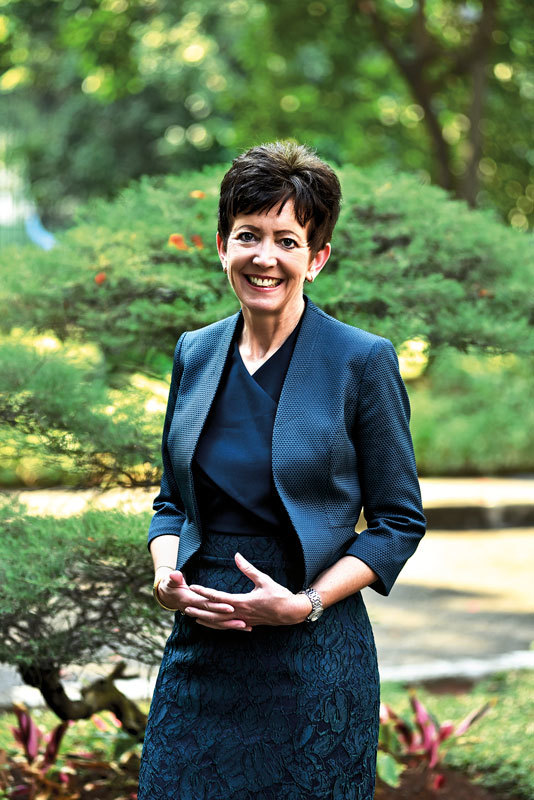 You recently celebrated Swiss National Day, and this year also marks the 65th anniversary of the establishment of diplomatic relations between Switzerland and Indonesia. Looking back at the past six decades, how has the relationship evolved? What are the key aspects of Swiss-Indonesian relations?
The origin of the Swiss-Indonesian relations can be traced back as far as to the 17th century, when Swiss researchers and merchants travelled to this immense archipelago and explored its diverse and fascinating culture, languages and traditions, as well as its flora and fauna. It is characteristic for the Swiss-Indonesian relations that they were never limited to official diplomatic and inter-governmental affairs. Rather, there has always been exchange and cooperation between private companies, business people, research institutions and scientists.
In 1863, Switzerland opened a consulate in Batavia (as Jakarta was then called). As one of the first countries, Switzerland recognized Indonesia's independence in 1949 and established a diplomatic representation in Jakarta in 1952, which was upgraded to an Embassy in 1957. In the last 65 years, political, economic and cultural relations have been growing, and are now as close as never before. We have seen many exchanges on high political level. The first president of Indonesia, Sukarno, visited Switzerland in 1956, and over the last years we had frequent ministerial visits. The Swiss Minister of Economic Affairs, Education and Research was here just two months ago, accompanied by a business and a science delegation.
Today, economic ties and cooperation are the backbone of the Swiss-Indonesian relations. Switzerland was the 11th largest investor in Indonesia and the 3rd largest from Europe in 2016. Our trade volume – now close to 3 billion USD - has been growing steadily, with an increase of more than 50% only in 2016, due to strong growth of Indonesian exports to Switzerland. Currently there are more than 150 Swiss companies operating in Indonesia which have created at least 21'000 jobs, according to other estimates even much more than that.
When the minister was here this year, we launched the new cooperation strategy 2017-2020, which aims at supporting different sectors of the Indonesian economy in becoming more competitive. We have a new focus on vocational education and training. With this we are in some way reconnecting to our old cooperation "legacy". The support, since the 1970s, for the establishment of many polytechnic schools in Indonesia which are still up and running today had a major impact on the perception of Swiss engagement in Indonesia. Today we assist the Indonesian government in establishing new polytechnic schools in the manufacturing sector as well as a hospitality school in Lombok. The development of sustainable tourism is another focus of our cooperation. Also, we continue our large program in helping cocoa farmers to improve and increase their production and securing better market conditions. Together with the World Bank and other partners we support the national and local governments in public financial management reforms and sustainable urban development.
Within the United Nations and other international bodies, we have a good cooperation with Indonesia on environmental and other issues.
How will the recently opened Swiss Business Hub in Indonesia improve economic relations between the two countries?
Indonesia is expected by some observers to become the world's fourth largest economy by 2050, so there is still enormous potential for our trade and investment relations, especially with regard to the rising middle class. The new Swiss Business Hub (SBH) Indonesia, located on the premises of the Embassy, aims at assisting companies and investors from Switzerland to access Indonesia's large and dynamic market. We would also welcome more Indonesian investment in Switzerland. The SBH will act as a facilitator for Swiss and Indonesian businesses to grow. And with every new branch office opening, every new product crossing our countries' borders, and every additional dollar invested, the intercultural understanding between our two countries will grow simultaneously since conducting business abroad means getting closer to that country's society and economy. This heightened economic activity and exchange will therefore contribute to an even stronger partnership.
Switzerland and Indonesia engage in political consultations on a regular basis. How exactly does this look like, and what is discussed in particular during these consultations? Could you give an example?
Since 2011, the Ministries of Foreign Affairs of Switzerland and Indonesia hold periodic meetings, roughly once a year, within the so-called political dialogue framework. These exchanges, on the level of Director General, give a comprehensive overview and assessment of the current state of Swiss-Indonesian relations and serve as an opportunity to raise any matter of interest. The talks cover political and economic relations as well as planning of official visits, the state of negotiations on bilateral agreements – such as the Indonesia-EFTA Comprehensive Economic Partnership Agreement (CEPA) -, cooperation issues, human security, and collaboration within international and regional organizations such as the UN and ASEAN. Regional and global affairs relevant to the two nations are also discussed. These consultations can give a fresh impetus to push certain projects or negotiations ahead, find common solutions, and nurture the Swiss-Indonesian friendship and cooperation.
In addition to the political consultations there are periodic meetings of the Joint Economic and Trade Commission Switzerland-Indonesia which focuses specifically on trade and investment relations and includes representatives of the private sector. Topics to be discussed are, for example, the business climate, company issues, or the interest to negotiate a new bilateral investment agreement.
The Swiss Embassy has been engaged in a human rights dialogue with the Indonesian Department of Justice and Human Rights for more than a decade. What kind of improvements have you seen over the last couple of years?
Since the end of the New Order regime Indonesia is a success story in terms of democratization and has made remarkable progress regarding the protection of human rights. In fact, Indonesia has become a regional stronghold of democracy and stability, pluralism and tolerance, with a thriving civil society and media landscape. Every five years, Indonesia adopts a National Plan of Action on Human Rights with ambitious goals. In our yearly dialogue with the Indonesian Ministry of Justice and Human Rights we exchange experiences in promoting and protecting human rights and we embark on joint cooperation projects, for instance with regard to the prevention of torture. I am confident that Indonesia will continue on its successful path and I hope that its strong tradition of tolerance and pluralism can be preserved and become a model.
During your time as Ambassador to Indonesia, what have been your most rewarding and most challenging moments so far? What other goals would you like to achieve?
I feel very privileged to live and work in this beautiful and fascinating country, which I have got to like a lot. So there were many rewarding moments. I have made incredible and unforgettable experiences with the genuine friendliness, hospitality and helpfulness of the Indonesian people, even spontaneously in the street by complete strangers. Most rewarding were also the opportunities on my trips through the country to come across the rich cultural heritage of Indonesia – be it traditional dances, songs, performances, handicrafts or historic monuments. On the professional side, an important achievement was the decision of the ASEAN Foreign Ministers in July 2016 to confer to Switzerland the status of a Sectoral Dialogue Partner of ASEAN. Switzerland was only the third country in the world to be granted this special status. High-level visits from the capital – ministers for example - are also high-lights in every diplomat's life, particularly when they culminate in a meeting with the President as it happened on three occasions during my tenure.
The most challenging moment will probably come when I have to leave Indonesia.
But before that, I would certainly like to see the conclusion of the negotiations – which are already in their 13th round - on the Indonesia-EFTA Comprehensive Economic Partnership Agreement (CEPA), as well as the start of the negotiations on a Bilateral Investment Treaty. One of my further goals is to give cooperation in research and technology a boost as well as to continue introducing Switzerland in Indonesia as a country of innovation, which not only produces excellent chocolate, cheese and watches but also engines for space missions, robots which can conduct an orchestra and all kinds of highly sophisticated and high-quality products, techniques and services.
And finally, I still have several thousands of Indonesian islands left to discover before I can leave.