At only 23 years of age, Marsya Gusman can already look back at a long list of accomplishments, the most recent one winning the title of Miss Internet Indonesia 2017. This unique pageant was organized by the Indonesian Internet Service Providers Association, or APJII, an umbrella organization for major ISP companies in the country.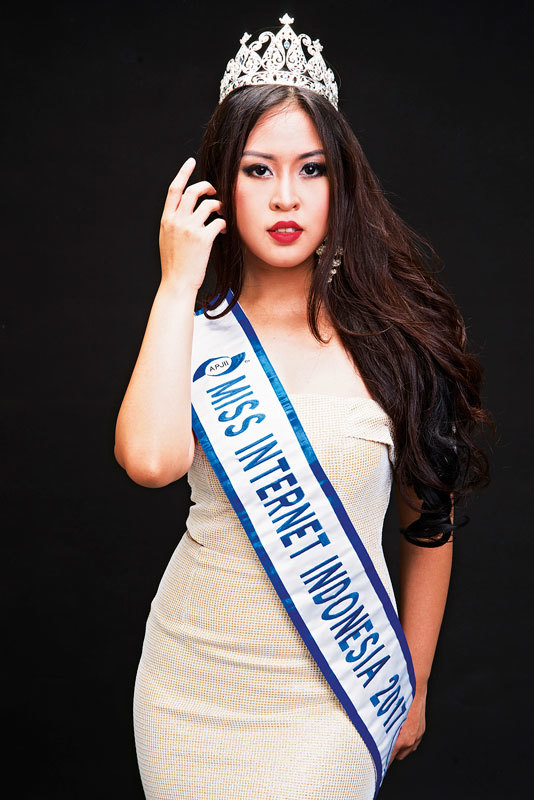 In 2016, Marsya was already crowned Miss Earth Best Talent, and she currently also acts as Anti-Drug Ambassador for Indonesia's National Anti-Narcotics Agency (BNN).
Representing Jakarta, Marsya was crowned Miss Internet Indonesia in late April in Bali. She spoke to NOW! Jakarta about the contest, her upcoming responsibilities and Indonesia's progress and challenges in the digital age.
First of all, congratulations on becoming Miss Internet Indonesia 2017. Please tell us more about what this title entails - what will you be working on over the next year?
Thank you! Miss Internet is basically an Ambassador for Digital Literacy in Indonesia. I will act as a bridge for socialisation between the government and the citizens. My fields of work include promoting various government-backed internet campaigns to encourage safe internet use, fight cybercrime and hoax news and teach computer and internet literacy to the public.
I will also be involved in seminars, workshops and public speaking tours, and write articles promoting safe and healthy internet use.
Last but not least, I will help to create digital programmes aligned with the Ministry of Communications and Informatics, the National Police's cyber crime unit, the Ministry of Small and Medium Enterprises and the Ministry of Industry to maximise the productivity of internet usage and create a suitable solution for society.
When did you first hear about the pageant and what made you decide to enter?
It's actually quite a funny story. Since I am really passionate about tech, I went to a tech exhibition in Balai Kartini, where coincidentally APJII was holding an audition for Miss Internet, Jakarta Representative. I was then offered to join the contest, so I thought, why not give it a try? The next day, they informed me that I had reached the next stage. I was reluctant to go on because I had responsibilites at work. But a friend of mine then told me that this might be a good opportunity for me, especially because I came from a digital background. I then decided to continue - if I win it's good, if I lose, at least I had gained more and perhaps made more contacts, so it would have been a good investment regardless.
Tell us about the contest itself. What makes it different from other beauty pageants?
I have joined pageants since I was a teenager, but Miss Internet is really different from other pageants. Here, we need to create presentations, essays and other tech-related programmes before we are sent as a delegate to represent our city. That's why there are so many contestants who are app developers, bloggers, journalists and many more. Other pageants usually include a Q&A session in the grand final, but at Miss Internet, we had to prepare a presentation on a chosen topic in only seven minutes and present it on stage in three minutes in front of the audience, which mostly consisted of industry leaders. So I see this not just as a pageant, but as a movement - to break the perception that pageants are only about beauty, and to encourage other young girls out there to prove that they can also contribute to the internet industry.
You grew up in Jakarta and studied in Australia, where you obtained a business degree from Deakin University. How does your educational background fit into the pageant's theme "Internet for Everyone"?
I studied Business, majoring in Management & Marketing Communication. This helped me to understand that Internet is divided into three aspects, namely government, society and business. So it is not only about the citizens, but we also need to help the businesses and organisations to have a bigger impact on society. We can achieve this by helping them to expand their business through digital, to communicate their ideas in a way that is easily understandable and to promote healthy internet usage. This brought me to the concept of "Internet for Everyone". Internet should not be something complicated that only IT people can understand.It is used by almost everyone, including online transportation, financial tech, e-commerce, chat apps - many of us use it everyday. Therefore, the more Internet knowledge we gain, the more we can use it wisely and make the most of it.
Where do you see the biggest challenges for Indonesia when it comes to the use of internet?
One of the biggest challenges for Indonesia is how to deal with hoaxes. If you take a look at the last presidential election, there were so many people who deliberately created false contents for propaganda.As third biggest Internet user, Indonesia needs to be wiser in choosing certain contents. Users need to check if the sources are reliable before sharing content, because with the dynamic users of Indonesia, things easily become viral. However, other things such as cybercrime, child trafficking and hacking are also areas that need our attention.
According to research studies, there is an online gender gap in Indonesia. What should be done to close it?
Yes that is true, especially in the IT sector where the majority of jobs is filled with men, because the coding, analytic skills etc are full of logic. However, there are several things that need a woman's touch. Women can and should also enter the industry through content development, visuals and quality control that requires more emotions, taste and feeling. Even professions such as graphic design, digital content creators, project managers, data analysts and IT quality assurance have begun to be dominated by women, as research from JobPlanet has shown in early 2017. In other words, these women can also play an important role in a company. Not just that, the numbers of female online entrepreneurs is also very big and growing, since the Internet is a perfect option for housewifes who still want to work but also want to take care of their family.
What do you do in your free time? What are your hobbies?
I like to sing and watch movies, write, hang out with my friends, visit exhibitions, read the news on several apps on my phone, and I also produce videos related to politics, tech, sports, social issues, travel and comedy.
I normally upload these videos in vidio.com under my channel Metropolitan Daily.
What are your plans for the future?
I always think we have to try lot of things while we are still young. If we succeed, it's good, but if we fail, we will have learned something. My plan is to be in a position where I can be valuable to people around me, to keep working in the creative and digital industry, and to someday have a happy family with someone I love - someone who supports and understands my passion as a women.