NOW! Jakarta sat down with Ambassador Helene Steinhäusl and discuss the solid bond between Austria and Indonesia as well as future hopes for Indonesia.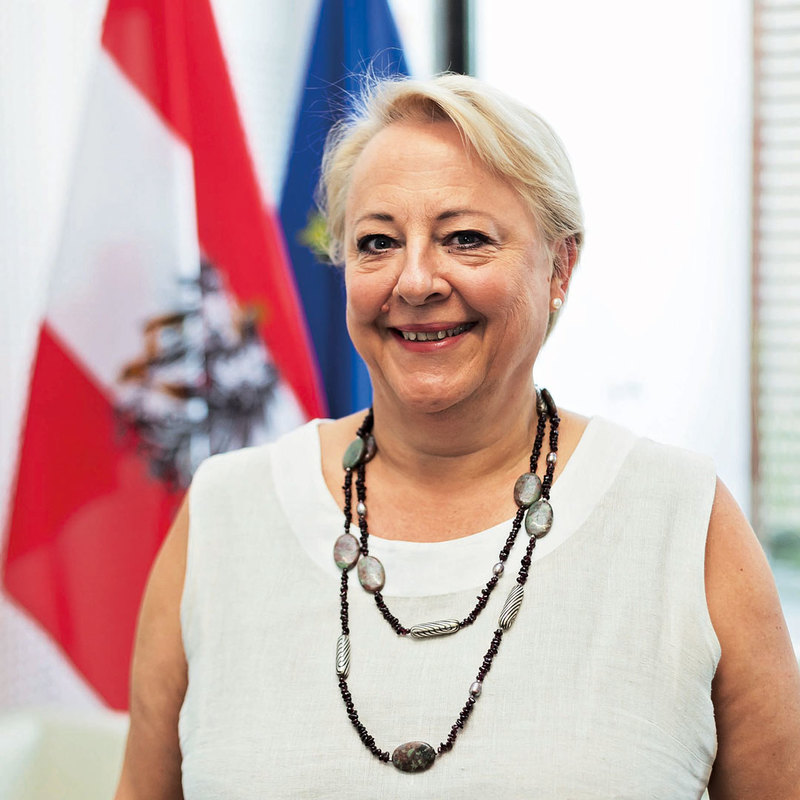 Austria has had a long and successful relationship with Indonesia. What are the main characteristics of this relationship?
This year we observe 65 years of diplomatic relationship between Austria and Indonesia. Generally speaking, I would say that the bilateral relationship between Austria and Indonesia is much closer than the geographical distance would suggest. It is characterized by an atmosphere of mutual respect and willingness to learn from each other.
Intercultural dialogue has been a priority both for Indonesia and Austria for many years. The Austrian Embassy conducts activities in the fields of cultural exchange as well as in university cooperation because this offers a means of building bridges between nations.
Economic relations are also flourishing. A big part of Austria's activities in Indonesia is based on the development of infrastructure and various activities in the electricity and environmental sector.
Concerning tourism, I am pleased to note that Indonesians are more and more discovering Austria as a holiday and business destination. We can observe this at the Embassy from a strong increase in visa applications, which have more than doubled during the last three years.
Are there areas that you are trying to improve?
I try to strengthen all areas of cooperation between Austria and Indonesia. Currently, we focus on expanding our cooperation in the field of vocational training. Austria has just signed a project to upgrade a vocational training centre in Medan, Sumatra, and we hope to do the same with another one in Makassar, Sulawesi. In Makassar, we also have a project to upgrade the RSAU Dr. Dody Sarjoto hospital with Austrian technology and equipment. This is very much in line with the priorities of President Joko Widodo, who wants to focus on education and capacity building as well as improving the health service during his next five years term.
Although bilateral trade has increased considerably throughout the past years, we believe that there is potential for an even stronger growth in the future. We can see a wide range of business opportunities for Austrian companies and their Indonesian business partners, especially in sectors such as renewable energies, transport infrastructure technology, machinery and plant equipment, as well as in the health sector.
As a member of the European Union, I would also like to mention that Austria expects that the negotiations between Indonesia and the EU on a Comprehensive Economic Partnership Agreement will continue at a good pace and can hopefully be concluded by the end of this year.
What are the most successful areas of economic cooperation and which Austrian companies are doing well in Indonesia? Do you expect more investment from Austria to come in?
Austria has been a trustworthy and reliable partner ever since the independence of Indonesia. Currently, there are around 40 Austrian companies running their operations in Indonesia. Austria is mainly exporting machinery and plant equipment for the metal, plastic and F&B industries to Indonesia, while primarily importing footwear and textiles.
Trade and investment are key drivers to any country's growth and I am very optimistic that there will be more Austrian investments into Indonesia, especially in the sector of renewable energies. Austria has become a pioneer in sustainable business practices and the development of renewable energy technologies, which are recognized internationally for their efficiency and quality. Our goal is to raise awareness in Indonesia for the need of "green" energy and to promote Austrian technologies in this field even further.
For instance, the Austrian company Andritz-Hydro has installed more than 60 per cent of all hydropower turbines in Indonesia and they are very committed to help to increase the country's hydropower capacity even more. Another very successful Austrian company is South Pacific Viscose (SPV), which is part of the Austrian Lenzing Group, a global leader in the production of wood-based and biodegradable fibers. With their large production plant in Purwakarta in Central Jawa SPV is not only a big employer, but also contributes to building a sustainable and eco-friendly textile industry in Indonesia.
What is Advantage Austria's role in this sector?
"Advantage Austria" is the official Austrian trade promotion organization and operates with more than 110 offices in over 70 countries worldwide. In Indonesia, Advantage Austria operates as the Commercial Section of the Austrian Embassy and facilitates, encourages and supports economic and commercial cooperation between Austria and Indonesia.
It is the one-stop shop for Austrian companies to explore business as well as cooperation possibilities in Indonesia. It supports Austrian companies with in-depth knowledge about the legal, economic, and cultural aspects of investing in Indonesia. Moreover, Advantage Austria connects Austrian companies with existing platforms and potential clients or business partners in Indonesia.
"As a sign of our mutual commitment and determination to intercultural dialogue, a regular bilateral interreligious dialogue has been conducted by our governments for ten years now"
Austria is a country with a very strong cultural tradition. What activities have you had in Indonesia to encourage cultural cooperation and what are you planning?
We are of course proud that Austria's cultural tradition enjoys worldwide recognition. In Indonesia, Austrian culture is not only known for the great success of the Sound of Music movie and the New Year's Concert of the Vienna Philharmonic Orchestra, which is broadcasted on Metro TV every year. There are also many Austrian artists, musicians, singers and filmmakers who come to Indonesia and regularly participate in events, such as the JavaJazz Festival in Jakarta, the Ubud Writers and Readers Festival, the ARTJOG in Yogyakarta or the European Film Festival, just to name a few.
The next event will be a concert by the Michaela Rabitsch & Robert Pawlik Quartet at this year's Ubud Village Jazz Festival on 16 - 17 August in Bali as well as a performance in Jakarta on 13 August.
In addition to that, we regularly organize concerts, exhibitions, film screenings and seminars at the auditorium of our "Green Embassy" where we use the opportunity to raise awareness for sustainability and to promote the concept of "green technology".
You mentioned the Austrian "green" embassy. Can you tell us more about your office building?
The building was officially opened in November 2011 as the world's first "green" embassy. It is an international show case project and demonstrates that it is possible to combine traditional techniques, local materials and modern technology in a tropical climate.
At the same time, it is an example for high standards in terms of energy efficiency. It follows the "passive house" standard, trying to use as little energy as possible. This also means that we do not have a classical air conditioning system, instead the building is cooled through CCT (concrete core tempering), i.e. a system where cool water circulates through the pipes within the concrete ceiling.
Other key features are a careful shading of all openings, high thermal insulation for the exterior walls, double glazed windows and an air-tight building shell. For saving valuable fresh water, rainwater is stored in cisterns and used for toilet flushing and garden irrigation.
Through these measures, it was possible to reduce energy consumption by almost 80 per cent compared to a standard Jakarta office building. Altogether, the Green Embassy Building is an innovative approach, which we would like to promote as a role model for climate friendly architecture all over Indonesia and beyond.
What are your personal areas of interest to visit in Indonesia? What are your plans for the next twelve months? Are there any top-level visits planned between Austria and Indonesia as the new government is installed?
It is difficult to plan any political visits at the moment since we still have a care-taker government and elections will take place in September. Therefore, I am glad that our Vice Minister of Foreign Affairs had the opportunity to meet Foreign Minister Retno Marsudi in May, and we just started the preparations for the next round of Political Consultations, which will take place on Director Generals' level in November this year.
For me personally, the last year of my term as Ambassador in Indonesia will start in September, and I have the growing feeling that I am running out of time. I have already travelled a lot in Indonesia and made incredible and unforgettable experiences with the genuine friendliness, hospitality and helpfulness of the Indonesian people. This is such a huge country, and there are so many more places to visit and things to discover. I hope that I will be able to travel to some more provinces and to contribute to an even closer relationship and better understanding between our countries and our peoples.