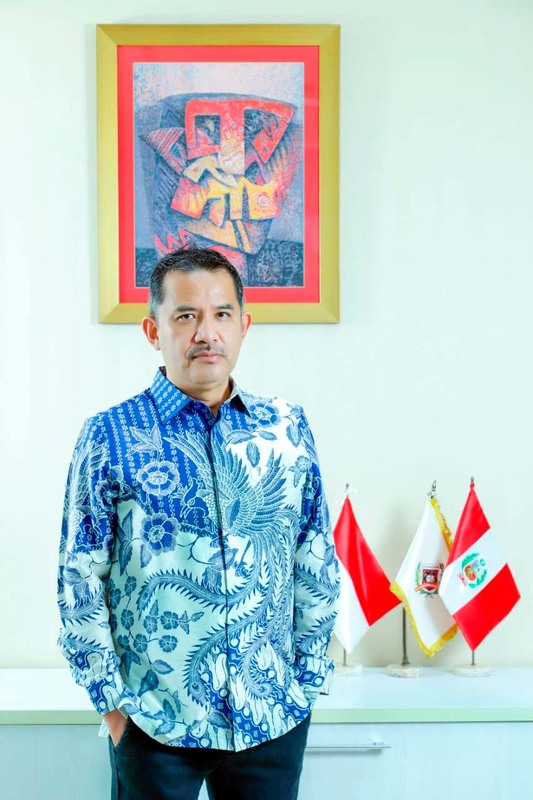 Ambassador Tsuboyama is a career member of the Foreign Service of Peru, has served as the Director General for Economic Affairs in the Ministry of Foreign Affairs from 2020 to 2022 and served as the first Chief of Mission at the Peruvian Embassy in Hanoi, Vietnam. He earned a B.A. in Law and Political Science from the University of Lima, Peru; Magister on Diplomacy and International Relations from the Diplomatic Academy of Peru; M.Arts. from Sophia University (Tokyo, Japan) and M.Arts. in Global Studies from the Fletcher School of Diplomacy and Law at Tufts University (United States). Ambassador Tsuboyama has received Orders from the Government of Japan (Golden Rays with Rosette) and the Government of Spain (Knight Grand Cross. He sat down recently to speak to NOW! Jakarta's Alistair Speirs.
NJ. Please tell us something about yourself and your career. What was your journey to Indonesia?
LT. My journey to Indonesia is part of the cycle of destinations that accompany my profession as a Peruvian diplomat. This path has previously taken me to positions in Asia such as Japan, Singapore, and Vietnam. Additionally, my experiences in the economic and political areas, with responsibilities linked to trade negotiations, the agendas of APEC, the CPTPP, the OECD and the Pacific Alliance, have given me the necessary tools to achieve the objectives outlined in my new role as the Peruvian Ambassador to Indonesia, namely, to strengthen economic relations and cooperation between the two countries.
Indonesia offers much for analysis to someone like me interested in multi-ethnic and culturally diverse societies, and how these elements define the national identity of a country, very similar to the case of Peru. In addition, I should highlight its relevance as a regional power, which constitutes an interesting challenge for a diplomat. Last but not least, this comprehensive vision will be complemented with my work in Timor Leste, in which I am currently in the process of being accredited, as well as Peru's Ambassador to ASEAN.
Finally, Peru and Indonesia share common interests in issues on the global agenda such as health diplomacy, economic recovery, food security and climate change. Let's not forget that both countries are among the ten most megadiverse in the world boasting an extraordinary diversity of life forms, and this is an area where we are working as responsible members of the global community.
NJ. Peru and Indonesia have a multi-faceted relationship not only bilateral but also through APEC and The Pacific Alliance. Please tell us how this all works and what you hope to achieve out of this?
LT. Peru will hold the Presidency of APEC in 2024, which represents a clear opportunity for my country to consolidate its international projection across the world's most innovative, dynamic, and fastest-growing region. Likewise, it will allow Peru to be positioned as a destination for investment and tourism, thus contributing to the post-pandemic economic reactivation process.
Given that APEC is an international space of great relevance for economic and technical cooperation, as well as for the promotion of measures that facilitate trade and investment, the 2024 Presidency will be a valuable opportunity to lead issues of collective interest for the forum. Some of these topics are, among others, the transition from informal economic agents to the formal economy, the economic empowerment of women, small and medium-sized enterprises, innovation and digitalization, environmental sustainability, anti-corruption, and food security.
In addition, we agree that long-term cooperation is necessary to deal with common problems and, in this regard, Peru fully supports the three priority issues set by Indonesia in its capacity as President of G20, namely, global health architecture, digital economy transformation, and energy transition as paths to achieve global economic recovery.
Regarding the negative effects of Covid-19, the Peruvian economy has managed to rebound strongly. The solid policy response in 2020 mitigated the impact of the pandemic and created the conditions for a rapid recovery. Progress in the vaccination campaign also allowed a gradual lifting of Covid-19 mobility restrictions. An increase in Peru's GDP of 13% was recorded in 2021, thus allowing to reinforce the economy supported by a consistent fiscal strategy.
The Pacific Alliance (PA) is an initiative of regional integration comprised by Chile, Colombia, Mexico and Peru, officially established on April 28th, 2011. Its objectives are: i) Advancing towards the free movement of goods, services, capital and people; ii) Driving further growth, development and competitiveness, and iii) Becoming a platform of political articulation, economic and commercial integration and projection with emphasis on the Asia-Pacific region.
Indonesia is currently an observer to the PA. The opportunities for further cooperation are tremendous. Latin America is a potential region for expanding market access for Indonesian products and vice versa. Peru is interested in developing concrete cooperation initiatives with Indonesia that can contribute to the objectives of the PA. In this regard, some of the areas where Peru and Indonesia may work together are economic cooperation; people-to-people contact; science, technology and innovation; environment and sustainable development; and post-pandemic recovery.
NJ. I believe that Peru and Indonesia are pursuing a Free Trade Agreement. What will this mean to both parties?
LT. Total trade between our countries has increased by more than 75% in the last 5 years (except 2020 due the global pandemic). Likewise, the Ministry of Foreign Affairs of Indonesia, during the 3rd INA-LAC Business Forum in 2021, expressed its satisfaction for the growth of trade with Latin America and the Caribbean. The signing of a trade agreement with Indonesia will mean an important step to strengthen trade relations and take them to a new level, with better access conditions, the possibility of acquiring new products and open investment opportunities.
NJ. Tourism is a major part of both economies. What can be done to enhance both sides with shared experiences and expertise? Machu Picchu is a wonderful example of sustainable, historical, cultural tourism.
LT. The popularity of Machu Picchu as a destination for cultural and adventure tourism has been a huge success story for Peruvians. It has comfortably been the most-visited attraction in Peru for years. In addition, Machu Picchu was designated as a UNESCO World Heritage Site in 1983.
One important value is to conserve the sites you travel through, respect the local communities that you visit and always try to minimize your impact on the natural environment.
Responsible tourism operators in Peru are working together to make sure that hard-working and always-cheerful porters are treated with the respect they deserve, which includes a decent wage. It can be said that this is one of the greatest achievements reached by Peru in recent years.
Both countries should learn from other experiences around the world, such as the exclusive use of solar power in touristic areas, reuse rainwater, implementation of low-waste models, and preferences for local products.
NJ. What can be done to promote more tourism to Peru from Indonesia?
LT. First, we should work closely together for a better understanding of each culture, traditions, and touristic spots. Partnership is an essential value in all business aspects, and tourism is no exception.
As a suggestion, not only for Indonesia but for Peru as well, it would be convenient to develop a country marketing strategy, make the region look more attractive in order to increase the number of visitors, and bring business projects to the local travel industry. Ultimately, it is about improving the region's image and making it more appealing to foreign visitors. This is what Peru have been doing as it will also contribute for Peru's economic recovery from the Covid-19 global pandemic.
Another key element to consider is the work on connectivity, thereby achieving better access conditions and facilities for tourists who are interested in visiting our country.
NJ. Can we expect to see more Peruvian cuisine in Indonesia- and the marvelous Pisco?
LT. You can indeed expect to see more Peruvian cuisine and our drink flag, pisco. Last year, the Embassy of Peru in Indonesia organized presentations of Peruvian cuisine and two events in Jakarta and Bali called "Pisco Sour: Presentation, Preparation & Tasting" and "Discovering Pisco in Bali", under strict health protocols due to the pandemic. This year we will organize, with the support of our partners in Indonesia, more events in cities such as Surabaya and Bandung, as well as participating in Indonesian cooking TV shows to promote traditional Peruvian dishes.
Terima Kasih Banyak.