The Directors and Staff of Phoenix Communications and NOW! Jakarta join with the family and many friends of Erza Setyadharmain a sad and untimely farewell to our long time contributor. Erza's travel and lifestyle writings graced our pages for many years and brought inspiration and fun to many loyal readers. He had a unique and very personal approach to everything he did and he will be sorely missed by all. Rest in Peace Erza.
Here we share an article from our archives, on Erza's position as the Founder of the Indonesian Opera Society - one of many hats he wore in his lifetime. [This article was originall published in 2016].
If you've ever met Erza Setyadharma, the chances are you were either completely compelled by his worldly travel stories and artsy knowledge, or completely taken aback by his bold and brazen attitude.
He is clearly someone who has a love for beautiful things; whether that be the soft pinks of Sakura (Cherry Blossom) season in Japan, the richly crafted Iwan Tirta batik capes that have become his fashion trademark, or the meticulously-planned, uber-elegant operatic events that he stages in Jakarta's most refined venues.
Born and raised in the Indonesian capital, Erza grew up letting his imagination run fee to the sound of Mozart, Umm Kulthum, and Dalida on his parents' gramophone. And while his formal study centred around chemical engineering, his career veered into the arts as he established the Indonesia Opera Society in 2006.
An afternoon up at the Penthouse of The Dharmawangsa Jakarta is all it takes for us to warm once again to Erza, opera aficionado, food and travel writer, creative consultant, and of course, NOW! Jakarta's loyal contributor.
What got you interested in opera in the first place?
When I was fifteen or sixteen I got invited by my aunt – who at that time worked as a cultural counsellor at the Australian Embassy – to watch Carmina Burana at Gedung Kesenian Jakarta. I remember being so impressed by the whole production; the music, the singing, the costumes… I went home so inspired that I told my father I wanted to do something like that. Little did I know that this would come true and I would be working with those involved in that very production.
That Carmina Burana production was initiated by PPIA Choir (Persatuan Persahabatan Indonesia Amerika), which I ended up joining for five years in the early 2000's. The main soprano in the production was Marijke Ten Kate who later became my singing teacher. The leading dancer in the production was Chendra Panatan, who is now my partner on all of my opera projects. Talk about coincidences right…!
What is it that you love so much about opera?
I love the drama, especially when they sing of lost love or dying because of love. It just goes under the skin and directly to the heart. For me opera is like watching a live movie; you cannot make any mistakes. There is this magic about opera that just enchants my heart, mind and soul.
Which opera star do you admire the most?
Without doubt, the ultimate opera diva to me is Maria Callas. Not only did she have an amazing voice with a colour we hadn't yet experienced, but she also had a great range which enabled her to sing from coloratura to high alto – a very rare skill! She lived such a dramatic life which came to a tragic end. To me, she epitomes the essence of opera.
How do you think the cultural and musical scene in Jakarta is progressing these days?
There has been a significant growth in those who love and understand classical music. It is very much different compared to when I started my own career in classical music and opera sixteen years ago. Thanks to extensive travelling, audiences nowadays are much more familiar with classical music, opera and ballet. Over the last ten years, there have been more and more classical music performances staged in Jakarta on a monthly basis. This is a good and healthy sign.
Having said that, I have noticed that other cultural genres, such as traditional dance and theatre, are dying at the moment. This is why we need more involvement from corporate sponsors in Indonesia, as the government is not really the most reliable source.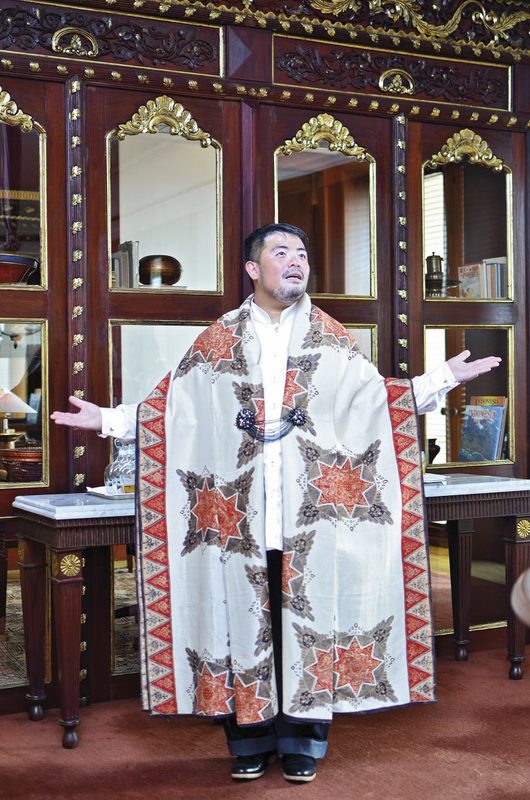 What has been your favourite musical event to stage so far?
I enjoyed producing La Serva Padrona by Pergolesi in 2008 for the Italian Embassy as part as their national day celebrations. The opera got to be so popular that we had to do encores in Bali and in 2010 (with CIMB Niaga Bank). It is a funny opera about a mischievous maid who falls in love with her "master," similar to our classic movie, Inem, The Sexy Maid. It was quite a memorable production to me and Chendra did a great job staging it for me.
Opera is very much thought of as high culture to be enjoyed by the upper echelons of society. You have said that you want to promote opera to the public and drive appreciation for this art form. How can you make opera more accessible and appealing to a wider audience in Indonesia?
What I want and the reality are two different things. I do want opera to be accepted by a larger audience and I am open to that concept. However, in reality, opera – being the highest art form – attracts very high end, niche companies as sponsors. In turn, the target market of these kind of companies tends to be the upper echelons of society which makes my endeavour to reach out to everyone with opera all the more difficult.
I still have a dream to make my operas available to the wider public for free; but realistically I need to find a big enough sponsor, one that is willing to accept this wider public as their target market.
While it's true that opera is high culture, it doesn't mean it should be exclusively limited to certain people. Remember how Pavarotti made the Nessun Dorma aria a worldwide success? That's proof that opera is open to everyone.
What is people's biggest misconception when it comes to opera?
That it's long, boring, and in a language that we don't understand. It is a sentiment that I feel when I watch a wayang performance, but hey, that's why we have subtitles these days. I also don't speak Italian, French or German but it doesn't stop me watching opera. And anyway, some opera is actually written in English or even Indonesian. Ananda Sukarlan, one of Indonesia's most renowned classical music figures, has composed some of his most popular operas in Indonesian.
We know you've travelled all over the world and been to many of the great opera houses. Any particularly memorable moments?
[Laughs] It's true that going to opera houses around the world is sort of my personal ambition. One of the most memorable times was when I finally visited La Scala opera house in Milan which is considered to be opera Mecca for many aficionados. I dressed up for the occasion with a colourful batik on top of my dark suit for extra flair and drama. I had no idea that my seat was in the main area (not on the balcony) as it was given by the tourism board. When I stepped out onto the main floor, I saw nothing but Milanese in their black-only attire. I really felt like the pink elephant in the room, literally!