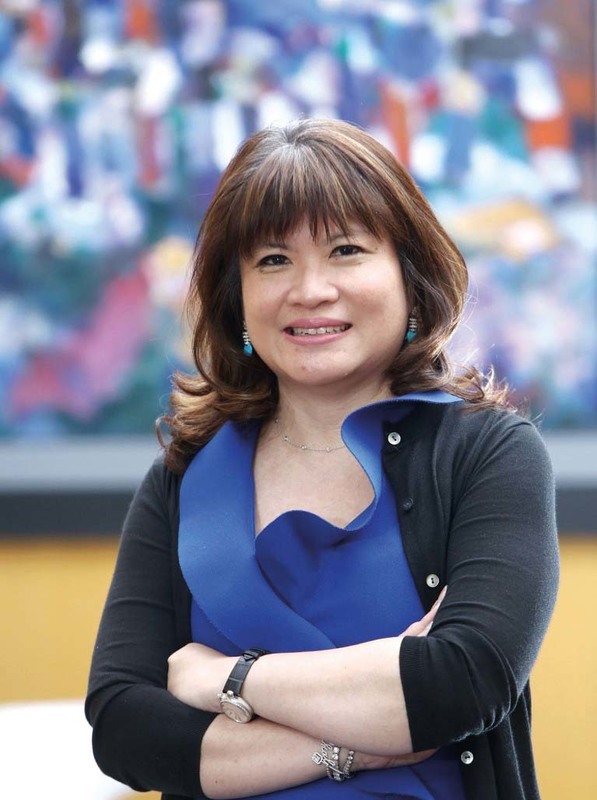 In this series of interviews we are exploring the background, education, motivation, philosophy and careers of successful ladies in Indonesia to see how far society has progressed in accepting them as equals - or in the case of these ladies - rather more than that! In this first interview we meet Shinta Widjaya Kamdani who is one of Indonesia's most prominent and achieved business leaders - male or female - and who brings an absolutely sterling CV with her. Here is just a part of it.
"As owner and CEO of the Sintesa Group, Shinta is responsible for the management and expansion of the group's business interests in Property, Industrial Products, Energy and Consumer Products". Shinta is also the Vice Chairwoman of Indonesian Chamber of Commerce and Industry (KADIN Indonesia) and Employers' Association of Indonesia (APINDO), The Executive Board of International Chamber of Commerce (ICC), President of Indonesia Business Council for Sustainable Development (IBCSD), as well as founder of Indonesia Business Coalition for Women Empowerment (IBCWE), Angel Investment Network Indonesia (ANGIN). She graduated from Barnard College of Columbia University New York in 1989 and Executive Education at Harvard Business School, Boston, Massachusetts, USA in 2002.
Among her many awards are FORBES Asia's 50 Powerful Businesswomen (2012, 2013, & 2016) and the Asia's Leading Businesswoman of the Year Award from Women in Leadership Forum (2013), And was decorated as Commander of the Polar Star by King Carl XVI Gustaf of Sweden and Commander of the Order of Leopold of Belgium. And in 2019, she was awarded as Woman Entrepreneur of the Year at the Asia Corporate Excellence & Sustainability Award (ACES Award)
---
---
AGS: Welcome Ibu Shinta and thank you for being part of the special report. Let me start at the beginning. What made you decide to go into business? Was this something you wanted to do from school days or did it happen later? Was this just natural with the family already in business?
SK: My background is from a family business, so I started to be exposed to business very early when I was very, very young. And I always remember doing family time, like during dinner my parents will talk about what's happening at work. So I was exposed to this conversation and also from an early age my father would bring me to the office and the factory. And so I was always exposed to the office and the people. And I think by then, I kind of had an idea 'maybe this will be my future!' But throughout the years I think I started my first job when I was 13, selling books, my parents felt that the best thing to get your feet wet was through sales.
So that's what I did trying to convince people to buy my educational books for children. So that's how I started my first job and throughout the years, every school holiday, when my friends would go on holiday, I would spend my time working, not just in the family business, but also working in other companies, in other people's business. So I got exposed very early to working and throughout my years in college I was working at the same time and I think the last year of my university year almost full-time working. So when I came back after my studies I felt 'I know this is my path'.
I've been experienced working for other people as well, so I got quickly into the family business. But I started my job in a very low position and then worked my way up. My first boss obviously didn't care whether I'm the daughter or owner or whatever, she didn't care. So I had really to prove myself and actually I feel it's tougher for me because I have to prove that I can do it because of my own merits, not because of who I am. So that's how I did throughout my career. I think after 10 years of working then I started a new chapter of my life where I just feel that the group needed to get a new vision in terms of where we want to go.
And that's how I came to my father, and this was my statement, basically, "I've been working for you for 10 years. I've been following your orders" (because of course the companies were very much shareholder driven in terms of the authority and the central power in terms of decision and so forth) and I said "I have a different way, the way I look at it and I think I'm ready". I said " I don't want to be just an employee for you, I want to be a partner." So that's what I did, I came with a complete business plan and it's easier for me to say it now, but in actuality during that time, it was a real struggle until I got the ultimate decision to kind of revamp and transform the business.
AGS: I have had the privilege of meeting your father and your mother over the years, who are substantial achievers on their own, of course, which is a marvelous heritage to have. I know this is a sensitive question nowadays but has being a woman in business held you back in any way? Has that ever felt that as an obstacle? You've gone to a family company, so you're quite secure, but has that ever held you back with Indonesian society or with government?
SK: Yes, definitely Alistair, until today I am still breaking the glass ceiling. I mean, people may say, of course, there's big progress in Indonesia, women leaders are more accepted but I think it's still a big struggle. Of course gender equality is already out there in the workplace but still challenges are still ahead. I mean, if we would have two candidates, female and male for a certain position it still will usually go to the male despite similar skills. That same pay gap is still there. So we're still struggling in that aspect.
The most important thing for me was trying to prove myself, and trying to convince my male colleagues that I can lead them as well. I think that's a big issue, right? And it takes time to convince and it takes time to prove yourself, I have to say, but there needs to always be a big push and motivation. And sometimes people mistake motivation with ambition. And that's also another criticism that women, when they get on in their careers, once they get in the top position, people say, "Oh, you are very ambitious. And that's why you get the position because you're too ambitious". So things like that will always be a stigma for women that are successful in leadership positions. To me this is a work in progress and will continue to be in Indonesia. I've been always called a triple minority: a woman, not just a woman, but I'm a non-Muslim, and I'm also Chinese by descent. However, I think my triple minority might be my asset. So I said 'In any position that I sit in, whether I've been in government positions, or in more positions that may be harder as a woman, but a minority woman has to fight to be accepted. We struggle, but now we get the support system to help to make us be where we are.
AGS: But you have made it to the top, right. Done what you set out to achieve. But is there still more to come? I mean, you are pretty close to the top of Kadin, you're pretty close to the top of all the things that you tried to achieve. What's next? Can you get all the way to the very top leadership?
SK: I think to me, it's not just about position. I think achieving your life goal is much more than leading , it is not about just being a leadership position. I think a successful career is success in life. So I have a very big priority on a work-life balance, for example, and people always say you may be successful in your career, but if you're not a successful in your family, you're not a successful person. So I think the work life balance is very important. We have to balance our life. And achievement, I think to me, is getting to my goal and achieving my vision in life. It's not just about heading to a certain top position, but more of what have I done and what impact have I made into what I do. And I think that as a human being, Alistair, I always feel we are still not quite there. I was always inspired by Mother Teresa, because she was a very selfless person, right? She never thought of herself. So we should always think: "what can I can do for others? How I can serve others?" And that's really my ultimate goal: one day I won't have to think: "what does Shinta want but what can Shinta do for other people."
AGS: What happens if you are invited to go from the private sector to the public sector and get into policy making? Is that something that you would consider?
SK: Well, as you know, I served in the Office of the Vice-President from 2015 up 2017, and I was exposed to more of the inside workings, but not as a permanent role. But from there, I can see that I don't think I am driven to become a politician or a civil servant. At the moment I'm also sitting at the Coordinating Minister's office as supporting Expert Staff so I can see what's happening, but I don't see myself being in politics. I am not sure. I mean only God will know what the future will bring. All I can see right now is how we'll continue learning. So I always feel in everything I do, I will continue learning, and I will just walk the path and see where the future brings me.
AGS: Good. For somebody starting off in business, 22 years old, just to come out of Harvard Business School, as you did many years ago, what advice would you give to them to start off coming back to Indonesia? What advise would you give them to start and be useful to Indonesia?
SK: So I have three things for myself that I believe in. One is "Purpose". Second is "Passion" and the third is "Perseverance". So this is what I always follow from when I first started my job. I still mentor a lot of young ladies now because I love mentoring. But first: you need to have a dream as big as possible. If we don't have a dream, we don't know where to go. So I always believe the dream has to be big and it has to be real. Like you can see yourself in being inside of that dream. But it has to be purpose driven. We need to know what we want, whether that's work, whether that's personal life, whether that's your social life, you need to have a purpose. You need to know where you want to go. And maybe that purpose can change. Yes, it's fine, but at the beginning you need to have a direction.
And the second, passion, because you need to love what you're doing. You can't be forced by your parents to come in for specific tasks, you need to enjoy what you do. And maybe this is easier said than done because some people don't have choices, but as much as you do, you grow to love what you do, if you can't love it at the beginning, at first sight. I think that is that important because if you're going to do this, you want to be committed to it. So you need to be passionate about it.
And the third thing, nothing beats hard work, right? Nothing will come on a silver platter. Even for me, I would say I was blessed with a very comfortable life. My parents always taught me, you work on your own, right? You are not given your life on a silver platter, so you work hard to be independent. So I think that is very key, we have to work hard and we fail. We will fail many, many times. I failed many times but from each failure, I always get up and learn something? So I feel failure is a path to success, I do believe in that, because there is no way life is just about success. It has to be series of failures as well. So with perseverance we eventually will get somewhere. And I think at the end of the day, we want to understand life is a long journey, it's a long learning journey that on each day in our life, we will always learn something new.
So I think that that will be my first advice. And at the end of the day, we need to understand that we're not alone. You have a support system, you have a network, even if it's not your family, we have now a lot of woman networks like I said. You know, we give capital for startups, invest in startups. So there are many ways now because there's such a huge network out there that can support you. So believe it, you're not alone. And with that in mind, you can do whatever you want to do.
AGS: What a fantastic way of looking at life and I think we should call it a day there. Because I don't think we could get a better point to stop: inspiration for young people, inspiration for people at any stage in life. The triple minority who has become a success in a very difficult country. I think congratulations are due to you for not sitting on your laurels, but looking for more challenges.
On behalf of Now!Jakarta and MVB, thank you for a great interview and great inspiration. Let's hope as many young people read this as possible, and let's take this whole idea of gender equality very much forward.