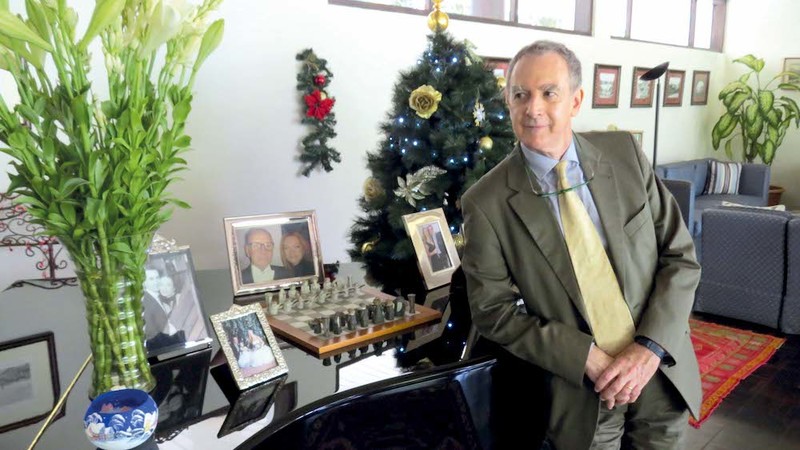 Indonesia has always had a long-standing and harmonious relationship with Italian food, fashion, football, motor cars and two-wheelers, all finding a special place in its people's hearts. Now! Jakarta's Alistair Speirs was delighted to meet up with the newly installed Ambassador from Italy, HE Benedetto Latteri in the delightful Italian Residence and explore all of those subjects together and more.
AGS :
First of all welcome to Jakarta, I hope you have a really engaging and rewarding stay here. Please tell us a little of your background and your career.
BL :
Oh, I'm a very ordinary person. I come from a normal Italian family and I' m very lucky to have taken from my mother the value that good qualifications help you achieve what you want in your life. And from my father the value that hard work is essential for you to be considered a serious person. That's my background. I come from Sicily. So I'm a Sicilian man who has a very distinctive cultural and intellectual imprint, and I'm proud of it. I am an islander in the world's largest archipelago. I started my career in Eastern Europe, and then moved on to Asia: this is, in brief, my personal and professional background.
AGS :
And before coming to Jakarta, where were you?
BL :
I came to Jakarta directly from Rome after spending six years there at the Ministry of Foreign Affairs. And that was an unusually long time for a diplomat, but I did it for personal reasons. I preferred to stay there that much time because, while career is important, you also have to accommodate some family needs.
AGS :
Italy had a bad time dealing with COVID early on, but eventually got the situation under control and there was a lot of very good coverage of the way people came together, singing on the balconies and some really nice stuff, despite all the lockdowns. How is the situation now?
BL :
Yes. After China, Italy has been amongst the first countries to be hit. We were following the news from China, from Wuhan, but we didn't expect that huge impact in Italy and, eventually, all over the world. I experienced the strictest lockdown in Italy while I was there. It was a very scary time, therefore tough measures had to be taken. The government regulations were followed by the whole population, which showed a high degree of national discipline. And that was instrumental in getting the pandemic under control. Once the lockdown was lifted, of course, there was an increase in the contagion's numbers. Then, in November, we were hit by a second wave which required a new toughening of social restrictions. This has been very hard on our people, especially with the Christmas festivities being so close. Nonetheless, as we draw nearer to the moment the vaccine will become widely available and start being distributed, there is now some room for optimism.
AGS :
In fact, the rollout of the vaccine in UK starts today (at the time of interview). And, it's quite interesting. UK is prioritizing health workers and care givers, but the Indonesian strategy is 19 to 50 year olds.
BL :
Exactly. In Italy, the priority will also be given to the health workers, to the front liners. And then to the people considered to be at highest risk, like the elderly and those with other pre-existing health conditions that may compromise their immune system. That's effectively quite different from Indonesia, but it's difficult to make comparisons. Actually, the median age of the Italian population is relatively high and, on average, people who died from COVID were around 81 years old. On the contrary, the median age of the population in Indonesia is approximately 30 years of age: that's very, very young! So probably it makes sense to give priority to protecting the active labor force.
AGS :
I am trying to analyze this myself for my next editorial for January. What should we prioritise: health or wealth, that is the question?
BL :
It is indeed a very hard question. One would instinctively reply that people's health is paramount and everything should be done in order to contain the spread of the virus. But a total lockdown would have fatal repercussions on a Country's economy, and that is also something that should be avoided: people don't just need to be healthy; they also need to work to be able to eat, pay their bills, provide for their families. This is the conundrum that all governments around the world are facing, and they need to be able to gain the trust of their populations in order to respond effectively to the challenges posed by the pandemic. They also need to seek international cooperation, which is a necessity when dealing with a crisis of global proportions. In this regard, I think Italian Authorities have fared relatively well, by adopting a mix of measures on the domestic front that helped contain the infections without completely suppressing the economy while also engaging the EU Institutions for a heightened collaboration both on the sanitary and economic fronts. In the end, I think that the cooperation established at the EU level will prove to be the key for Europe's resilience against the virus and for its future recovery.
AGS :
Moving on to tourism : Italy has a really fine-tuned cultural tourism that has managed to achieve great results. Are you able to guide Indonesia in this field?
BL :
No one wants to lecture anyone. All I can say is that Italy considers tourism as a comprehensive experience of its way of life. People don't come to Italy just to look at its ancient monuments, visit its amazing museums or relish its beautiful landscapes. They want to immerse themselves in the Italian lifestyle, in all the little and big things that make us Italians who we are: our food and wines, our mountains, lakes and beaches, our small villages and big cities, our many dialects, our rich cultural heritage and our national obsessions, like fashion, football and motor racing. So it's a full immersion in the Italian heart and soul!
AGS :
I know, and I love it. I was just talking to my wife about our favorite city in the world: to walk around Rome, there's just nothing like it because round every corner is either a great restaurant or a shop or a monument.
BL :
Yes. Somebody neatly said, "Every stone in Rome speaks history".
AGS :
That's even better. I like that.
BL :
That is really an image of what going to Rome means for foreigners - or even for non-Roman like me - and have this feeling that history is talking to you. You are surrounded by ancient buildings and monuments, bars and restaurants and museums, and hundreds of little shops with their own heritage and special charm. You can stroll around eating gelato, lulled by the gentle breeze coming from the nearby sea and enjoying the nice warmth of the sun that gently kisses our land for so many months of the year. Indeed, Italy is blessed to be in the middle of the Mediterranean and to offer tourists a variety of year-round outdoor activities and excursions.
AGS:
If we talk about the big picture of tourism and how Italy provides a lifestyle, not just a mono- dimensional experience of exotic Italy. Tell us please all about it.
BL:
It's a singular experience encompassing all the many and diverse aspects of Italy. Even though we talk about Italian food or Italian lifestyle sometimes, as an Italian the notion seems to be too narrow, too limited. It's better to talk about 20 Italian cuisines, considering there are 20 regions in Italy, because whenever you go and wherever you move around the regions in Italy, you find different recipes, different food, different ingredients, even a different process to do the same things. I don't want to complicate, but this happens also within the regions themselves: you move 20 kilometers from one village to another and you'll notice differences in the same recipe. When you travel to Italy, you might choose to do the usual "big cities" tour - Rome, Florence, Venice, Milan, Naples - but if you move a few kilometers away from them, you'll find a huge variety of other experiences just waiting for you. A multitude of local traditions, of monuments, of sceneries… everything is very rewarding for a foreign visitor!
AGS:
The point that I was hoping to make is that you have many historical monuments, which you look after to, and the experience in Indonesia is not the same. That's the point: you revere and take care of history, and Indonesia doesn't have the same view on it. I know we'll have to be careful how we put this, but that's the point that I would like to make.
BL:
Actually, the bilateral cooperation in terms of cultural heritage preservation, restoration and exploitation is already quite positive and it is something that we would like to further expand. There are already some notable examples: I would like to mention an Italian lady, very passionate, who has been restoring the paintings in Jakarta's Kempinski Hotel made by the Indonesian artist Lee Man Fong. Or the admirable restoration work carried out by the same Italian professional at the Kraton Palace in Yogyakarta.
For sure, Italy is amongst the world leaders in the field of conservation and restoration of cultural heritage. Our expertise derives directly from the high concentration of artwork that we have in Italy, which needs to be constantly preserved, maintained and renovated. Some of these pieces are very fragile: think about The Last Supper, which is a fresco by Leonardo da Vinci, directly painted on the wall of a church in Milan. Its restoration, although very difficult, was accomplished by developing specific skills and technologies.
Thanks to its highly skilled human resources, advanced techniques and unique materials, Italy is capable of providing a valuable assistance to its international partners in this domain and is ready to cooperate with Indonesia and other ASEAN countries, where there are plenty of amazing monuments and works of art that wait to be restored for the benefit of their Countries and all mankind.
AGS:
Let's go back to cuisine because that's one of the central pillars of the whole cultural experience and Italian cultural diplomacy is one of the ways in which you use it to introduce Italy to the world. This latest initiative, The Week of Italian Cuisine, which I was very happy to experience the final dinner, was excellent.
BL:
Thank you for asking! This year, the Week of Italian Cuisine in the World took place under the banner of an important anniversary, reflected in its theme: "Knowledge and Flavours of Italian Lands, 200 years after the birth of Pellegrino Artusi". The title reminds us of the great diversity existing in Italy's local cuisines and in the same time of this great man, Pellegrino Artusi, who, in the middle of the 19th century, published the book "Science in the Kitchen and the Art of Eating Well" that is considered by many to be the "bible" of modern Italian cuisine. In any Italian family's home, there is a copy of Artusi's book that is constantly consulted. My grandmother, who was a very good cook and came from Piacenza in Emilia Romagna (the same region as Artusi's), used to keep this book in her kitchen. In his days, Artusi emphasized the diversity of the regional and local cuisines, which he based on three fundamental virtues: "hygiene, economy and good taste". In today's Italy, these tenets have been joined by another trinomial: "sustainability, quality and health" and have found various expressions, the most famous of which is the so-called "Slow Food" movement. Created in 1989 with the goal to prevent the disappearance of local food cultures and traditions, Slow Food has rapidly grew into a global, grassroots organization which strives to preserve and promote the use of local produce and cooking ingredients in the preparation of the traditional recipes which have been passed on from mother/father to son/daughter.
AGS:
That's excellent and much to be admired. But let's move on to Italian companies. There've been some very successful Italian companies in Indonesia and also trading partners. Are they seeing some recovery now? What are the prospects going forward?
BL :
The way I see it, there are high levels of complementarity between Italy and Indonesia's economic systems. And this can be translated in several opportunities for mutually beneficial cooperation. The most successful bilateral collaboration at the moment is in the oil & gas sector. Italy has been very good in developing advanced technologies in this field and the cooperation with Indonesia has been rather natural, with some Italian major players establishing a strong presence in the Country and maintaining a positive outlook for the future. We also wish to increase and expand this cooperation into other areas. For example, we have a number of Italian companies specialized in geothermal energy, where Indonesia has plenty of reserves and needs to invest also as a way to strengthen the renewables part of its energy mix. Aside from the energy field, I think Italian companies could also play an important role in the local automotive, infrastructure, transportation and agroindustry sectors, as well as establish fruitful partnerships with local counterparts in the defense and aerospace industries.
AGS :
I went to visit Kamojang Geothermal Project which is a New Zealand based technology in 1979. And I thought this is going to be great, very little has happened since which I believe is because of PLN pricing, for electricity, is that correct?
BL :
The situation in Indonesia is not simple because the energy sector is still heavily reliant on fossil fuels and the current system of subsidies creates distortions in the market that end up penalizing the development of renewable energies. However, the Authorities understand the importance and urgency of the energy transition and have started to implement measures that should facilitate it. Of course, it's going to take some time, but in the end I think the transition will happen and will bring benefits to the Country as a whole.
AGS :
The next point we're going to go on to is about the EU which has launched its Green Deal. How can you help Indonesia to understand what the EU can bring in terms of expertise to Indonesia?
BL :
As I said with regard to tourism, nobody wants to come and lecture anyone. What I would like to stress, instead, is the enormous scope that exists for international cooperation in this domain. Italy, as a member of the European Union but also in its capacity as Chair of the G20 and Co-Chair of the COP26 together with the UK in 2021, is strongly emphasizing the need for a global effort to tackle climate change and the benefits that the energy transition can bring in the medium to long term to those who embrace it. I believe that there is nowadays a widespread understanding amongst nations of the importance to work together towards the establishment of a new world order based on more sustainable, environmentally friendly policies and economic practices. Indonesian Authorities are well aligned with this process and are doing their best to give their positive contribution, although they also have to deal with some social and economic constraints on the domestic front. Italy and the EU are ready and eager to support Indonesia in this effort by providing the necessary assistance in terms of financial resources and by means of technology and know-how transfers.
AGS :
My last question is about ASEAN which has become quite current again since we've got this new agreement between ASEAN and EU which seems to creating major new opportunities for both parties?
BL :
That framework you refer to is still being negotiated by both organizations. But for the time being an important result is that we have reached an agreement to step up the EU-ASEAN cooperation to a strategic partnership, which will allow us to further coordinate and align each other in sectors such as trade, investment, sustainability, security and so forth. There are in fact many areas in which we can work together. We are currently negotiating an agreement on air transport and we recently had a breakthrough in the ongoing discussions about palm oil and other vegetable oils, which have been a longstanding challenge so far. And we are confident that ASEAN shall appreciate the EU's intention to carry out a very open and transparent cooperation with it. Having said that, I also would like to recall that last September Italy has been recognized by ASEAN as a development partner and we are now working to identify some special projects to be implemented within the framework of this partnership.
AGS :
Which sectors that relationship would be focused on first?
BL :
We are looking at several sectors, although of course priorities are also being dictated by the current international situation. So, first of all I would mention the health sector; we also want to develop the security dimension as well as pursue some initiatives aimed at strengthening the economic and commercial ties between Italy and the region. We are also looking at collaborations in the field of cultural heritage.
AGS :
Now on to the list of your personal objectives while you're here. What do you hope to achieve? What is your dream? You've had a very slow start because of COVID - hard to get moving. What are you going to be able to achieve personally and professionally?
BL :
As Head of Mission, I intend to spare no effort in order to raise the level of cooperation between Italy and Indonesia, taking also into account the dynamics of the whole region. In pursuing this objective, the fact that I am also accredited as Ambassador to ASEAN will definitely help. Learning also from the experience of my previous postings in Australia and China, I've become personally convinced that this part of the world, and particularly Asia and South East Asia, is destined to be the engine of global economic growth during the course of this century, and I am excited to be able to witness this progress, while also actively promoting the relationship between Italy and Indonesia.
From a personal point of view, having being bestowed the honor of representing my Country as Ambassador represents the culmination of my career. My dream as a teenager was to travel the world and to be exposed to so many different cultures, societies, traditions, and I have managed to achieve that.
AGS :

Thank you. Excellent. We wish the best in all you do.