NOW! Jakarta sat down with Olivia Leslie, Ambassador of Ireland to Indonesia, as she shared her experience in Indonesia so far and other critical issues, including Ireland's involvement in sustainability and cultural preservation in Indonesia.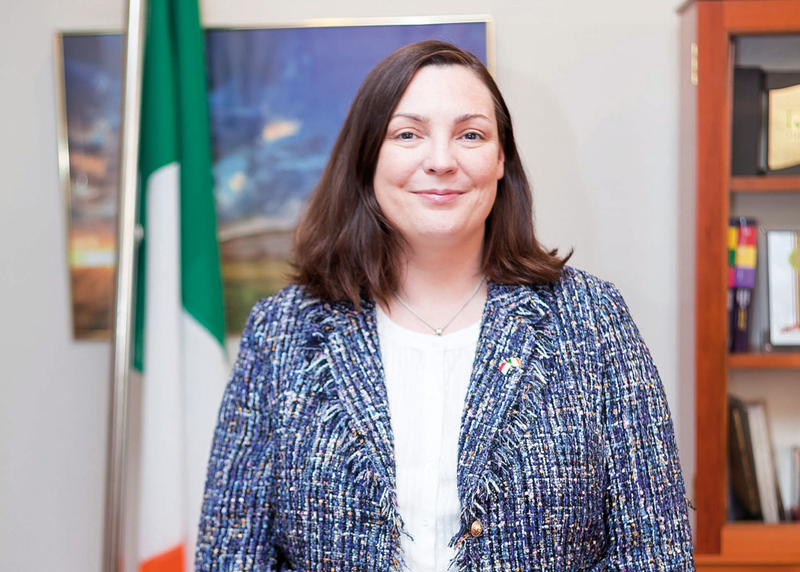 It has been less than a year since you arrived. How have your impressions changed since day one? Are you more or less enthusiastic about Indonesia and your role here?
I have been very lucky in that I feel very settled already. Coming into a great working environment here at the Embassy, as well as a welcoming Irish community really helps. In addition, I think the Indonesian Government is always open for business and it has been very easy for us to talk to them, and that means that you are not reinventing the wheel thanks to a very receptive system.
The answer is more enthusiastic. This year, we're celebrating 35 years of diplomatic relations between Ireland and Indonesia. Even though we've only had an Embassy here for five years, I'm really struck by the willingness and openness to engage, and that is transformational in terms of settling in, personally and professionally.
Tell us a bit about your personal background and your career so far please.
I'm a career diplomat. I've been working in our foreign service since 2003. Before I came here, I was working at our headquarters developing strategies to make Ireland's overseas work more effective, and on the development of our Global Ireland strategy, which is the Government's strategy to double our global impact by 2025.
I've also been posted to our Permanent Representation in Brussels where I was the Deputy Representative to the EU's Political and Security Committee. My first posting was in Egypt at our Embassy in Cairo. And then back home I've worked in a number of areas, but I suppose the one that resonates the most has been working on Northern Ireland issues for nearly three years. Northern Ireland is critical policy-wise for the Government but it was a very impactful experience for me as well.
What are your main objectives over the next few years here?
Fundamentally, our baseline objectives here will still be around promoting education exchange and increasing two way trade and investment. One way to promote trade is to develop a double taxation agreement between Ireland and Indonesia. We're not there yet but we do hope to make progress soon.
Apart from food and dairy—which there is a growing need for—I would also like to see more trade in some of Ireland's specialized areas like medical instruments. The conclusion of an EU-Indonesia Comprehensive Economic Partnership Agreement, currently in negotiation, could really help to stimulate greater economic ties and would encourage more Irish businesses into the Indonesian market and vice versa.
It would be great to see some of Indonesian tech companies establish relationships with Ireland as well. Ireland is a global hub for the tech industry, not least because of our expertise and highly skilled labour force. And Ireland is also a great staging point for access to the European and US markets.
You recently met with the Governor of Jakarta. What are your impressions and what is Ireland doing to assist him in running this mega city?
It was a pleasure to meet Governor Anies. I was really pleased by how open he was in our conversation—myself and other European ambassadors—about the challenges faced by a city like Jakarta and how to keep up with that; to anticipate the problems before they arise and the type of data effective responses require.
We're excited to see the new electric buses that were recently brought in. They're a great first step and I hope more will follow. I think investing in public infrastructure is very critical in a mega city like Jakarta.
The extension of the MRT is key as well as joining it up with the bus lines. Governor Anies is very aware of all those issues. He's also very conscious of waste management. I was impressed by his approach on that.
You have been involved in the EU Palm Oil discussions. How important is it to settle this matter? What is Ireland's position on Palm Oil?
I think it's important to remember that the EU is a very favourable market for Palm Oil, due to low tariffs. We're currently the second biggest importer and the market remains very much open. I know that the export of palm oil, particularly for biofuel use, is an important economic issue for Indonesians. I would say in response that the question of sustainability of Palm Oil is something of vital importance to European consumers. Europe has an ambitious climate and energy agenda, in response to our international obligations to address the global climate crisis. The EU and Ireland recognise the growing work that Indonesia is doing on sustainability— on reforestation, and certification, for example. We will continue to partner with Indonesia on sustainability initiatives and in promoting economic growth across the country.
What are the most important aspects of Ireland's relationship with Indonesia?
Education, food, technology, as well as cultural and people to people exchanges. Those are the priority issues that we are involved in, but we also have a mandate to promote our values as well. Earlier this year we held our first Women in STEAM event and we intend to host further STEAM (Science, Technology, Engineering, Art, and Maths) events in the autumn. The events are an opportunity for women to showcase their expertise and network with their peers in a creative environment. They also allow us to demonstrate Ireland's excellent STEAM credentials.
We are hoping to have much more cultural activities here and across Southeast Asia to help familiarise Indonesians with Ireland and our heritage.
Ireland has a positive profile on development assistance and development aid. We're traditionally seen in that sphere as both generous and quite neutral in terms how we use development aid. One of the best things about my job here is being able to help community initiatives across the country. For example, we've funded an organisation in Kalimantan which promotes female economic empowerment, through the development of alternative sources of income.
You have been travelling around the country since you came. What is your favourite part so far and your best experience?
I haven't travelled as much as I'd like but I loved going to Central Kalimantan, to Palangkaraya. I thought it was fantastic. Being in Kalimantan and meeting communities there was hugely enjoyable.
We also went to Lembang recently. Northern Europeans are always searching for colder weather! I'll be going to South Sulawesi in July and hope to visit Ambon later this year.
I really enjoyed visiting Jogjakarta. An Irish company is closely involved in the development of tourism for Jogjakarta, Prambanan and Borobudur. The tourism potential for Central Java is extraordinary and Ireland is delighted to be involved in some way.