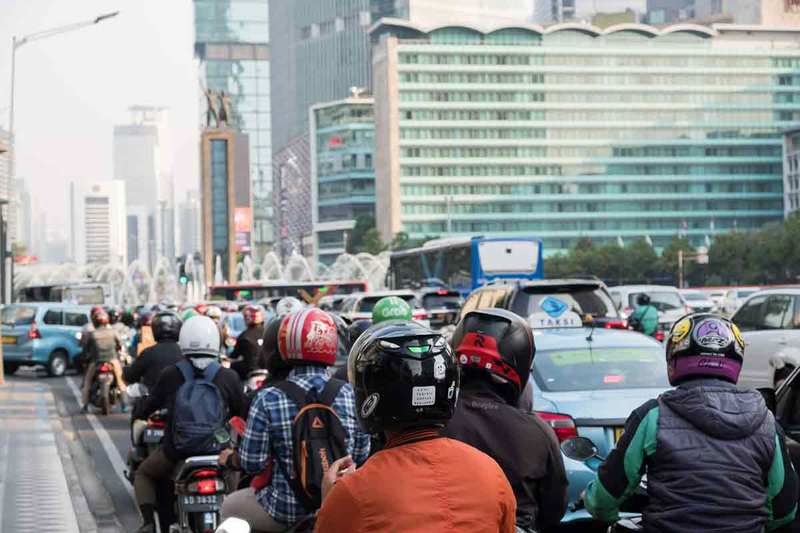 Over many years I have commented on, argued with and berated the authorities on their inability to solve even the simplest of traffic challenges. Sadly I am forced to do so again since "building back better" doesn't seem to have happened in Jakarta's Traffic Dept (Dinas Lalu Lintas).
I can only comment personally on areas I have observed first hand but extrapolating this to the whole city, if there are simple solutions in one area, inevitability there will be in all the others. And I mean workable, practical solutions, not massive infrastructure changes needing millions of dollars, which seem to be the preference of the administration.
Let's start with some simple principals:
(1) A 'High Street' cannot be a main access road. You can't mix retail shops, offices, builder's yards and restaurants on either side of the road with vehicles wishing to pass through the area. Jl. Ampera Raya is a great example with cars entering and leaving from side roads all the way down and cars stopping for business everywhere, with the added idiocy of security guards (now dressed as policemen) stepping out to stop flowing traffic because their boss wants to leave the office. It just doesn't work and needs to have a complete change of concept.
Worse than this is the gradual commercialization of roads built specifically as city access facilitation routes such as Jl. Antasari which is now nearly as bad as Ampera despite the fact that it has a flyover on top ready to take the 'through traffic!' Two classic examples are in Bali: Jl. Sunset built to ease traffic flow from Kuta to Seminyak, now a completely commercialized road with buildings left and right the entire length. Even worse is the East Coast Mandara Toll which is gradually becoming a 'high street' too, totally destroying its original - and only - purpose to get tourists quickly to Candi Dasa and Amed.
The solution: for developed roads like Sunset and Mandara, the best solution is to restrict access to business from the rear or side of their premises requiring proper planning and infrastructure, and blocking all access to the front on the main road. For Ampera Raya (and a hundred 'high streets' in Jakarta we need total no stopping/no parking/no waiting rules (double yellow lines – and fines to match) and probably a change to One Way. This especially applies to streets like Jl. Kemang Timur which is lined with active businesses but doesn't even have a sidewalk/pavement/trottoir. It can never work as an access road like this, so has to become a one-way system.
In fact, I presented my "One-Way Plan for S. Jakarta" to then Governor Jokowi and he liked it and passed it to his assistants, who obviously said 'no financial benefit' and junked it. Governor Anies, we need it back.
(2) It's better without traffic lights. You may have noticed that people (especially motorcycles) don't stop at traffic lights anyway. So whenever possible get rid of them and filter left, then use a U-turn or a round-about (preferably) to reverse the traffic. No stopping, but you need to make proper 'filter' lanes which blend into the on-coming traffic. This is perfect for the whole of Jl. Simatupang in the south which was actually designed as a left-filter/ U turn system, but some idiot then added cross roads with traffic lights which create endless jams all the length of the otherwise excellent road. Get rid of them. No cost. No electricity. No jams.
The same principle applies to the complete mess where Jl. Puri Mutiara meets Jl. Antasari and Cipete Raya which may be the stupidest junction in Jakarta. Just filter left & U turn. No lights but cut off the left turn corners to allow merging. Bingo. Sorry city planners, no big budget.
(3) Look at actual traffic volumes and adjust the system or the traffic light timing. Hardly rocket science but no-one seems to do it. If you are in New York City the lights are timed so you can go North-South (or vv) in one go, each light changing as you hit it at 30mph. Brilliant and invented 50 years ago. Jakarta? Every light is red when you reach it. Honestly it's like it was designed to stop traffic flow, Not ease it!
Another brilliant plan was to build the Antasari flyover but still clog the previously mentioned junction with Puri Mutiara/Cipete because no-one looked at the flow. Northbound traffic from the (excellent) Simatupang-Depok toll comes to a dead halt at the junction because there's no access to the flyover after 9 am. But there is nothing coming the other way. Watch and adjust, traffic people. Or do you all live in Depok or Bekasi?
(4) Road regulations actually apply to all vehicles.
Sorry motorcyclists all, you have to obey the rules, get in a lane, don't stop and look at your Grab/Gojek instructions at the side of the road. Turn left from the left lane not the right etc etc. And cyclists you are even worse. Do not become 'holier-than-thou' activists claiming rights and privileges, stick to the rules.
To all of you: do not go on the road without lights. If you are killed because you can't be seen, do not blame it on the other vehicle, it's your responsibility. By dying or going to hospital because you are stupid/lazy/don't care, you ruin the other person's life as well. Police. Please stop them and confiscate the bikes. It's too dangerous.
(5) Noisy motorbikes must be taken off the road.
There is now a trend to very, very loud bikes. Let's stop it before it's too late. They can be heard hundreds of metres away and we all have a right NOT to hear them. Please please authorities, when checking for licenses, check for sound and emissions too. We can solve two pollutions in one go.
(6) Painting green lanes for cyclists on roads, where cars need the space, just doesn't work. Great intentions, seriously bad implementation. You cannot just slice ⅓ of the road needed for cars and declare it a cycle track. It doesn't work to do (Mampang Prapatan , Gunawarman) and frankly, there are very few cyclists. The same applies to Sudirman/Thamrin, where the logical option is to put cyclists on the sidewalks which are now 10m wide with very few pedestrians. (These are not shopping streets like Orchard Road, peoplejust go to work, go to lunch, and go home. They don't need 10m pavements!) So please change the use back to cars till you've finished the MRT system (in 20..30..40 years?) until then use the sidewalks. Motorcycles can go in the spaces for cyclists on Sudirman/Thamrin.
(7) There are no trees or electricity poles on roads.
Please move them to the side. And while you are at it please push the manhole covers that are 10 cm above the surface of the road down to road level and bring those that are 20 cm down, up! It surely is the contractors who made them responsibility but the city public works dept doesn't seem to want to get this right. I wonder why?
As I said at the beginning, the examples I am using are all from South Jakarta, but I'm sure that very similar stories-and solutions-occur all over this city, and with honestly very little money but a lot of thinking we can speed up the traffic by probably 25-35% in 6 months.
Can someone please take notes?