A relationship between two countries is actually the sum of thousands of individual stories and experiences. The UK and Indonesia mark 70 years of friendship this year, so @UKinIndonesia are telling 70 incredible UK-Indonesia stories, and launching a competition on their Instagram to share your own. Here are 7 from the #70stories collection we loved.
---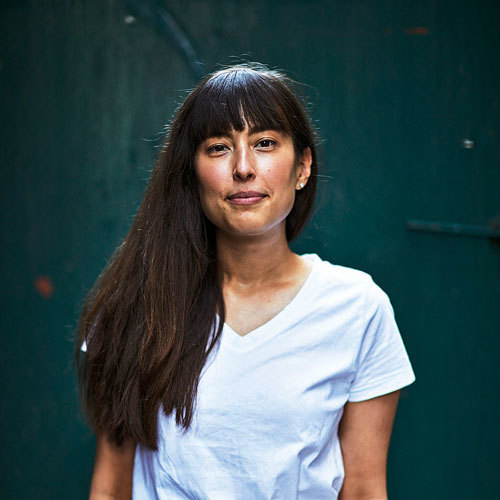 Fiona McKay
Independent Curator
I'm currently living and working in London as an independent curator. My job involves curating exhibitions and cultural events and programmes for a range of institutions and brands. I was born in Singapore in 1982. I was three weeks old, when we flew back to our home in Jalan Kartini, Medan. I don't have many memories of this house, apart from a hanging rattan egg chair which I was swung from as a baby. My father at the time worked in natural gas and when I was four or so, we moved up north to a compound in the middle of the jungle just outside the then small town of Lhokseumawe in Aceh. I've been incredibly lucky to have experienced living in both Indonesia and the UK (Scotland then London). This strengthened my personal connection to both my Indonesian and Scottish roots. Recently I helped curate the Indonesian Cultural Late as part of the London Book Fair – Indonesia was the focus country this year – and this has ignited my passion for promoting Indonesian food, arts and crafts here in the UK and beyond.
---
Tim Utteridge
Botanist at the Royal Botanic Gardens, Kew
My name is Tim Utteridge and I'm a botanist at the Royal Botanic Gardens, Kew. I have been working in Indonesia for 20 years, which seems a long time, but I feel I've only scratched the surface of this vast island archipelago. My specialist area is the trees of New Guinea and I have visited Tanah Papua (Papua Barat dan Papua) several times, but I've also worked in Sumatra, Java, Bali and Timor, so I suppose, even if I haven't been to the very edges of the compass, I've at least spanned Indonesia in an east-west direction (I'm working on north-south!). My very first visit to Indonesia, to undertake botanical work at the Freeport site, was one of my most memorable. Before leaving for Papua, we spent time in Bogor - meeting botanists at the Herbarium (then opposite Kebun Raya), walking through the botanic gardens (which, in my opinion, are the best in Asia), and eating far too many sate kambing at a small, ramshackle, street side satay restaurant (now a clean, gleaming bank). We took off from Jakarta very early in the morning flying along the misty north coast of Java as the sun rose, its dull orange rays picking out the perfect cylindrical cones of Java's volcanoes, each one (then) gently puffing smoke into the dawn sky. I feel very privileged to have visited Indonesia many times and to be a small part of the UK-Indonesia relationship. I believe it has great potential to be even stronger, even broader and even more collaborative. Both countries have so much to offer each other. For me, it is working with Indonesian scientists to explore and document the wonderful rainforests. Of course, Indonesia is more than just forests, and the people, towns and cities, make the country unique in many ways, but especially culturally with diverse food (the home of durian, rawon, jus alpukat and papeda) and biologically having thousands of islands straddling Wallace's Line with orangutans and monkeys in the west, and cassowaries and parrots in the east and, of course, botanically, thousands and thousands of plants, many still waiting to be discovered. To me, Indonesia is complex in so many ways and I know I will keep returning again and again to try to understand a little more each time.
---
Helly Minarti
Chevening alumni, now Arts Curator, Former head of programmes for Jakarta Arts Council
I did two post-graduates in London in the span of eight years. Together, these 3.5 years with frequent visits in-between have shaped my view of the world and made my life what it is now. In 1999, I took a one-year MA course in International Journalism, through Chevening (on my 3rd attempt). It was my first time visiting the UK. Ten months after returning to Jakarta, I joined British Council Indonesia as its Head of Arts and worked there for two years. By then it was clear to me, my path was to the arts, after years of tiptoeing around them on the fringe. When I came back to London in 2008 to do a PhD at University of Roehampton, my lesser means actually allowed me to penetrate deeper into British life - being a real Londoner, juggling study and part time jobs. I found a way to live simply and yet richly, thanks to all those free museums that open their doors to their permanent collections, offering free talks and tours. I also got to travel to cities like Bristol, Leicester, Coventry and Cardiff. My life - study, work and personal - in London somehow has paved the way to what I am today. Good memories, rich experiences and deep conversation woven during my stay, but at the core of it, it is also due to the sense of self-criticality that the British life has infused in me. Multicultural London is full of public debate on various issues around identity; and its arts world is the microcosmic of that. I still very much carry some of the city's vibration with me, down to my daily routine. I still read The Guardian on app, watch tonnes of British TV comedy programmes on YouTube, and listen to British music and podcasts. I credit all these persistent habits as my slices of London's state of mind – a way to get at the self-deprecating humour of punters in local pubs or the cockney charm of the fruit sellers shouting in Walthamstow market.
---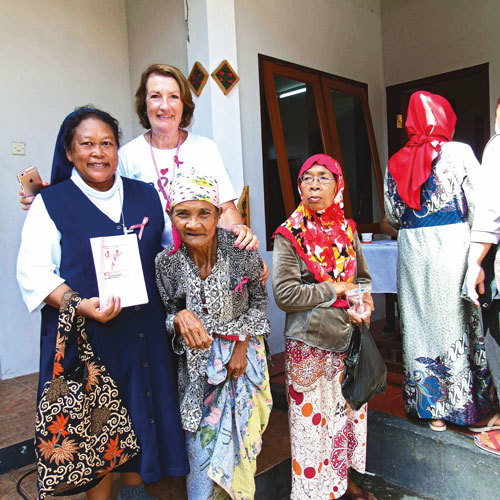 Gaye Warren
Bali Pink Ribbon
With the help of Bali International Women's Association and Prima Medika Hospital, I founded Bali Pink Ribbon in May 2009. We promote breast cancer awareness education and give free breast screening to communities around the island. Now ten years on, Bali Pink Ribbon is a registered Foundation and, with the help of overseas sponsors and our own fundraising efforts, we now have two mobile USG screening units for our roadshows round the island, and more recently - the nearby islands of Nusa Lembongan and Lombok. Helping women in Sumba, Flores and Nusa Penida is our next target. During the last ten years we have screened over 4,000 women, discovered 46 cases of breast cancer, given 220 awareness seminars and 20 screening roadshows. With our now extensive breast cancer awareness campaign, BPR is finding that breast cancer patient support has become one of our major activities. We also find that medical students look to our Foundation to join their activities. I have a deep respect and affection for the Indonesian people, with many happy memories of our time spent as a family in their beautiful and diverse country, which is rapidly becoming one of the most recognised and respected developing nations in south east Asia.
---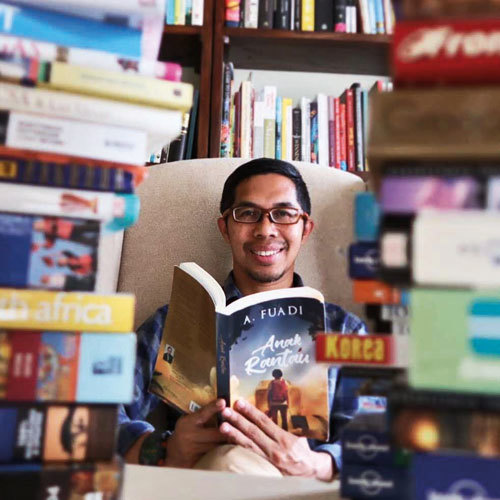 Ahmad Fuadi
The Author of Negeri 5 Menara (the Land of Five Towers)
I wrote Negeri 5 Menara (the Land of Five Towers) in 2009 and it became a national megabestseller novel. It sold more than 100,000 copies in the first year alone. The novel was followed by two sequel novels, thus a trilogy. The trilogy is loosely inspired by my own life story. The last chapter of my novel is called "Trafalgar Square", it is partly inspired by my experience studying in London. The UK-Indonesia relationship is about human to human connection. In my opinion, we are more deeply connected than meets the eye. Especially through our multiculturalism and spirit of altruism. One single advice that my kiai, or my headmaster in Gontor, kept repeating was this Arabic quote: "khairunnas anfa'uhum linnas." It is a direct quote from Prophet Muhammad which translates as "the best human being is the one who can bring the most benefit to other human beings". Interestingly, I found the application of Prophet Muhammad teaching in the UK. I clearly remember, everywhere I go in the UK, I can feel the spirit of volunteerism among the people. It is easy to find various charity shops like Oxfam, British Red Cross and some 10,000 similar shops all over UK. I realized that regardless of our color, culture and religion, deep down, we are always connected by the spirit of altruism, to make social impact. Furthermore, I witnessed a truly multicultural scene in England, where people from different languages and countries blend together in public places.
---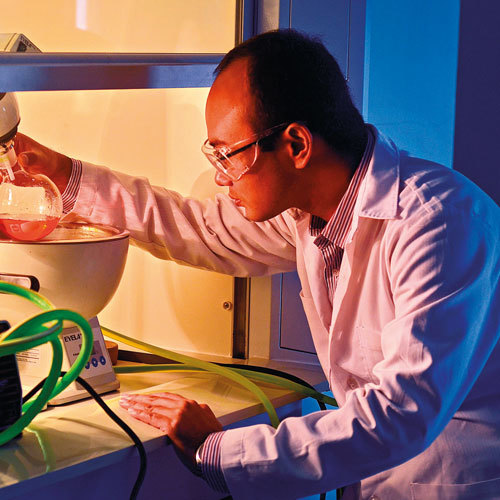 Tatas Hardo Panintingjati Brotosudarmo, Ph.D.
Director of National CoE Ma Chung Research Center for Photosynthetic Pigments
Vice-President for Science & Policy, Indonesian Young Academy of Science
President of the Indonesia Chemical Society
Glasgow is the first city I experienced in the UK. There I spent time studying for my Ph.D (2007-2009) and worked as a Research Associate (2010). When I first arrived I could not understand people, but now I have many close friends. Sundays were always a fun day. After church I spent time with family and friends in their homes. We cooked and enjoyed eating and drinking together. This warmth was a cure for my longing for family in Indonesia. I studied molecular biochemistry and cells at Glasgow University. The ground floor of the Glasgow Biomedical Research Center (GBRC) was my second home. I really liked research! Being a researcher became my dream! My professor was very friendly. He provided the best supervision and facilities for me to be productive. In 2009, I discovered the structure of light capture proteins that were able to adapt to extreme sunlight. This discovery is one of the blueprints for solar cell technology. This discovery became the basis for me to develop research in Indonesia, namely the field of photosynthetic pigments, until I represented Indonesia at the Nobel Laureate Meeting in Lindau (2013) and received the award of the Toray Science & Technology Award (2016). Besides enabling my dreams, studying in the UK gave me the outlook needed for international cooperation and many connections. This is very important for me now in Indonesia. In 2017, I obtained the UK Alumni Award in the Indonesian Professional Achievement Awards. Thousands of thanks!
---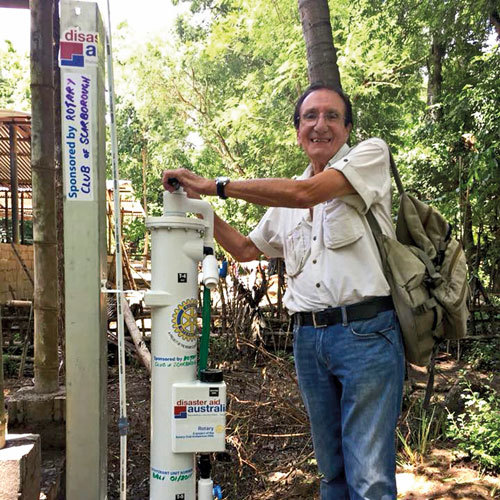 David Booth
Founder and CEO of the East Bali Poverty Project
My name is David Booth, and I'm the Founder and CEO of the East Bali Poverty Project, an Indonesian non-profit NGO which I established in July 1998 to partner with a very impoverished and isolated 19 hamlet east Bali mountain village that had no access to healthcare, education, roads, water, sanitation, electricity or employment, except as subsistence farmers. We now have 52 Indonesians staff, 48 of whom are Balinese from east Bali area. My first Indonesia connection was some Indonesian friends I made when I visited Sumatra in 1985 for a short break when working in Papua New Guinea. I then made friends at the Indonesian Embassy in London. I felt we all shared the same unique connection I'd not felt before. I fully 'exploited' the UK/Indonesia connection/relationship in early 1999 in my quest to seek funding to tackle the key problems I'd identified in our very impoverished and arid east Bali village by going directly to the British Chamber of Commerce in Indonesia (Britcham) and meeting the Secretary, who kindly gave me a copy of the directory of British Companies in Indonesia and connected me with the British Women's Association (BWA) President. The direct benefits from these connections were (a) funding support from BWA, who also linked us with the American Women's Association and ANZA, all of which provided key funding support for children's education, organic school gardens, infant nutritional supplements, and more, (b) connecting with Dr. Scott Younger OBE, who in 1999 was a Thames Water director and eventually assisted getting funding from Thames Water to develop three mountain springs that provided clean and safe water for more than 1,200 families and (c) funding from the British Embassy DFID from 2002-2005 for a 3-year sustainable nutritious organic vegetable farming programme for the illiterate farmers in the four most remote mountain hamlets in our village, benefitting almost 400 families.
---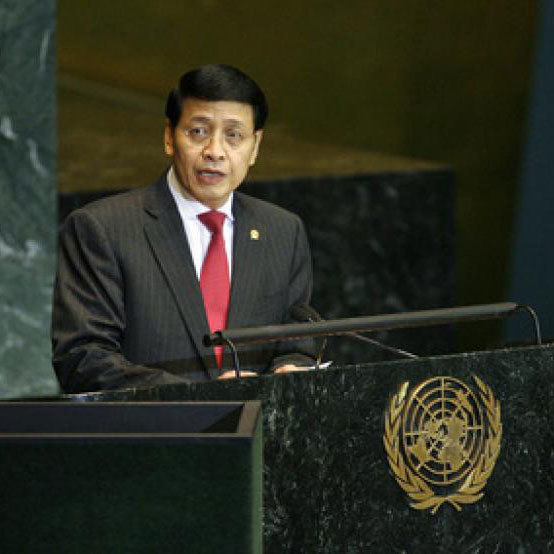 Dr. Hassan Wirajuda
Minister for Foreign Affairs of Indonesia (2001-2009)
I was privileged as a junior foreign service officer of Indonesia to study at Oxford University Foreign Service Programme. In between trimesters, the Programme organized trips to nearby regions of Oxford including to Bath, a Roman city, famous for its bath and medieval church. Inside the church, the tour guide, my professor, pointed her finger to a church's bell and said "look at that, marvellous!" On another occasion, at the end of the programme, there was a group trip to Geneva. Upon entering the city, a few meters from the lake of Geneva, the Director of the Programme, stood up and pointed us to the Flower Clock at the English Garden on the right side of the running bus and he exclaimed "look at that, marvellous!". We, all students, repeated it "marvellous..."
Now, seriously. My one-year experience at Oxford was really marvellous. I learned a lot which equipped me to prepare for my future career. I survived the very rigorous training, including the tutorial system, and this gave me confidence that I can survive in any university in the world - which I did during my five-year study at three US major universities afterwards.
Above all, it is through the British people and their culture - intensive interactions with them and the knowledge and affinity [which they nurtured in me], that left unforgettable memories and certainly shaped my views – and later as Foreign Minister of Indonesia – policies, towards a better relationship between Indonesia and the United Kingdom.
---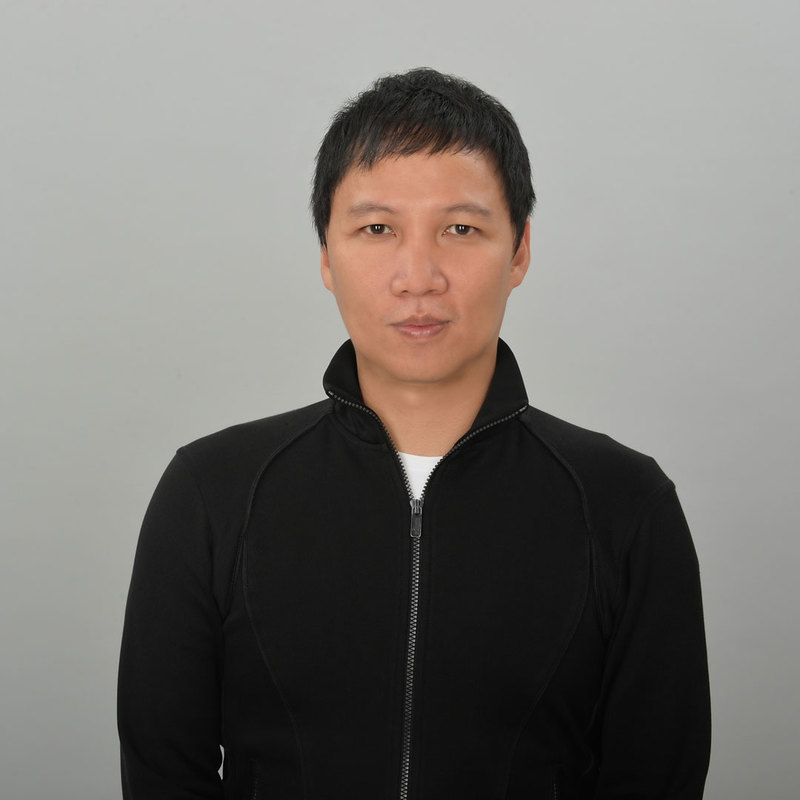 Yoris Sebastian
UK is the first country that inspire me about the power of creative economy. Winning the International Young Creative Entrepreneur Prize in London inspired me to open my very own company, OMG Creative Consulting. Staying 2 weeks in London and Manchester was a life changing experience for me, I learned that I can be big with a lean organisation. Something that I have never thought before. I have been dealing with people from many countries and I feel closest with my friends in the UK despite being far away. I feel UK is more open to the world, including to Indonesia. I hope I can continue nurturing Indonesian Young Creative Entrepreneur to be shine alongside with UK Creative Economy.
---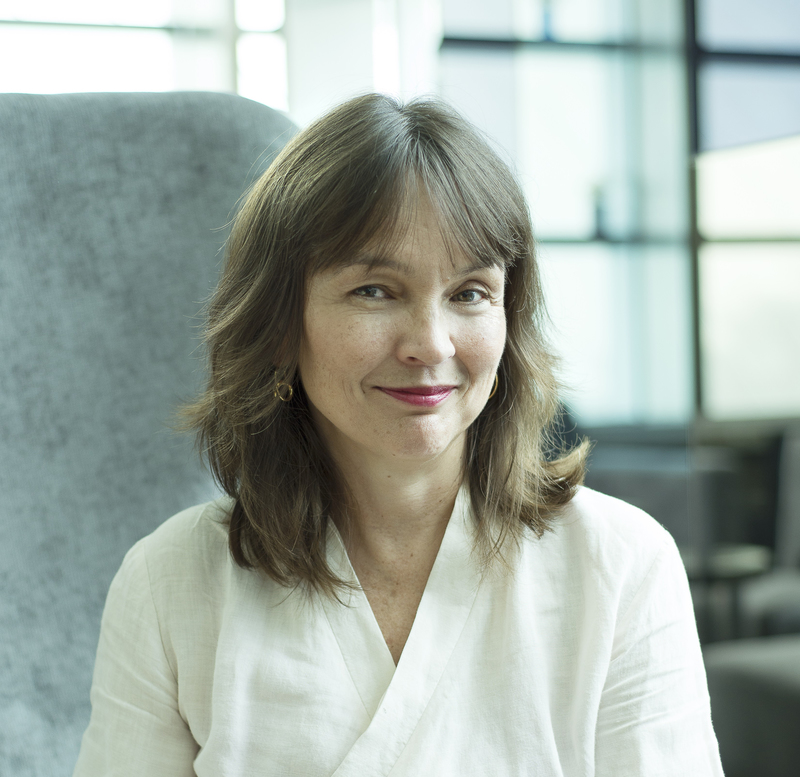 Annabel Gallop
Curator at the British Library in London
My name is Annabel Gallop, and I have been curator for the Indonesian and Malay collection at the British Library in London since 1986. Here at the British Library, our collections span the four centuries of contact between Indonesia and Great Britain, dating back to when the first ships of the East India Company set sail for Maluku. All around Indonesia, I often encounter traces of contact with Britain, especially in Bengkulu, site of a British settlement for 150 years, from 1682 to 1824. And travelling through Maluku in 1986, I carried with me a copy of Alfred Wallace's The Malay Archipelago, published in 1869, but at the time the most detailed guidebook I could find to the Banda islands and Ternate. I never tire of learning more about Indonesia, and in the British Library's collection of Indonesian manuscripts and books I am constantly finding new delights in the form of exquisite artistic embellishments and profound comments penned hundreds of years ago. And it is through exciting new technological advances, such as digitisation, that these discoveries can be shared worldwide, such as the recent digitisation of 70,000 pages of manuscripts from Yogyakarta.
---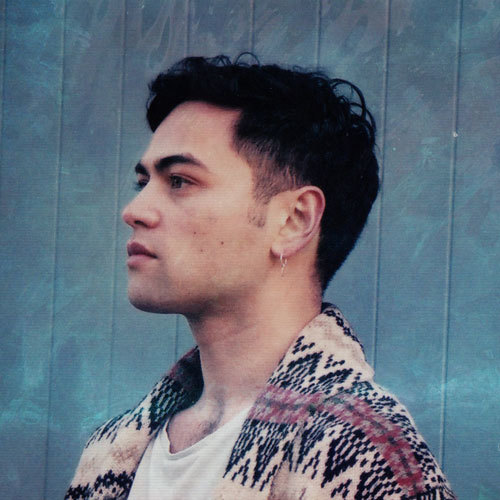 Ed Riman
"Hilang Child"
My name is Ed Riman, I'm a songwriter, singer and drummer who performs under the name Hilang Child. My mother is Welsh, with her family's roots on Caerphilly Mountain and The Garth. My father is Indonesian; his family originated in Yogya but he grew up in Jakarta. He met my mother in the 80s when both had moved to London, which is where I grew up and have spent most of my life so far.
I've visited Indonesia every few years since I was a baby, spending time with my large family there around Jakarta, Bandung, Bogor, Yogya, Cianjur and more. The first time Indonesia seeped into my artistic life came at the very start of my journey in songwriting. I've been making a career as a songwriter for a number of years now, I started out as a session drummer but reached a point where I realised I needed an artistic and creative outlet of my own.
Fast forward a few years and 'Hilang Child' had taken off in ways I couldn't have imagined when I started. My debut album was released in 2018 on the legendary Bella Union record label, my songs were being played on BBC Radio 1 & BBC 6 Music, I was being reviewed in the magazines I used to read as a teenager and my music videos were playlisted on TV networks including MTV Asia, among others.
The UK-Indonesia relationship is one that's obviously incredibly close to my heart, being someone with blood from both countries. I'm hugely grateful to everyone at British Council Indonesia for making my Indonesia tour happen in October, giving me the opportunity to take my craft to a country that has felt like my second homeland since childhood. I'll always visit Indonesia throughout my life to see family, but to know that the UK-ID relationship can also facilitate these artistic opportunities has brought a new level to what an artist such as myself can achieve.
---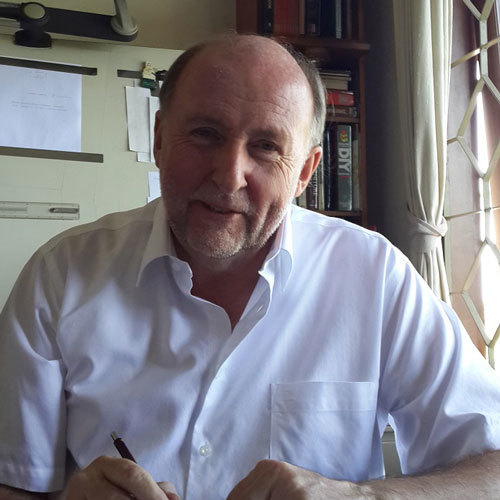 Malcolm Copplestone
A 'woodpecker'
I am Malcolm Copplestone a British Citizen born in Highworth, Wilts, and lets just say, quite a long time ago! I am a 'woodpecker' - actually a fully certified Cabinet Maker by trade. I lived and worked in the UK until 1973 when I left to realize a desire to travel and see some of the world by working overseas. As a result I was able to work in Zambia, Kenya, Saudi Arabia, Oman and Ghana before arriving in Indonesia in 1992. My move to Indonesia was the realization of a desire held for some time i.e. that after many years of working in Africa and the Middle East I would, should the opportunity arise, work in Asia. My personal link with Indonesia was certainly cemented when I met, fell in love and married my wife Yussy and we produced our own '3 Musketeers' - Janson, Jade and Jake.This has, of course, been the most important and enjoyable experience of my life – (something quickly brought to my attention whenever it is deemed necessary to remind me!). I have converted to and embraced the Muslim faith in order to provide a stable condition for my family. Indonesia is a remarkable example of a how a to live peacefully together in a country with over 500 ethnic groups and with such a wide cultural diversity and as such provides a perfect platform for the UK–Indonesia relationship to continue to grow ever stronger – I therefore hope that my children will have the future opportunity to gain useful experience as a result of the mutually beneficial relationship.
---
Amelia Hapsari
Programme Director of Indocs In-Docs
I first arrived in London in 2016 when Jokowi signed an MOU about creative economy with the U.K. At that time, I had visited 20 countries but not the U.K. Even on the first day, I realized that U.K. is the cultural powerhouse that Indonesians know very little about. We may know the Beatles, Rolling Stones, and Mr. Bean, but we do not realize the sheer magnitude of creativity in the UK and how creativity actually powers the whole country. My relationship with the U.K. started then. In-Docs signed an MOU with Doc Society (which at that time was known as BRITDOC) and we partnered to create Good Pitch Southeast Asia 2017 and now Good Pitch Indonesia 2019. This relationship has changed our point of view of documentary films, has changed the way we see the future, has heavily influenced our strategies, and has empowered us in the most special way. Because of this relationship, I can squeeze a little dream in my heart that one day, one fine day, Indonesians will love documentary films as much as the Brits. One day, we will have a strong public institution that supports factual storytelling like the BBC. One day, we will all embrace openness and creativity and be a big country in the world.
---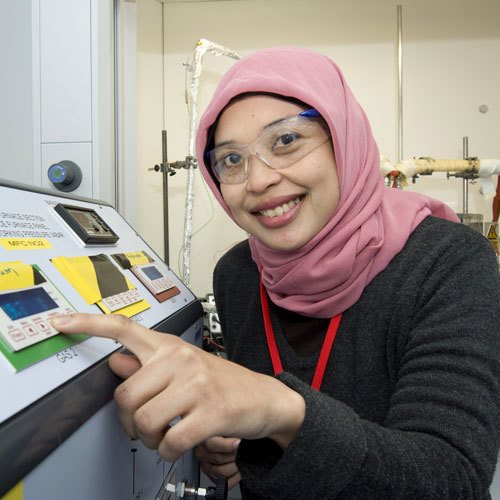 Indri Badria Adilina
Researcher at the Research Center for Chemistry, Indonesian Institute of Sciences (LIPI) and a visiting scientist at the STFC ISIS Facility, Rutherford Appleton Laboratory, UK.
My relationship with the UK first sparked at a Newton Fund workshop in 2016, which progressed to frequent communications with colleagues at the University of Glasgow and University of Warwick. I became passionate to be a bridge for knowledge to transfer between UK and Indonesia, and it has been very rewarding to be able to do just that this past year. I find that despite being far away, the Indonesian and British people have similar characteristics, which makes our long term collaboration more easy to develop. I am very privileged to receive an opportunity to work with the UK on a research project that can have a great impact on the world and ourselves – first, we are tackling the challenge of climate change together and second, building our experience as researchers for the future. Most of the members of the team including myself are early on in our career as scientists, and being able to access large scale facilities such as STFC ISIS through the Newton Fund is very beneficial in shaping our scientific development. We started the neutron experiments in March 2018 as first time users with very little knowledge on neutrons, but working alongside experts with 20 years of experience in the field throughout this year, we have continued to produce successful proposals and research outputs.
---
Yanuar Nugroho
Deputy Chief of Staff to the President, Indonesia
Honorary Research Fellow, University of Manchester, UK
"You would leave Manchester and the UK one day to return to your country. You are ready. Serve the country, take side with the people, help the government make the right decisions." Professor Ian Miles
To me personally, the UK and Indonesia both are symbols and true representatives of extraordinarily rich culture, highly diverse society, and –despite looming challenges they face—everlasting optimism to look forward to the future. Such spirit was, is, and will always be what I see in the relationship of these two great nations. I consider both as my homes. Born, raised up and now serving Indonesia, a significant part of my professionalism and intellectuality were formed, shaped, and enriched in the UK, my second home where I spent more than a dozen years. My family, too, feel the same. Our children were all born in Manchester and had a chance to grow there. We will never stop missing that grey, windy, and rainy city, and of course the country. Our children are determined to go back to the UK – and so too are my wife and I, in our life time. Professionally, from my perspective as a former UK academic who is now holding an Indonesian government (high) official position, I see the relation of the two countries as mutually beneficial for each other. Both need each other. Both depend on each other. The UK is the most important European partner for Indonesia. And I believe, the same applies the other way around. Projected to be leading the economy of Asia within the next 10-15 years, Indonesia will be key partner to most, if not all, countries in the world. The partnership between Indonesia and the UK cannot go anywhere else than to be better: more equal, more mutually beneficial. The UK would want to take part in the Indonesian growth; Indonesia would want to get support from the UK, not because of desperation, but because of the spirit for collaboration – moving from fulfilling the needs, to the understanding of the importance of true partnership. Some areas are already fertile for such collaboration: higher education, research, policy, trade, investment, economy, and development in general. Some will and are already growing and expanding: renewable energy, sustainable development, strengthening of government and institution, and many more. The limit is our imagination.
---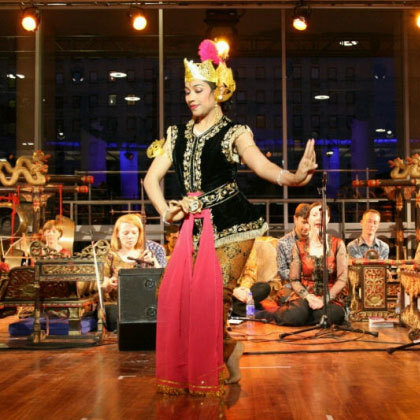 Ni Madé Pujawati
Balinese Dancer
Twenty years ago I had the chance to visit the UK to learn English, which was very exciting. It was also frightening as I had never been outside Bali – and, arriving in late November, it was very cold, grey and depressing at first. However I found out that, while there were nearly one hundred gamelan, there were no permanent dancers. So I ended up being very busy and ended up performing at the Queen Elizabeth Hall a few months later. What really surprised me was how popular Indonesian performing arts were with the British public and how warmly I was received everywhere I went. I was often being invited to perform and organize classes or residencies in schools and universities. There were wonderful opportunities for bringing classical performances, which were becoming increasingly marginal in many parts of Indonesia, to interested and appreciative British audiences. Obviously I had to broaden my repertoire. So I spent time in Central Java learning classical Surakarta and Yogyakarta-style dance and have performed in the Ramayana, Srimpi and other pieces with visiting professional Javanese dancers from Surakarta at the SouthBank. Since then I have performed with Javanese gamelan groups around the UK and on tour. Meanwhile I built up my own dance group, Lila Bhawa, with a wonderful mixture of Indonesian and British dancers, as well as choreographing and working with a range of international artists. Indonesia has many other fascinating and under-appreciated cultural traditions. So we have expanded our repertoire to include Betawi, Kalimantan, Sumatra and Sulawesi, which have proven very popular with audiences. Although Britain and Indonesia are very far apart geographically, I have always found there to be a great mutual cultural appreciation and enjoy moving between the two.
---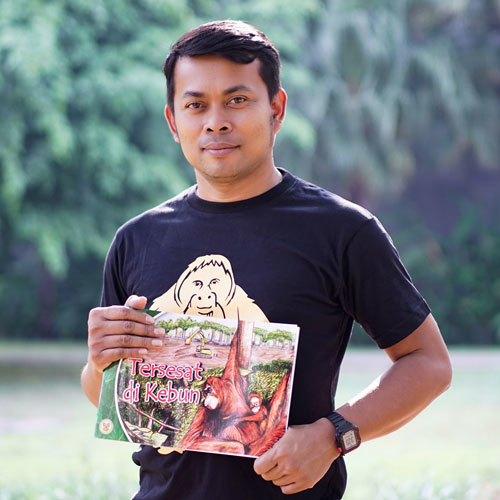 Panut Hadisiswoyo
Chevening Alumni, Founder of the Orangutan Information Centre
I graduated from Leeds University and Oxford Brookes University in the UK, then founded the Orangutan Information Centre (OIC) in 2001, working for the protection of rainforests, the critically endangered Sumatran orangutan and thousands of other species sharing their habitat in northern Sumatra. I focus on developing community driven conservation initiatives – like promoting conservation amongst communities living adjacent to the Gunung Leuser National Park (GLNP) of the Leuser Ecosystem, helping them protect and improve their livelihoods and, in the process, safeguarding an ecosystem of vital importance in the global fight against climate change. In addition to thousands of species of flora and fauna, around four million people living in Sumatra depend on the Leuser forests for vital ecological services. The UK inspires many grassroots activists in Indonesia to fight for many good causes for humanity and environment. UK initiatives have promoted excellence in environmental development and boosted so much cooperation between government and non-government organisations. My conservation efforts have bound UK-Indonesia together to conserve Sumatran orangutans and their precious forest homes. The conservation of this critically endangered species has created a very strong cooperation between UK communities and our organization to work for the same goal: sustainability and nature resource conservation.
---
For more stories, check out @UKinIndonesia on Instagram.