Petty Elliott had a rare chance to stay at this jewel on Bali's Ayung River. The patron saint of happy couples and blissful marriages would have been inspired. The word 'love' in all its interpretations is evident across so many aspects of this five-hectare estate on the west bank of the Ayung River, south of Ubud. A place of total immersion, a perfect escape, for just the right reasons.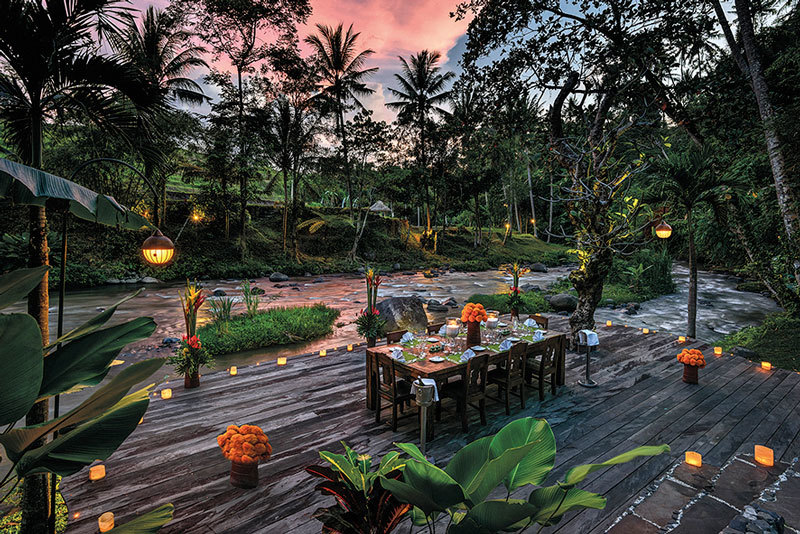 Permata Ayung Private Estate commands exquisite views across Bali's longest river – a symbol of enduring love, if there was ever one – flowing all of 75 kilometers from spring to sea. The truly private estate provides its guests with the pleasure of seclusion and peace from the madness of the outside world – a chance to savour one another's company on St. Valentine's Day. The surroundings are imbued with a hospitality that you can only find in the loving home of a true friend.
Don't misunderstand, like anyone else, I appreciate the care and attention to detail of leading hotels, but I truly love places that reek of the tumble of history. The Estate itself, built on over 5 hectares of land, is a charming collection of antiques, architecture, artwork and artifacts lovingly collected by its owners over the course of ten years. It is Bali's own unique equivalent to those insanely old agriturismo estates across Italy or the ancient chateaux of rural France. The fact that it mixes Javanese and Balinese styles with a detailed, classic European touch is simply intriguing, full of sheer pleasure and respectable.
The estate can accommodate up to 25 guests in a range of delightful villas with minimum stays of two days off-season and three days for the rest of the year.
Once you get there, believe me, you won't want to leave the property. There is no point. Superb cuisine is available at the restaurant, which can manage grand dinners, afternoon teas, snacks and even tropical breakfast and alfresco lunch or dinner, right at the side of Ayung River. It's a perfect setting for casual or informal meals for any occasion, plus it brings guests so close to nature.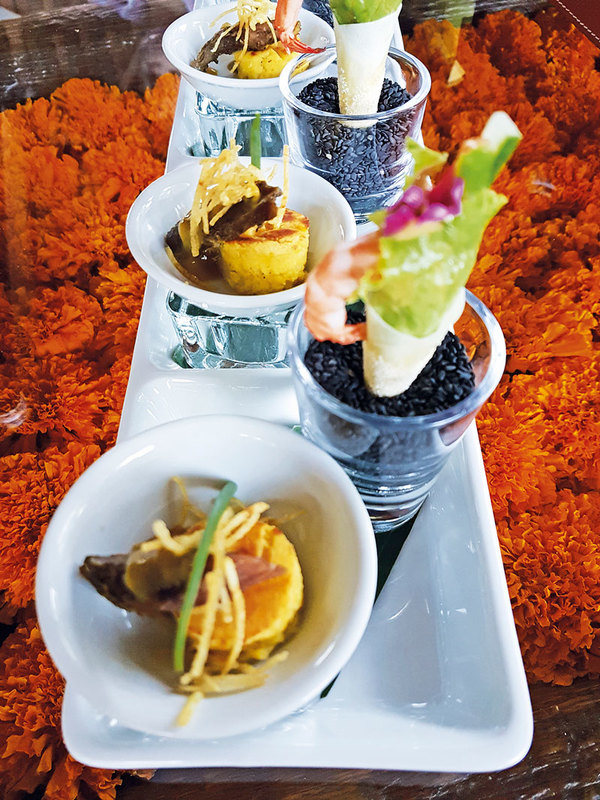 The Bulldog Bar with its terrace extending over the river is a superb setting to enjoy cocktails in the warmth and afterglow of the early evening.
There's also an organic garden that offers varieties of freshly, homemade juices to wake up to every morning, including my favourite kunyit asam – a mixture of fresh turmeric extract combined with tamarind water and a touch of palm sugar syrup.
Food plays a very important role at this place that serves its clientele with products directly from its own garden. Indonesian rijsttafel dinner is recommended for guests to experience the many distinctive flavours of Indonesia – apparent through different flavours of sate, urap (Balinese mixed vegetables with spiced grated coconut), rendang (well-known Indonesian dried beef curry), bebek betutu (Bali-style roasted duck marinated in spices, herbs and cassava leaves, wrapped in banana bark and cooked underground), nasi kuning (yellow rice cooked with turmeric and infused with lemon grass, bay leaves and lime leaves in coconut cream) and many more.
Complete your meal with Balinese classic desserts such as kelepon (served in mochi style, using pandan extract and palm sugar syrup), bubur injin (glutionous black rice pudding with coconut cream) and kolak pisang (banana with coconut and palm sugar, dusted with cinnamon powder).
In addition to those delicacies, you may also taste modern Indonesian cuisine or European cuisine, created by a private chef.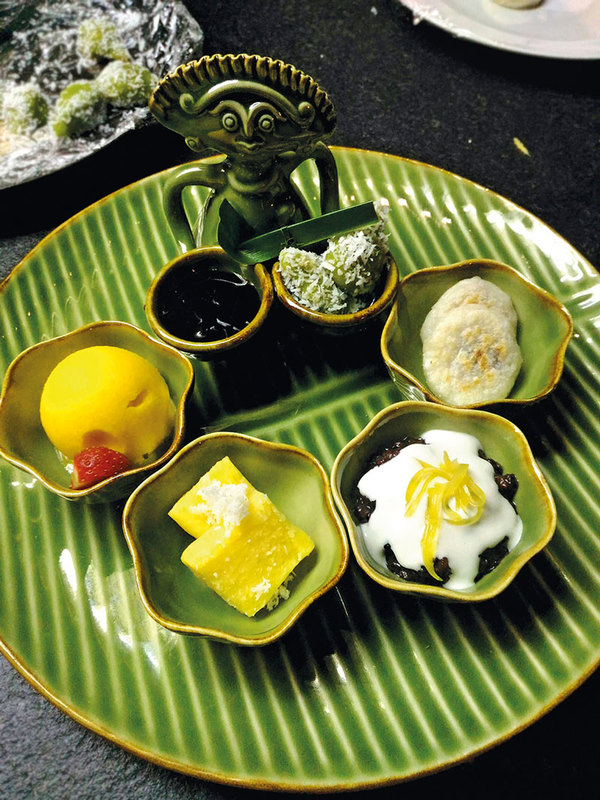 If you still have any energy left during your romantic stay, there's a delightful pool for soaking or slow-swimming, as well as a well-equipped gym. Last but not least, the spa here is a delightful surprise.
My favourite though, is a lighthouse in bamboo set on a five-meter cliff with water all around. It is an imaginative addition to the eclectic jumble of styles, an Elora Hardy design expressing the incredible properties of bamboo.
Try the top-floor massage deck, early morning yoga on the riverside deck or total suspension in the teardrop basket seat above the river – a recommended place to share the secrets of life with your loved one.
And if St. Valentine's Day is a precursor to tying the knot, the estate has its own temple. A place of total immersion indeed!