All around the world the battle between online transportation companies and regular taxis is making headlines. There are many different sides to the argument but it's a topic that is important to the future of transportation. Applications such as Uber, Grab, and Gojek are now being used frequently throughout Jakarta. A very simple concept in which users can order a car or motorbike to pick them up from point A and take them to point B, often at a much cheaper price than a regular taxi/ ojek. Although the customers get a cheaper mode of transport, the taxi companies are losing business.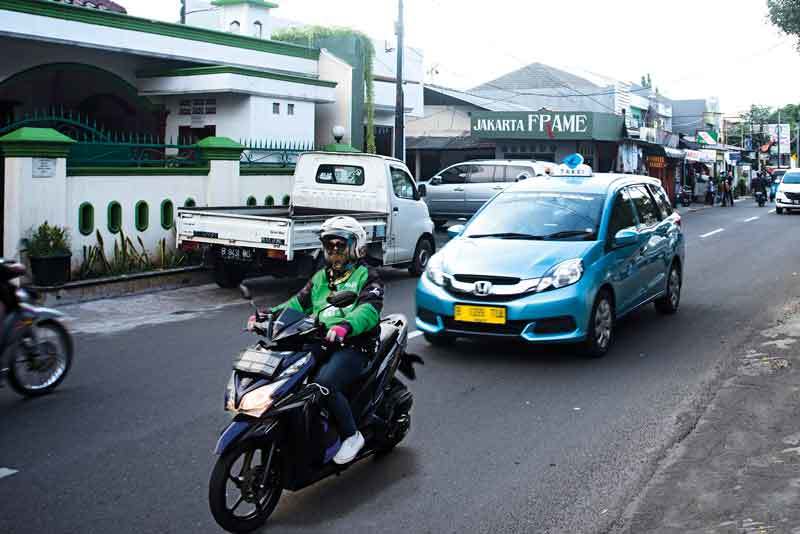 Uber works in over 400 cities and 70 countries worldwide, however not all are considered as legal operations. The US-based giant is currently dealing with over 150 lawsuits due to their business plan not cooperating with the laws of each country. Most countries require taxi licenses, however uber does not require their drivers to obtain these. They can simply sign up online to become a driver and start picking up lifts without registering for licenses. Jakarta's taxi drivers recently held a protest, filling the central roads of the city.
The app came to Jakarta in August 2014 and has since racked up hundreds of drivers- expanding to neighbouring cities across Java and also Bali.
The transportation ministry will insist on both Uber and Grab being illegal companies in Indonesia until they submit an application to the ministry. GrabCar is in the process of preparing a cooperative, as a legal entity, covering all of its car owners. "Before they have the license, they are illegal," says Transportation Ministry spokesman Sugihardjo. Firstly, if they want to run a car-rent business, they must possess a public transport operator license, driver's licenses, and must be covered by insurance. Also, the vehicles must pass the regular scrutiny, he emphasised.
"Second, if they want to offer a taxi service, they need to use a fare machine. The tariff is subject to the regional government," Sugihardjo said.
Another option, he continued, is that both companies maintain their ride-hailing business, but work with official car operators to provide the rides. "There are some small taxi operators. Grab can join them, the B2B (business to business) agreement is up to them."
Another factor to consider are the laws that traditional drivers face, particularly in the United States. In Miami, it's illegal to operate a taxi without hubcaps, however LA requires all the hubcaps to match. Alongside the font law; 'All the lettering signs in the taxis must avoid serif fonts' there are also some cities that micromanage taxi paint jobs. Washington's City Council decided in 2012 that the cabs weren't colourful enough and put the Taxicab Commission in charge of coming up with a unified paint scheme. Taxi owners had to pay $500 a vehicle to comply with this law. There are many obstacles traditional taxi drivers have to face, with new laws coming up every couple of months- each requiring more spending.
In terms of safety, the application companies have the very simple, yet effective method of collecting customer feedback. At the end of an Uber trip the user has the option of rating their 'ride' out of 5 stars with a comment section also available. With traditional taxi drivers there currently isn't an option for this- if you would like to give feedback you must make a formal phone call to the head office.
Policymakers have been convinced that there are only two solutions: Either level the playing field by forcing ride-sharing firms to obey excessive taxi regulations, or ban ride-sharing completely. However, leaders in Florida have shown that there's another option: Embrace progress by removing needless rules for all transportation service companies. The main reasons Uber and Grab are conquering traditional taxis is for simply two reasons- ease of use and price. Taxi companies around the world are starting to re-brand, launching an application that is similar to the one of Uber and also easing a few of the regulations.
Competing with the market leaders will be difficult, but changes need to be done. Technology is now vital throughout the transportation industry. One example of this taking place is in Long Beach, Los Angeles where William Rouse, general manager of Long Beach Yellow Cab, the city's sole licensed taxi operator, blames the decline in taxi ridership on "increased competition from businesses that don't face the same regulatory burdens." So working together with Yellow Cab, the city council of Long Beach (population: 469,000) have approved a pilot program that removes taxis' fare floor, allowing Yellow Cab to discount fares as conditions warrant, comparable to ride sharing services' less expensive fares. The company will also get an ordering app, be allowed to increase its fleet size from 175 to 199 cars, and be permitted to add additional capacity at peak times. In Long Beach, one big difference remains between taxis and ride shares: only taxis can pick up at Long Beach's airport.
There is a market for all taxi service operators but as technology develops, regular taxis must think of innovative solutions. There are a number of possible solutions to overcome the battle between online transportation companies and regular taxis. However, cooperation with the government is essential alongside clear and efficient communication from all stakeholders.

Text by Chris Cook – Communications Assistant, BritCham Indonesia