Meatsmith and Meatsmith Xpress welcomes you to savour scrumptious exquisite meats with their specially curated menus during iftar.

Meatsmith's culinary team has lined-up their personal favourites for Ramadan's festivities and guests are invited to join its delectable journey during this Holy Month with its Ramadan Special Platter to break the fast.

Guests can choose any of the refresh mocktails such as Blackberry Calpis, Tropical Coconut Tea and Creamy Orange Ale and start off with some sweet Medjool Dates. Starters included with the platter are Brisket Spring Rolls and Jamaican Chicken.




The spread also highlights Beef Kebab with Chimi Chutney, 300gram Steak Striploin from 150-day Grain Fed Australian Black Angus, 14-hour Smoked Beef Brisket with smoked sweet potato puree and BBQ Sauce; and Smoked Chicken Thigh with Harisa Paste as the main course. This special platter available at IDR 1,500,000++.

While Meatsmith Xpress'Ramadan Special Platter includes mocktails, choice between Southern Iced Tea and Hibiscus Lemonade; starters: Beef Brisket Springrolls and Nashville Chicken Skewers to mains such as 14-hour Smoked Beef Brisket with Smoked Potato Sweet Potato Purée and BBQ Sauce, 200 gms of 150-day Grain Fed Australian Black Angus Striploin Steak, Chimichutney Beef Kebabs and Smoked Harissa Chicken. This promo available at IDR 1,200,000++.

Both Ramadan Special Platter are available for 4 persons, from April to 1 May, 4 PM to 7 PM.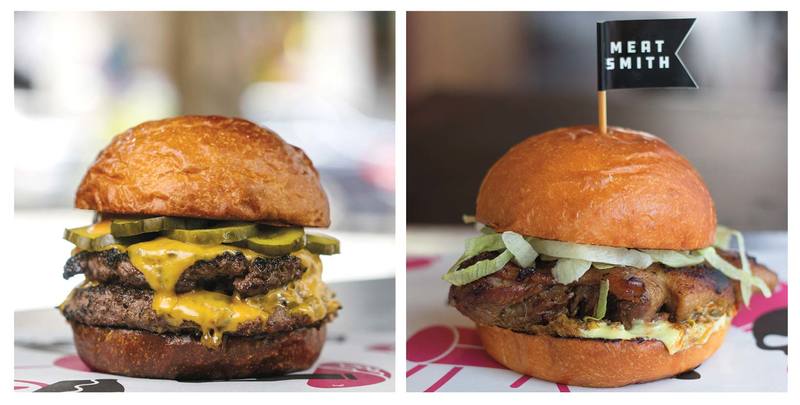 Meatsmith Xpress also launches its Chef's Burger of the Month. This April, Chef Aga presents the Slippery Duck Burger –juicy duck confit, green chilli relish, aioli and iceberg lettuce in between a fluffy potato bun.

Also, perfectly grilled signature Cheeseburger takes center stage with Cheeseburger Tuesdays. Every Tuesday of the month, guests have a chance to get one of these babies for the special price of IDR 100,000. Available for dine-in, takeout and delivery.

Open seven days a week, Meatsmith Jakarta welcomes all walk-ins, with reservations. Also available is Meatsmith's grab-and-go, quick-service second brand, Meatsmith Xpress, which has also opened on the ground floor. The first brick and mortar Meatsmith Xpress in the world serves guests favorite Meatsmith burgers and sandwiches and other smoked favorites.

For more information, please visit www.meatsmith.co.id or call +62 811-9760-2000 or book via DM at our Instagram @meatsmith.id.