This year, Pizza e Birra Celebrates 10 year in the industry with a number of celebrations, featuring sporting events, musical performance and, of course, attractive beer offers.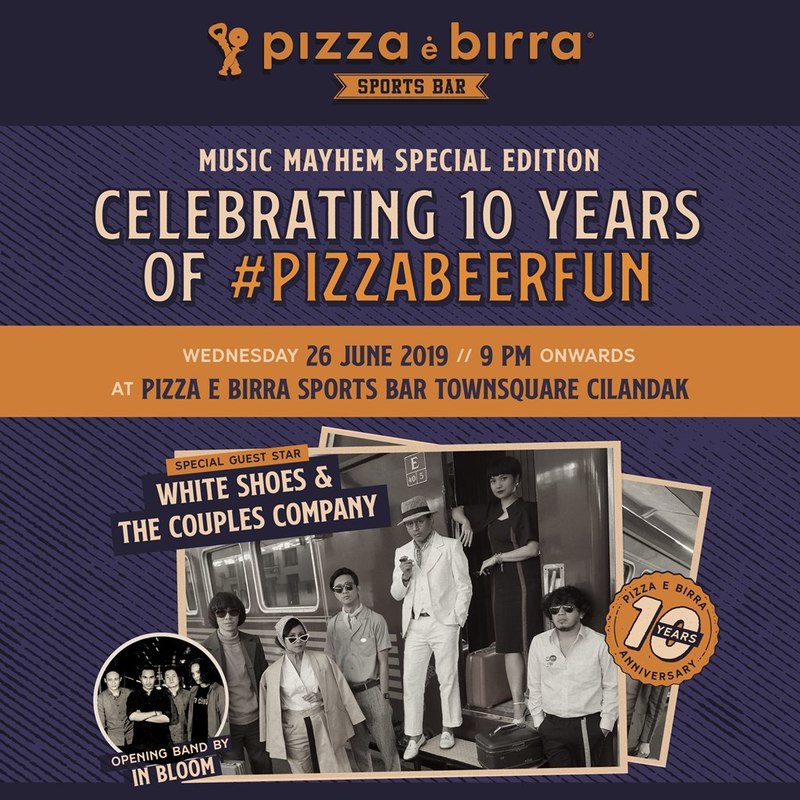 Starting 17 June, Pizza e Birra has prepared a range of features and a series of exciting events spread over the course. Indie artist, White Shoes & The Couple Company will be performing at Music Mayhem Special Edition Celebrating the 10th Anniversary on 26 June at Pizza e Birra, Cilandak Townsquare. With only IDR 125,000, inclusive of a glass of beer, one could serenade along with White Shoes and The Couple Company's music. Fans can also participate in a number of exciting social media contests and in-store beer promo to light up the evening's celebration.
From its humble beginnings in 2009, Pizza e Birra Sports Bar has come a long way to become one of the best places to enjoy great pizza, drink beer and have fun. Initially established as a modern Italian restaurant, Pizza e Birra has been consistent in providing a wide range of quality pizza and assorted selection of beers. The sports bar has pioneered major events such as Beer Pong Tournament, Special Music Mayhem with number of A-list performers, and the month-long Oktobeerfeast which became a favoured event among youths as they celebrate German culture with beer.
Finally becoming a sports bar in 2014, Pizza e Birra is now the go-to place for anything sports as the bar has hosted many public screening events from the FIFA World Cup, NBA and the Superbowl. With a commitment to staying true to pizza, beer, and fun, Pizza e Birra now has grown steadily in the increasingly competitive market over the past 10 years by expanding to 10 outlets and counting, spread across Jakarta, Bandung, and very soon, Surabaya and Makassar.
Pizza e Birra
Multiple Location, one in Puri Indah Mall - Expansion, Ground Floor
Jalan Puri Indah Raya West Jakarta 11610
T: +62 21 5835 4409
IG: @pizzaebirra
www.ismaya.com/eat-drink/pizza-ebirra
This venue participated in the 2019 BRBCA. See the winners here!