Chef Tsutomu Abe is an artist and his palette is a huge range of meats, fruits , vegetables, fish, shrimp, flowers, twigs, buds, seeds, berries, rocks, plates and bowls which he teases into beautiful arrays of colour and form which he places in front of each guest in a long succession of delicate displays which delight the eyes before tantalising the tastebuds. His creativity seems endless as each dish is completely different to the one before, both visually and on the tongue. Be prepared for the unusual and the exotic and savour every moment.
In complete contrast, manager Jenny presides over the counter like the impressario at a variety show, as loud as Chef Abe is quiet , as dynamic as he is focused, she parades behind the long counter, her laugh is unrestrained and her humour infectious, bringing the otherwise small and intimate venue to constant life. She knows her customers, who seem to be regulars, returning to refresh their culinary senses frequently as Chef Abe changes his menu every seven weeks, entertaining and explaining each dish with knowledge and passion. The Jenny and Abe show is a hit and the theatre they provide is brilliant.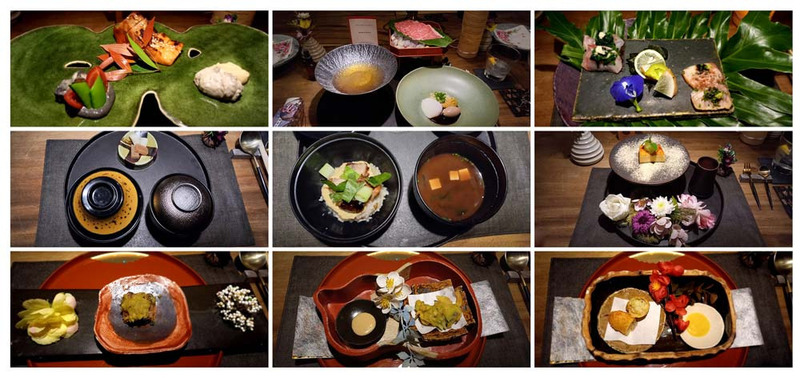 Kokuu only serves a set "Omakase" menu with at the last visit, 11 very different, and mostly quite exceptional items.
It started with a choice of Shokuzen-shu, either with alcohol: Kiwi and Yogurt or non alcohol: Papaya and Pineapple, both a great way to start and prepare the palate
Then comes the Zensai: a delicate Shrimp Karasumi sauce, chayote, nirapure, okra Kepa cutlet, celery honey miso pickled, fried eggplant, peanut. Then onto the Sashimi, a super tasty selection of Abe san's favorites, before we had the three Agemono dishes building the tempo of the meal: Apple,avocado and beef prosciutto tempura white sesame salt, then, Eel Isobe Tempura okra tororo and wasabi and finally the Shrimp and Mushrooms cream croquette lemon miso.
At this point it is hard to realise you are not yet half way through the menu and it time to decide what to drink as the Oolong Tea and Sotchu cocktail has dissappeared and its time for a Sake of a glass of wine as the menu gets serious. Of course jenny and her charming team are ready and a curated list of good sakes and wines is placed before you. The decision is made, the drinks delivered and another Chef Abe portrait isplaced before you, this time its Sakana ryori, Karei yuan-yaki, dried shrimp & cauliflower sauce, mung beat with black sesame sauce, apples & cherry tomatoes. We are already replete so Jenny serves the refreshing Okuchi-naoshi, a Lime and orange sorbet carrot pickles black cumin seed, to cleanse the palate. It works and we are now ready for the big dishes.
The Niku ryori, is cleverly presented: a plate of Wagyu meat for you to pick slice by slice and place in the hot shabu-shabu dish to cook before dipping in the selection of sauces: foie gras mousse, burdock pure, or
temperature control egg, onions, spring onions. We end up wrapping the final slice in a mixture of all the suaces in a wonderful melody of tastes.
But we are not yet finished , the Oshokuji, is laid before us , as always perfctly presented in a garden of flowers, the Smoked Chicken and egg truffle oyakodon chickpea rice, providing the final chorus of the main menu.
The Dessert wraps up the meal in a delictae duo of Kinako Creme Brulee and Coconut milk shake shiratama Strawberry sauce. Bravo.
Kokuu as you will have been told many times , is up a quiet stair above Face Bar. It comprises a long L- shaped counter for just 20 gusts facing the chef and as required able to watch his artistry. The music is a selection of quitepop-jazz numbers, never too loud but enough to mask the conversation from the next guests- except when Jenny gets them laughing of course! It is and experience to enjoy and to savour. Take your time and take a good appetite with you. Service is prompt and immaculate. Reservations are essential. Parking is a challenge so use a driver or a taxi.
Jl. Tulodong Bawah No.D1, RT.5/RW.1, Senayan, Kec. Kby. Baru, Kota Jakarta Selatan, Daerah Khusus Ibukota Jakarta 12190
Hours: Opens 6PM