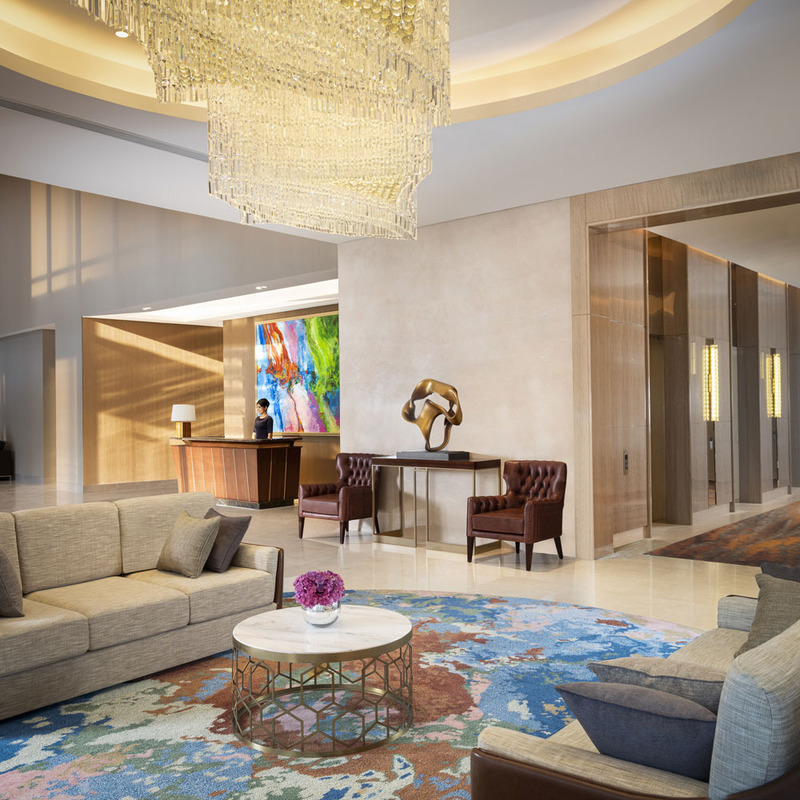 InterContinental Hotels Group (IHG®), one of the world's leading hospitality companies, opened their first residences from its luxury brand in September 2020. And the opening of InterContinental Residences Jakarta Pondok Indah was timely because the combination of its strategic location and unrivaled facilities is perfect for distinguished residents of the capital to maintain their sophisticated lifestyle amid the fluctuating travel restrictions in Jakarta and around the world. Now the dark days of closed borders and 14 day quarantines are all but over, it time to look again at what this exceptional property offers.

The Luxury of Free Movement
Designed by the award-winning Hirsch Bedner Associates Singapore, the residences' 193 superbly designed apartments boast contemporary interiors featuring modern and classical touches including artworks from renowned Indonesian artist Haryanto Gunawan. Based on the theme of "Journey of life and love", these artworks add richness and vibrancy to the ambience of each apartment unit. Overlooking the South Jakarta skyline, the fully furnished luxurious apartments are equipped with a contemporary kitchen and a spacious separate dining area.

Located in the business, shopping and entertainment district of South Jakarta, your future home will be within minutes of the capital's collection of world-class healthcare facilities, the top international schools, as well as Pondok Indah's large array of shopping malls with upmarket boutiques and over 200 dining options. While the era of constant restrictions of travel and movements, may be over traffic conjestion still prohibits really free movement around the city, this connectivity provides the residents with the luxury of still being able to go shopping, dining or to the dentist much more freely than most of everyone else in the capital.

The Luxury of the Outdoors
Another important part of this connectivity is Pondok Indah Golf Course. Established in 1976, this Robert Trent Jones Jr-designed golf course is one of the best in Indonesia. Living next door to a playground designed to even still be challenging for world-class professional players is undoubtedly an attraction for golf aficionados, but even for those who are not keen players of golf, this easy access to fresh air and beautifully manicured green translates into a real luxury.

The Luxury of Remote Work
The nature of work has changed and The InterContinental Residences Jakarta Pondok Indah and InterContinental Jakarta Pondok Indah strongly support this. In fact, the connectivity between the residence and hotel provides its residents with a remarkable choice of remote-work friendly facilities both on-site and nearby, while maintaining a sense of privacy.

The whole area of the residence and the hotel can be their remote office space which also comes with a full package of premium amenities and services such as state-of-the-art 24-hour fitness center, steam room, sauna and outdoor swimming pool, as well as world-class restaurants and meeting spaces at the hotel next door.

The Luxury of Time and Safety
A serviced residence that is part of a distinguished global brand, of course applies the IHG Way of Clean which includes deep cleaning with hospital-grade disinfectants. Guests and residents have seen enhanced procedures, over the last two years which meant while still maintaining their sophisticated lifestyle, the affluent residents of the residence still felt safe and secure at all times.

"InterContinental Hotels & Resorts has been pioneering luxury travel across the globe since 1946, and we were delighted to extend the brand in Indonesia with InterContinental Residences Jakarta Pondok Indah. With its strategic location and unrivalled facilities, the residences continues to be the premier choice for discerning business executives as their preferred home in South Jakarta," said Piero Bellizzi, General Manager of InterContinental Residences Jakarta Pondok Indah and InterContinental Jakarta Pondok Indah.

InterContinental Residences Jakarta Pondok Indah is now accepting reservations. For more information or reservations, please contact the hotel by email: [email protected] or call: + 62 21 3950 7355.