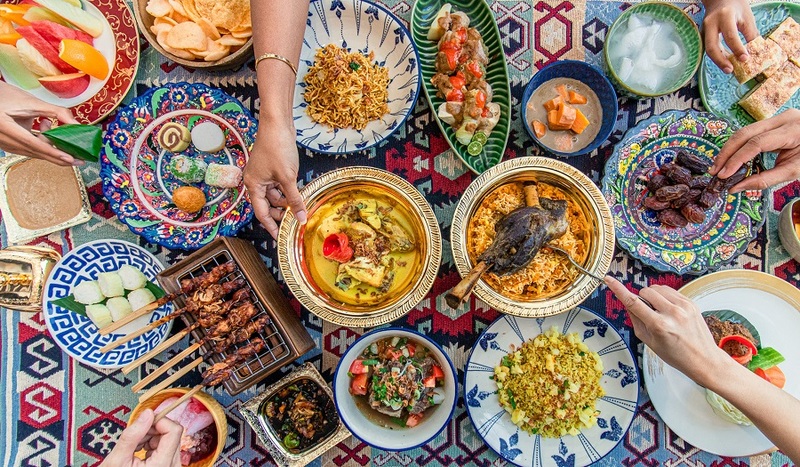 The holy month of Ramadan is an auspicious occasion observed annually by Muslims around the world every ninth month of the Islamic calendar. It is as much a month of fasting as it is for prayer, reflection and community. It's been a long tradition for families, friends and colleagues to gather for Iftar during the Ramadan season, not only to break their fast and share a meal but to reconnect and spend quality time together, something that people look forward to. If you need ideas on where to spend your Ramadan this year, we have curated a list of hotels in and out of the city that offer a variety of Ramadan promotions.
---
Grand Hyatt Jakarta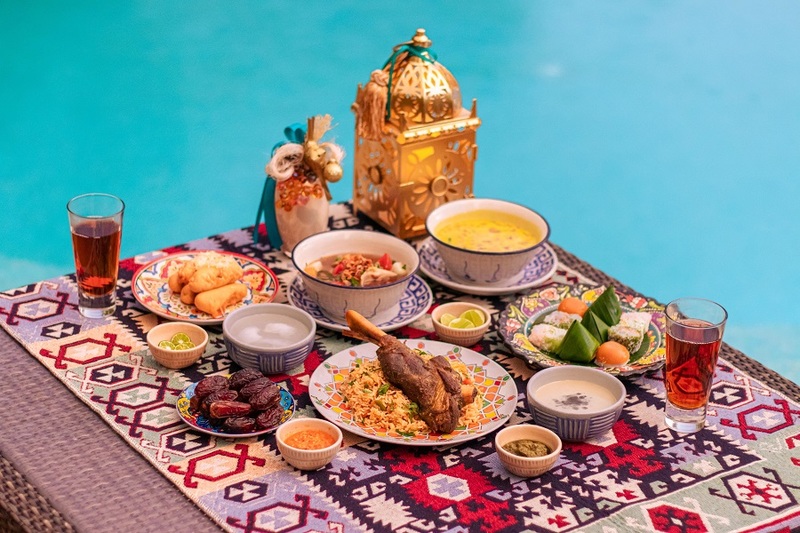 Ramadan at Grand Hyatt Jakarta is extra special this year as the iconic hotel has put together exciting Iftar experiences at three different venues to choose from. Indulge in a scenic Iftar experience with the Sunset Iftar at The Residence OnFive, where the unique alfresco venue on the hotel's fifth floor grants guests mesmerising sunset views as they enjoy the Iftar offerings. Featuring a wide range of Indonesian buffets including regional specialties from Java, Bali and Sulawesi such as Kambing Guling, Bebek Palekko, Ayam Betutu, Gudeg Yogya and more. Equally as tempting are the local and Middle Eastern desserts, from Serabi Solo and Es Cincau Hijau to Baklava, as well as Ramadan-themed beverages such as Turkish Sand Coffee, Date Milk and Fresh Coconut. The Sunset Iftar is priced at IDR 488,000 nett per person.
Over at Grand Café, revel in the made-to-order Iftar Buffet straight from the five live-cooking stations, featuring freshly cooked Indonesian favourites such as Gado-Gado, Sate and Mie Ayam. Guests can also break the fast on the cosy balcony with a stunning view of the iconic Bunderan HI landmark. The Iftar Buffet at Grand Café is priced at IDR 488,000 nett per person for reservations from 6pm, and IDR 388,000 nett per person for reservations from 8pm onwards.
On top of the Iftar buffet options, guests can experience Iftar by the pool at Poolside Restaurant where they offer a special Iftar Set priced at IDR 299,000 nett per person. Guests can enjoy the intimate ambience by the salt-chlorinated lagoon pool and lush Balinese garden on the fifth floor.
Book Now: +62 21 2992 1234 | wa.me/628159131234 | [email protected]
---
InterContinental Jakarta Pondok Indah

The luxurious InterContinental Jakarta Pondok Indah invites you to indulge in exquisite culinary experiences during Ramadan, where they've prepared a series of festive feasts for its sophisticated guests. Themed "Cuisines of the Far East", the fantastic Ramadan delicacies will be created by Chef Atilla Körmöczi leading his all-star team assisted by Executive Sous Chef Bedgo Sudiyono at the award-winning Sugar & Spice.
Guest Celebrity Chef Degan Septoadhi also returns to present his finest creations including premium-grade salmon fillet served with coconut milk, turmeric, pickled vegetables and fried shallot and wok-tossed marinated wagyu rump with green chilli sambal, tomato and lime leaf, amongst the eclectic array of culinary treasures offered from East and West Indonesia, Vietnam, Cambodia, Singapore, Malaysia, China and Thailand. These delectable dishes will be available at the special Iftar Buffet at Sugar & Spa during Ramadan, priced at IDR 515,000++ per person.
Additionally, guests can also break their fast at The Lounge, where they offer a Takjil package priced at IDR 288,000++ per person, inclusive of an a la carte selection of the several of the hotel's most beloved dishes including Beef Rendang, Sop BLT, Ikan Bakar Parahyangna and the unique Kopi and Teh Tahlua. In the lobby, the hotel's Ramadan Cake Shop presents festive cakes by pastry chef Kim Pangestu and the hotel's pastry team, offering sweet delights such as Klepon Cake (IDR 608K++), Nastar Cake (IDR 608K++), Sticky Toffee Dates (IDR 580K++), Medjool Dates Dipped in Chocolate (IDR 428K++), Ramadan Pralines (IDR 288K++) and more.
Book Now: +62 21 3950 7355 | [email protected]
---
Four Seasons Hotel Jakarta

Experience a delightful holy month of Ramadan at Four Seasons Hotel Jakarta, where they have prepared an array of indulgent culinary treats for you to savour. At Palm Court, revel in a lavish Iftar culinary experience beneath a stunning Lasvit chandelier, inspired by the fronds of a palm tree. Get comfortable on the high-back emerald green chairs and soaring colonnades, Palm Court is the perfect venue to gather for Iftar with family and friends.
The Iftar menu at Palm Court has been specially curated by the hotel's Indonesian chefs – Tri Priyanto, Darius Tjahja and Asep Hamdani. The delightful Iftar feast presents guests with traditional kampong specialties along with Arabic classics that are elevated with high-quality ingredients. Revel in the bountiful spread such as the Cold Mezze Platter, US Short Ribs Garang Asam and Ayam Bakar Taliwang. There will also be a number of live stations featuring a Shawarma Corner, Mie Ayam, Siomay, and Sate selections. Of course, there will be Ta'kil and assortments of desserts including Es Doger. The Signature Iftar at Palm Court is priced at IDR 453,000++ per person.
For those wanting to enjoy the culinary offerings from Four Seasons at home, don't worry! The Iftar2Go promo offers delectable delights using treasured family recipes. You can choose from four menu options; each includes Dates and a selection of main courses. Enjoy all-time favourites such as Braised Australian Beef Rendang Curry, Udang Bakar Sambal Matah and Ayam Bakar Jahe Emprit Ketumbar, as well as international dishes such as Grilled Lamb Kofta and Pan Seared Tiger Prawn in Mediterranean Sauce. Each dish is accompanied by a signature rice dish, sambal and dessert. Priced at IDR 348,000++ per package.
Book Now: +62 21 2277 1888
---
Pullman Jakarta Indonesia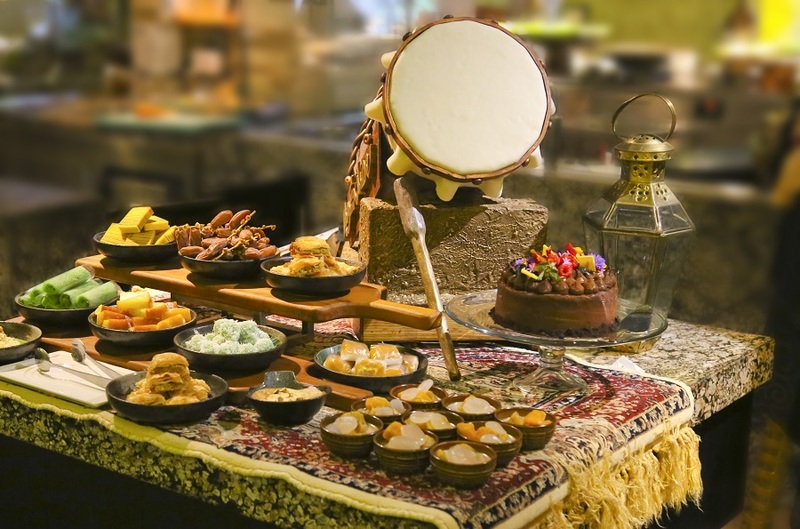 This Ramadan, the lavish Pullman Jakarta Indonesia is prepared to spoil guests with all the tantalising dining offers that have been meticulously curated by the excellent culinary team. At the award-winning Sana Sini Restaurant, indulge in a sumptuous Iftar Buffet featuring a bountiful spread of Indonesian dishes such as Itik Berempah, Chinese, Japanese, Western and Middle Eastern cuisine such as Mezzeh, Hummus, Babaganoush, Couscous Salad, Tabouleh, Shawarma, and more. The dessert station features specialty Turkish delights such as Baklava, Umm Ali, Namura Honey Cake, as well as Indonesian sweets such as Colenak. The Iftar Buffett is priced at IDR 480,000++ per person (11-24 April 2022) and IDR 440,000++ per person (25 April – 1 May 2022).
Sana Sini Restaurant also offers special To-Go packages for those who want to enjoy culinary creations in the comfort of home. Sana Sini To Go Ramadan features Indonesian cuisine for the Ramadan fast-breaking package priced at IDR 175,000++ per person and for their Eid Dinner package, priced at IDR 3,600,000 nett suitable for 6 persons.
Over at Kahyangan, delight in a special Iftar Dinner on the 28th floor of the restaurant, where they offer a curated selection of shabu-shabu and sukiyaki sets, inclusive of Ta'jil, Chawan Musho and Salmon Croquette, choice of Shabu-Shabu or Sukiyaki, and a pandan Gula Malaka for Dessert. The set menu is available from 2 April to 2 May 2022, with prices starting at IDR 780,000++ per person.
Book Now: wa.me/6281585324626 (Kahyangan) | wa.me/6271585324614 (Sana Sini)
---
Le Meridien Jakarta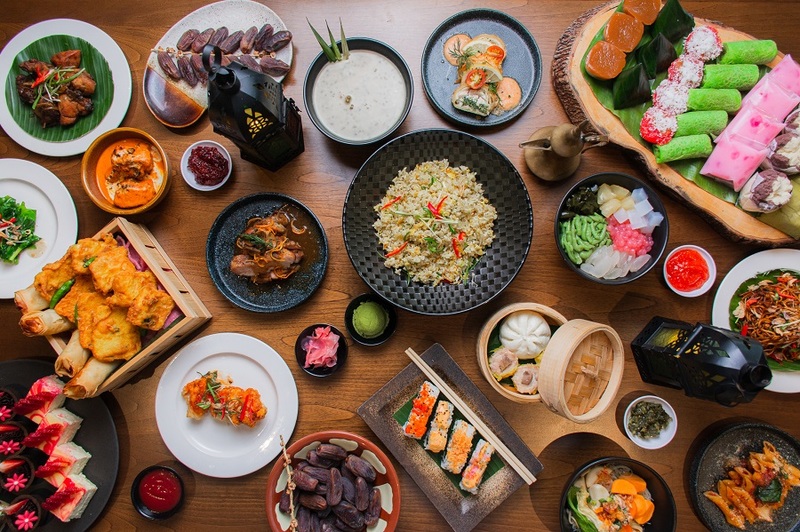 Celebrate the blessings of Ramadan at Le Meridien Jakarta, where the iconic hotel has curated a series of fantastic culinary experiences at its dining venues. This year, Le Meridien Jakarta is the perfect Ramadan culinary destination for you.
At La Brasserie Restaurant, Indonesian Master Chef Vindex Tengker and Le Meridien Jakarta's culinary team has put together a lavish Iftar Nights buffet featuring a wide range of international dishes, priced at IDR 350,000 nett per person, inclusive of free-flow iced tea, hot tea, infused water and mineral water. At Al Nafoura Restaurant, relish in the Middle Eastern dishes this Ramadan with a special buffet prepared by Lebanese Chef Ahmad Mousa, priced at IDR 450,000 nett per person, inclusive of free-flow Karkadeh iced tea, Rhutab dates, flavoured ice tea, mineral water and hot tea.
This year, the hotel kicks it up a notch with its services and quality by presenting a unique way of breaking the fast with a buffet above the swimming pool covered by the iconic outdoor tent. Featuring an array of Indonesian delicacies and signature street food, the Outdoor Tent Dining is priced at IDR 250,000 nett per person, inclusive of free-flow iced tea and mineral water. The hotel also offers the Le Meridien Jakarta Mega Buffet package, which offers the most extensive buffet spread from three restaurants. Indulge in a vast selection of over 120 hot dishes from Indonesia, India, Japan, the Middle East and Western flavours, priced at IDR 550,000 nett per person.
For Japanese halal cuisine and fresh seafood, head over to No Na Ma Restaurant where they are offering an all-you-can-eat special for breaking the fast, prepared by Executive Japanese Chef Tadashi Inose, priced at IDR 250,000 nett per person. For Indian delights, Handi Restaurant welcomes you to tantalise your tastebuds with the culinary creations of Indian Chef Ashwani Mall. Featuring a multi-course Ramadan set menu, including Galouti Kebab, Murgh Chandi Kebab, Haleem, Matka Murgh, Nargisi Kofta, Ghilli Gosh Ki Briyani and Sheer Khurma. Priced at IDR 600,000 nett per person.
Book Now: +62 21 251 3131 | [email protected]
---
The Ritz-Carlton Jakarta, Pacific Place

In honour of the holy month of Ramadan, The Ritz-Carlton Jakarta, Pacific Place invites you, your family and friends to spend the special occasion at their lavish hotel with an array of Ramadan experiences that will make this year's Ramadan season an unforgettable one. Treat your family and loved ones to a sumptuous Iftar buffet experience at the hotel's renowned PA.SO.LA Restaurant.
PA.SO.LA Restaurant has proven to be an idyllic venue to spend special moments with family, friends and colleagues time and again, which is why they have prepared an indulgent Iftar dining experience to satisfy your cravings. Revel in the sumptuous Iftar buffet spread featuring the rich flavours of Indonesian and Middle Eastern cuisine throughout Ramadan. Several must-try dishes include a variety of Turkish Appetisers, Kolak Sumsum, Kambing Guling, Nasi Kuning Makluba, Crispy Whole barramundi Spiced Woki Vegetable Salsa, Beef Rendang, Buntut Balado, Turkish delights, as Smoked Chocolate and Turkish Pistachio Baklava. The restaurant also offers an array of enticing Middle Eastern beverages such as Rhutab, Mango Lassi and Ayran.
To elevate guests' Ramadan experience at the restaurant, guest chef Onur Kılıçaslan from The Ritz-Carlton, Istanbul will be taking over the kitchen to prepare and serve authentic Turkish delights made using ingredients shipped directly from Istanbul. A Ramadan surprise indeed!
Book Now: +62 21 2550 1888 | www.ritzcarltonpacificplace.com
---
The Langham, Jakarta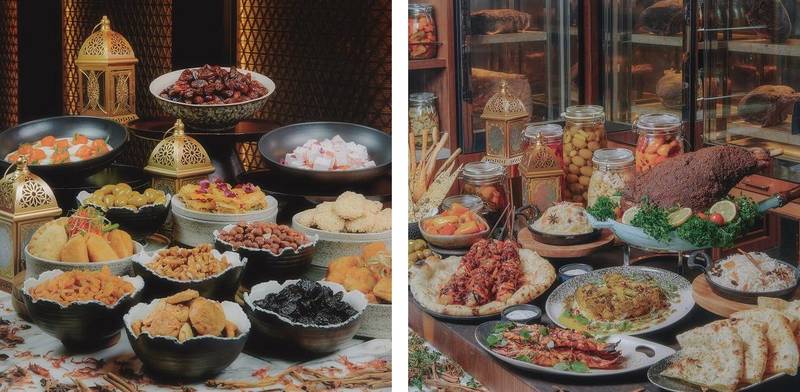 Celebrating its first Ramadan since its establishment, The Langham, Jakarta has prepared an array of Ramadan offerings, from Takjil Bar at Tom's by Tom Aikens to an exclusive meeting room package for Iftar gathering. Take advantage of these wonderful Ramadan offerings, available up until Eid al-Fitr in the first week of May.
At Tom's by Tom Aikens, guests can break their fast with the complimentary takjil bar featuring Middle Eastern snacks such as Turkish Delight, Medjool dates and Pistachio Baklava. In celebration of Eid al-Fitr, the restaurant will offer special a la carte Middle Eastern grills, from Roasted Lamb Leg, Chicken Shish Kebabs, Ras el Hanout Meatballs, Stone Oven Baked Prawns, to the all-time favourite Spiced Cauliflower. Available from 2 to 4 May 2022.
Additionally, the hotel offers a special meeting room package to accommodate corporate gatherings during Ramadan. Guests can indulge in a tantalising Iftar menu featuring a wide range of Indonesian or International dishes along with Turkish Takjil, created by the hotel's talented chefs. The package starts at IDR 708,000++ per person, inclusive of function room usage from 3pm to 8pm.
Book Now: +62 21 2708 7888 | www.langhamhotels.com/jakarta | bit.ly/RamadanAtLangham2022
---
DoubleTree by Hilton Jakarta - Diponegoro

During the holy month of Ramadan, DoubleTree by Hilton Jakarta – Diponegoro will spoil guests with an array of delectable dining offers dubbed Flavourful Ramadan. Break your fast with the bountiful spread of sumptuous and lavish Indonesian cuisine and international favourites offered at OPEN} Restaurant.
At OPEN} Restaurant, indulge in a culinary journey with Jelajah Rasa, where guests can break their fast with local ta'jil selection ranging from Kolak Pisang, Es Manado, date fruits, gorengan and jajanan pasar. The wide-ranging buffet features Indonesian favourites such as Coto Makassar, Oseng-oseng Cumi Manado, Ayam Woku, Nasi Kapau with Beef Rendang, Gulai Ayam, Dendeng Sambal Merah, kerupuk jangek and more. There is also the iconic outdoor Angkringan, serving an assorted satay, tofu and tempeh, and a selection of Nasi Kucing such as Ayam Suir, Sambal Tongkol and Daging Sambal Ijo. Don't miss out on the fresh cuts of Durian, available from 7pm to 8m. The Iftar buffet is priced at IDR 528,000++ per person. Guests can enjoy the Buy 3 Get 4 promo using selected banking cards.
If you're looking to experience the culinary offerings in the comfort of your home, you can order the Taste of Togetherness package by the culinary team at OPEN} Restaurant. The package includes dare fruits, kolak pisang, a mix of fritters, assorted salad, assorted soup, steamed rice, main dish selections such as Soto Ayam, Beef Ribs Soup, Pindang Ikan Kakap Putih, Grilled Prawns with Sambal Matah, Ayam Bakar Bumbu Rujak, as well as fresh fruits for dessert. The package is available for takeaway or delivery, priced at IDR 588,000+++ for up to 4 persons with 15% off using selected banking cards.
Enjoy up to 25% off on all dining offers for Hilton Honors members.
Book Now: +62 21 2985 7000 | [email protected]
---
Sari Pacific Jakarta

Celebrate the blessings of Ramadan at Sari Pacific Jakarta, where the hotel presents the chance for you to embrace the spirit of the holy month with family and friends. The hotel will transport guests to experience a magical Middle East ambience at Restoran Fiesta in the "Tales of Mediterranean" Iftar buffet.
Revel in the sumptuous Iftar feast that has been specially prepared by the talented culinary team at Sari Pacifica Jakarta. Available from 4 April – 3 May 2022, patrons can please their palates with various selections of over 20 kinds of Mediterranean cuisine as well as an array of pastries and desserts, priced at IDR 350,000++ per person.
Book Now: +62 21 2993 2889
---
OUT OF THE CITY
Swiss-Belresort Dago Heritage Bandung
If you're in Bandung during Ramadan, head to the four-star Swiss-Belresort Dago Heritage Bandung where they've prepared a special Iftar promotion to fulfil your Ramadan needs. Break your fast at the hotel's Swiss-Kitchen Restaurant, featuring a variety of local and international Ta'jil offerings such as dates, a variety of kolak stalls, gorengan, Bandung street food, noodles, an array of sambals, salads, soups and more. The wide range of main courses includes Indonesian delights, Asian favourites and Middle Eastern cuisine such as Kofta, Chicken Tandoori, Lamb Ouzy, Chicken Shawarma, Chicken and Fish Tikka, Roasted Chicken, Indian Shrimp Pulou with Arabic Tomato Sambal, Baba Ganusha, Pitta Bread, Naan Bread, Vegetable and Chicken Curry. Don't forget to check out the dessert corner after your meal. The Ramadan Iftar is priced at IDR 188,000 nett per person. There will also be live music entertainment.
Book Now: +62 22 2045 9999 | bit.ly/SRDA-RESVWA | [email protected]
---
Novotel Bogor Golf Resort & Convention Center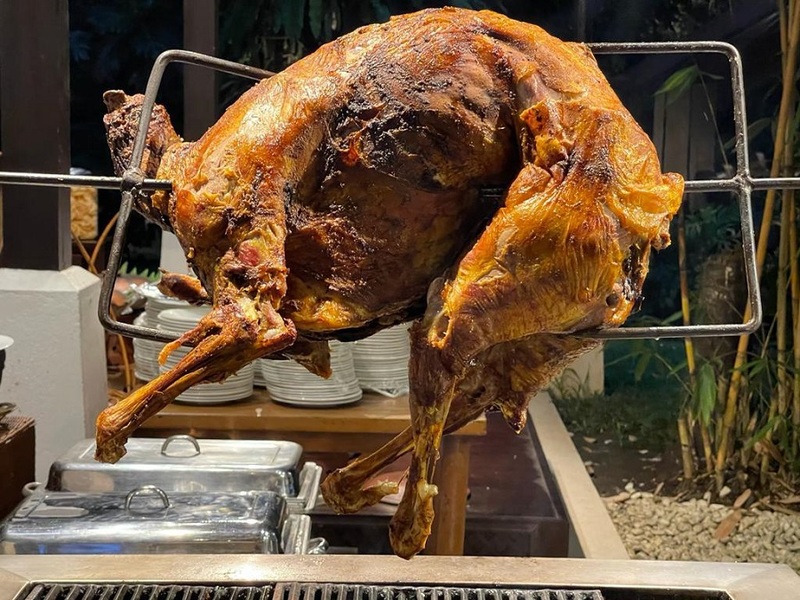 Accor hotels across Indonesia welcome guests to experience the wonderful tastes of the archipelago's cuisine with "Ramadan Wonderful Indonesia by ALL – Accor Live Limitless offers and as part of Accor Group, Novotel Bogor Golf Resort & Convention Center has prepared a lavish buffet feast for guests to break your fast. The Ramadan Nusantara Iftar Package serves a rotating selection of Indonesian cuisine, including their signature menu, Kambing Guling. The buffet is priced at IDR 335,000, inclusive of Ta'jil.
Guests can also enjoy a complimentary buffet meal for every four orders (Buy 4 Get 5) when dining for Iftar at any participating Accor hotel restaurant (even without a stay). Accor Live Limitless Members can also earn 2x reward points with their meals whether for dine-in, takeaway or delivery. Moreover, CIMB Niaga World ALL Accor Live Limitless credit cardholders and Accor Plus members can enjoy an additional 15% off, while CIMB Niaga Platinum ALL Accor Live Limitless or other CIMB Niaga credit cards can enjoy 10% off.
Book Now: +62 251 8271 555 | [email protected]
---
The 101 Bogor Suryakancana

This year's Ramadan at The 101 Bogor Suryakancana is extra special as the hotel's managing company, PHMHOTELS, is giving away free flights to Istanbul, Turkey, for lucky guests and visitors through their "A Journey to The Middle East" Ramadan program. A Journey to The Middle East program is intended for guests who want to enjoy the experience of staying and breaking their fast at all PHMHOTELS hotels, which includes The 101 Bogor Suryakancana. A Journey to The Middle East will invite guests to enjoy Middle Eastern specialties along with Indonesian specialties at Iftar meals available during the month of Ramadan.
The excitement of the Iftar program at PHMHOTELS has a variety of Iftar dining experiences, ranging from dining experiences to enjoying buffet dishes, and set menus to serving a la carte menus. Celebrate Ramadan with Middle Eastern cuisine at THE 1O1 Bogor Suryakancana, where the Djoeragan Resto offers a unique experience to enjoy delicious Turkish cuisine and Indonesian specialties. The buffet is priced at IDR 275,000 nett per person.
Book Now: +62 251 7565 101 | wa.me/62811918101