As communities begin the ritual fast this month, hotels across the city have put together a menu for the special meal taken to break the religious fasting period. NOW! Jakarta curates a list of hotels offering special menus for this time of year.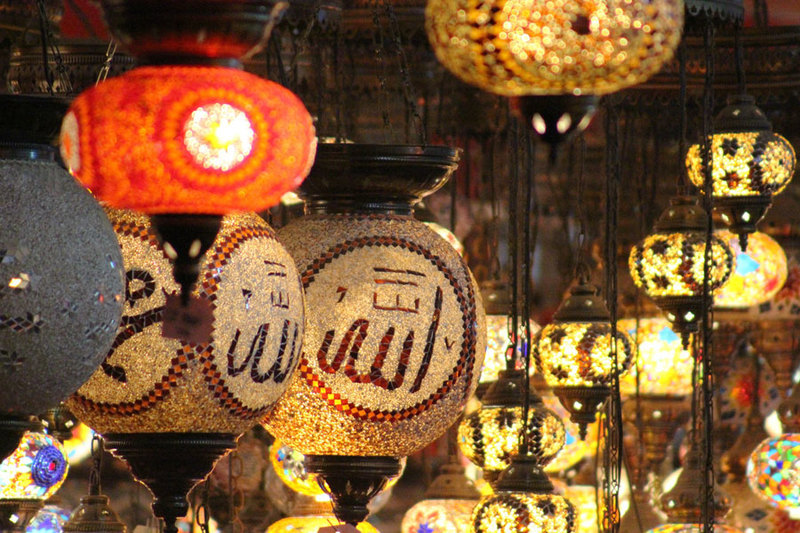 Le Meridien Jakarta
With the theme "Click Clock Ramadhan", Le Meridien Jakarta has three different options for guests to capture the tastes of local, western and middle eastern cuisine between 15 May and 14 June. Puri Asri on the first floor function room will be transformed into a Batavia night market offering Indonesia's favourite dishes with a unique traditional market atmosphere. The traditional market festival with a local iftar buffet can be enjoyed at IDR 299,000 nett per person.
Guests who want to feel the Middle Eastern atmosphere can head to Al Nafoura that features interactive live stations of juicy Shawarmas, tender grilled meats, fresh seafood and other authentic Arabic and Turkish delectable offerings; Haruf Ouzi and Hot and Cold Mezzeh, Umm Ali, Baklava and Turkish Ice Cream for IDR 410,000 ++ per person. An extravagant iftar also available at La Brasserie where guests can enjoy exotic dishes including its signature desserts, Mille-feuille and the Baskin-Robbins ice cream while enjoying soft melodies from the live band, priced at IDR 395,000++ per person.
For more information
contact (021) 251 3131
email [email protected]
visit www.lemeridienjakarta.com
Shangri-La Hotel Jakarta
At Shangri-La Hotel Jakarta, the iftar meal will be marked by muadzin prayer live in its international restaurant Satoo. The hotel's culinary team will present special dishes from Indonesia, the middle east and beyond. Dishes such as Kambing Guling (Spiced Roast Lamb), Oxtail Soup with assorted sambal, Martabak Telur (Pan-fried Egg Pancake), Ayam Penyet Sambal (Smashed Fried Chicken with Assorted Sambal), Chicken Shawarmah, Mezzeh platter, Lamb Ouzi and other international delicacies will be dished up at interactive stations.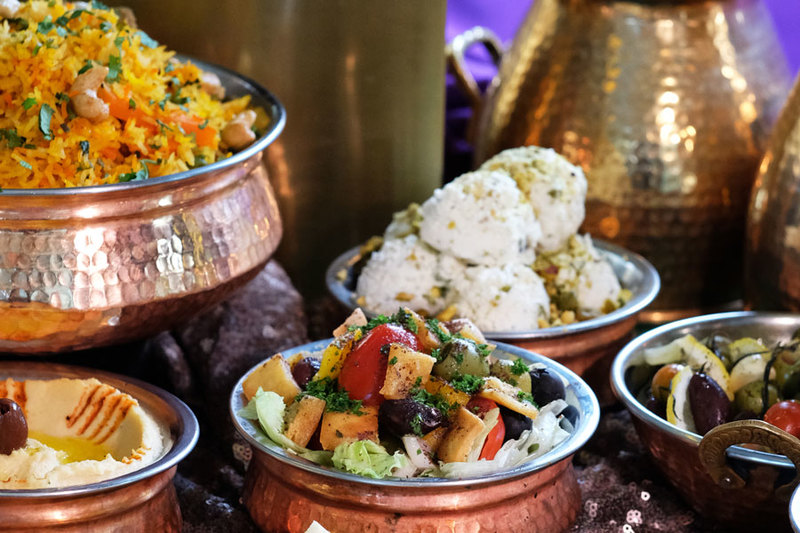 Guests will be able to savour this rich menu at IDR 428,000 ++ per person from Sunday to Thursday and at IDR 488,000 ++ per person from Friday to Saturday. Satoo Deli Shop also offers Ramadhan Hampers in beautiful golden boxes in three types; Ajwa, Hikmah and Sukkari with a selection of Indonesia and Western-style signature cookies include Kastengel, Nastar, Chocolate Chip, Diamond Ring, Praline Ring, Wiener, Pandan as well as dates and Lapis Legit Prune cake, price starts from IDR 398,000 nett per box.
For more information, contact (021) 2922 9999,
email [email protected]
visit www.shangri-la.com
Fairmont Jakarta
Fairmont Jakarta offers a unique rendition of authentic cuisine for breaking one's fast. Executive Chef Edi Pancamala with his team prepare a special Ramadan buffet at Spectrum featuring a lavish spread of mouth-watering specialties from around the world, such as Kebuli Rice, Iga Bakar Dabu-Dabu (Grilled Beef Ribs with Assorted Sambal), Mediterranean Kebab and many more, priced at IDR 408,000++ per person including beverages. While 1945 restaurant will showcase innovative Indonesian menus in a form of liwetan (communal dining style) for guests who plan to have a memorable group gathering over a fantastic meal.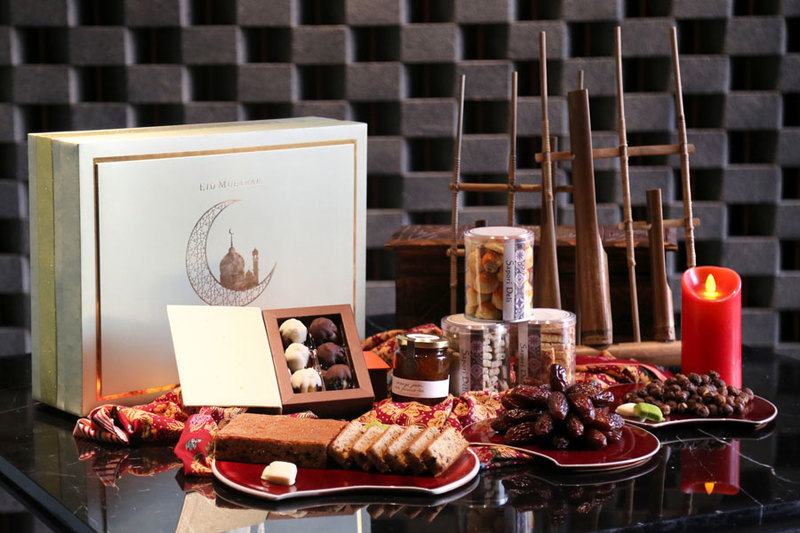 The package includes the restaurant's signature dishes, such as Ayam Bakar Rujak, Cumi Woku and Sate Maranggi. A choice of Ramadhan set menu and buffet are also available to cater different preferences. The menu will be available from 6 pm to 10.30 pm with prices ranging from IDR 588,000++ per person for set menu, IDR 648,000++ for buffet and IDR 8,888,000++ for liwet package with a maximum of 20 people. The hotel also presents sumptous hampers full of delicious freshly-baked goods and classic Lebaran cakes, such as Lapis Legit, Nastar cookies, Kastengel, Chocolate Dates and Oreo Sable with price starts from IDR 1,188,000++. Enjoy 15% discount for booking before 15 May.
For more information, contact (021) 2970 3333,
email [email protected]
visit www.fairmont.com
Sari Pacific Jakarta
Fiesta at Sari Pacific will highlight selections of Archipelago Ramadhan Buffet where guests can enjoy Balinese Bebek Betutu (roast duck), Padangnese Gulai Kepala Ikan (a fish head curry), Bubur Kampiun (a signature sweet porridge) and Asinan Betawi (Indonesian salad from Jakarta) priced at IDR 299,000++ per person. Guests can also take the advantage of 20 per cent discount for making reservations on the first and fourth week of Ramadhan month. Guests are able to break their fast with Middle Eastern classic dishes, like Shawarma Chicken or Beef and Lamb Ouzi.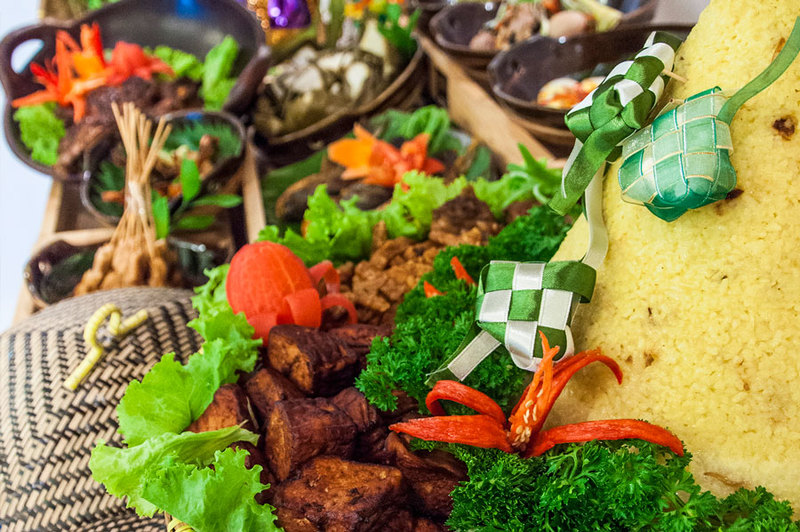 The Japanese @ Sari Pacific also serves tajil, with price only IDR 109,000++ per person guests can enjoy Gyoza, Ebi to Corn Kakiage, dates and a Sweet Red Bean Jam Soup with Rice Cake. Different selections of set menu tajil also available in the Lobby Lounge, priced at IDR 109,000++ per person. Guests who want to send Ramadhan warm wishes to loved ones, Sari Delicatessen provides gift hampers during May and June which consists of cookies and date palm in two sizes, Medium priced at IDR 590,000 nett for 3 jars of cookies and 1 jar of date palm and large priced at IDR 890,000 nett for 7 jars of cookies and 1 jar of date palm.
For more information, contact (021) 2993 2888
visit www.saripacificjakarta.com
The Ritz-Carlton Jakarta, Pacific Place
The Ritz-Carlton Jakarta, Pacific Place as a place to enjoy the Baharat Buffet during Ramadhan month. This year, Baharat opens from 16 May to 10 June. Located on the fourth floor Ballroom Foyer, it offers tantalising iftar and traditional Ramadhan delicacies with a special theme, Souq—a Middle Eastern traditional market. The hotel sees the return of chef Rabih Yantany from Al Bustan Palace, from Ritz-Carlton Hotel, Oman accompanied by chef Muhammad Shareef who will prepare rich dishes from the Arab tradition.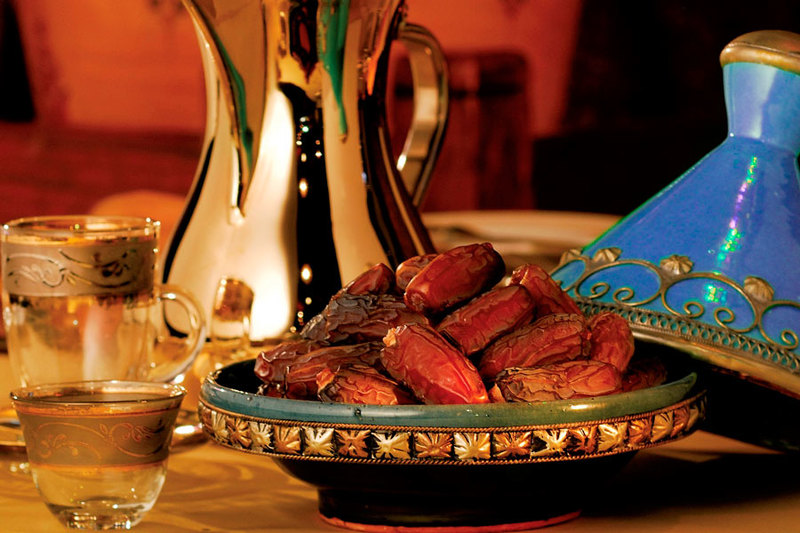 The Baharat buffet is priced at IDR 338,000++ per person inclusive of a welcome drink allows guests to taste a great choice of delectable cuisine together with family. Guests can also enjoy the entertainment, a small high-end shopping experience from various vendors and the opportunity to socialise with friends and family.
For more information, contact (021) 2550 1888
visit www.ritzcarlton.com/jakarta
Ayana Midplaza Jakarta
Rasa Restaurant at Ayana Midplaza Jakarta will feature an exotic culinary journey during the special holy month. Diners can savour the hotel's signature dishes along with soothing Arabic music. Prices for the buffet start from IDR 368,000++ per person from 15 to 20 May and 11 to 14 June; and IDR 408,000++ from 21 May to 10 June. For delicious and light tajil buffet, JimBARAn Lounge is available every day throughout Ramadhan, with prices starting at IDR 128,000++ per person.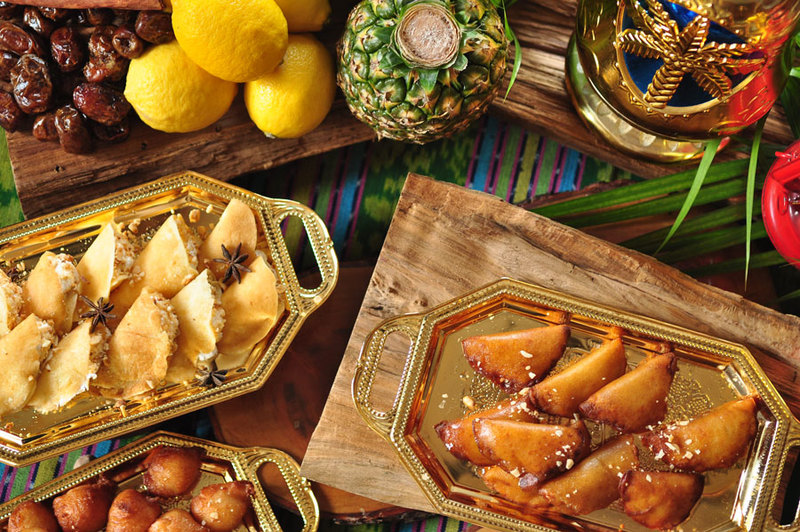 The meal can be personalised with a complimentary beverage and a variety of takjil to choose from depending on the mood. Guests can also elevate their experience by combining their Takjil Buffet with flavourful shisha for only IDR 288,000++ per person, or select from an enticing range of shisha for only IDR 188,000++ per set. The hotel also offers delightful hampers with five unique choices of baskets packed with classic and signature delicacies at prices that start from IDR 498,000++.
For more information, contact (021) 2510 888
visit www.ayanajakarta.com