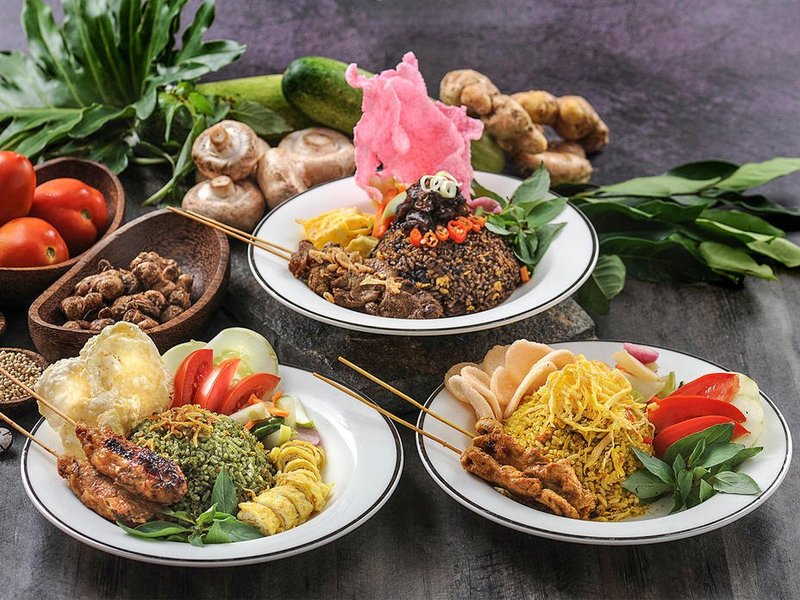 Good food, especially comfort food, food which has a special place in your family tradition becomes synonymous to the holidays. It lights up the moment and brings members of the family to a wonderfully familiar place. This opportunity is provided by Hotel Borobudur Jakarta who are inviting guests to celebrate the year-end holiday through its excellent culinary offerings.
All You Can Eat earns a place in the moment of togetherness. Guess what? The signature All You Can Eat - Plated Buffet Service at Bogor Cafe is back this December. For those who prefer an abundant choice of food to discover over a single platter, this offer might suit your family as the most visited cafe at Hotel Borobudur is ready to indulge you with a huge variety of dishes ranging from local to international selections.
All-time favorites such as Legendary Oxtail Soup, Fried Chicken and Duck, Fried Goldfish, Prawn Satay, Dendeng Beef, Tempe, Tahu, Petai, Fresh Vegetables, Chili Selections among the highlight menu to be enjoyed at Bogor Cafe this December. With the price at IDR 358.000++ per person, this culinary haven is available on Monday until Friday for lunch at 11.30 AM until 2.30 PM, on Saturday for dinner at 6.30 PM until 10.30 PM and on Sunday for brunch at 11.30 am until 3 PM.
The aromatic flavour from signature Indonesian culinary cuisine is a warm invitation to stop by at Pendopo Lounge as the culinary team has prepared a succulent menu of Nasi Bebek Madura where one can relish the tenderness of the protein dish of high-quality duck served with special sauce and cracker that will add a texture on your palate. While enjoying the view overlooking the tropical landscaped garden through the window, this dish is worth IDR 88.000++ per portion.
Steamed Fish with Nyonya Sauce will be the highlight of the authentic oriental menu this year at Teratai Chinese Restaurant. Served with Dressing Teratai style, this special menu will recall memories of your taste buds with a history secret of Chinese traditional cuisine. The menu is priced at IDR 68.000++ per 100 gram.
Travel to Japan through the experience of enjoying a special culinary treat on the plate at Miyama Japanese Restaurant. You will not be able to resist the temptation of exquisite marbling, extreme tenderness, and flavorful luxurious Kagoshima Gyu, a Japanese protein dish presented with a traditional cooking style. Level up the festivity on your table by ordering other Japanese-style cuisine including Sukiyaki, Shabu-shabu, Teppanyaki, Aburi Foie Gras and Lemon Steak. This lavish menu is priced starting from IDR 598.000 per portion.
Brucetta Italian Restaurant also has something to offer during this Descember festive with Brasato al Barolo, a classic Italian dish featuring the finest roasted beef with excellent wine sauce and grilled vegetable for the price at IDR 168.000++ per portion. Don't forget to explore other 'buono' Italian dishes available on the menu to lit up the moment with friends and families.
At Borobudur Gourmet, you don't want to miss Turkey Club Sandwich on the Rye Bread, a hearty combination of flavorful Pan Fried Turkey Breast, Beef Bacon, Boiled Egg and Avocado, Lettuce, Tomato, and Mayonnaise on Rye Bread for IDR 68,000 net per portion to set your December mood.
Valid until 30 December, the menu is available throughout Christmas and New Year. Yet, the hotel will be revealing other exciting menus to add more enjoyment for the festive season this year.
Don't forget to take precautions and practice health protocols for everyone's safety. For more information and reservations, contact +62 21 380 555 / +62 21 383 5000 or visit hotelborobudur.com