Hotels around Jakarta have put together special dishes with which to open the ritual fast. Novotel and Ibis Styles Jakarta Mangga Dua Square, Hotel Borobudur Jakarta, InterContinental Jakarta Pondok Indah, DoubleTree by Hilton Jakarta-Diponegoro, Pullman Jakarta Central Park offer ranging of Ramadan Feast during the Islam holiest month this year.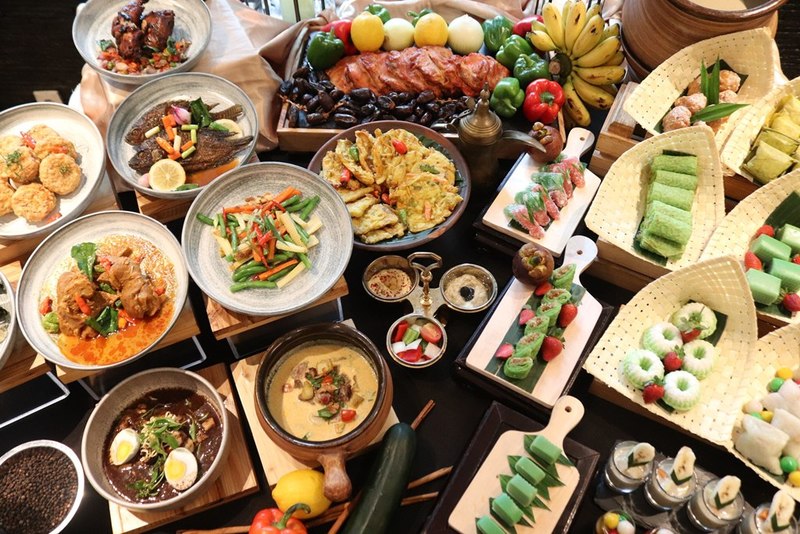 Novotel and Ibis Styles Jakarta Mangga Dua Square
During Ramadan , Novotel and ibis Styles Jakarta Mangga Dua Square present Authentic Local Delicacies by elevating the diversity of Indonesian cuisine through its appetiser, main course and dessert.
Embrace the spirit of Ramadan at Food Exchange, Novotel Jakarta Mangga Dua Square and sTREATs at ibis Styles Jakarta Mangga Dua. Enjoy a variety of local favourites for takjil such as kolak, wedang ronde, and various traditional cakes. Savour main course menu Ayam Penyet with homemade traditional chilli sauce, local curry, various Soto dishes, Rawon, special menu Chicken Shawarma and many more.
A buffet to break the ritual fast is available for IDR 286,000 nett per pax at Food Exchange and IDR 138,000 nett per pax at sTREATs. The special Ramadan menu is available from 5 May to 4 June, 2019.
For more information and reservations, contact +6221 6231 2800 or email [email protected]

---
Hotel Borobudur Jakarta
Enjoy a special Ramadan set menu at all the hotel's dining outlets as chefs from each restaurant at Hotel Borobudur Jakarta have prepared a variety of dishes for the iftar period.
Teratai Set Menu at Teratai Chinese Restaurant. (IDR 498,000++ per person including Sweet Takjil Set)
Bruschetta Set Menu at Bruschetta Italian Restaurant (IDR 348,000++ per person including Sweet Takjil Set).
Miyama Set Menu at Miyama Japanese Restaurant (IDR 418,000++ per person including Sweet Takjil Set).
Bogor Cafe Buffet at Bogor Cafe (Starts from IDR 398,000++ per person) The buffet is also available at Timor Room, priced from IDR 378,000++ per person.
Sweet Takjil Set Menu at Pendopo Lounge (IDR 168,000++ for two persons)
Ramadan Special Beverage available in all restaurants, lounge and bar (IDR 78,000++ per glass).
Send Ramadan gifts to your loved ones with Borobudur Ramadan Hampers, priced at IDR 770,000 net per box. Delightful offer for the meeting package during Ramadan season is also available starts from IDR500,000 net per person, valid from 6 May - 16 June. Don't miss special promotion for Iftar Dinner at Private Function Room starts from IDR 400,000 net per person.
Meanwhile, Hotel Borobudur Jakarta is also holding a Ramadan Bazaar at Bogor Cafe. Taking place from 7 May to 2 June, Ramadan Bazaar at Bogor Cafe offers various tenants and products to be visited, from handcrafts, fashion, lifestyle to food and beverage.
Jl. Lapangan Banteng Selatan No.1, Pasar Baru, Sawah Besar, Central Jakarta. For information and reservation, call +62 21 380 5555 or email to [email protected]
---
InterContinental Jakarta Pondok Indah
The hotel extends a warm invitation to celebrate breaking the fast with family, friends and colleagues with refined international flavours at Sugar & Spice, The Lounge and The Studios from 5 May 5 to 4 June.
Indulge delectable taste of exotic food and exclusively prepared meals adorning the iftar buffet at Sugar & Spice, the hotel's all-day dining restaurant. Savour an extravagant ensemble of 90 dishes encompassing Indonesian, Western, Chinese, Japanese and Indian cuisines. The menu expands to a six set Moroccan spread that features chermoula-baked sea bass and succulent chicken tagine. An addition to the main course, an assortment of sweet delicacies ranging from cheesecakes, and chocolate fountain to Nyonyah kueh and penget pisang, alongside freeflow iced tea and flavored water, all can be indulged for only IDR 448,000++ per person.
The hotel also offer Iftar package for group and business with minimum booking of 50 persons. An extensive buffet available with gourmet dishes together with free flow iced tea and infused water is priced at IDR 388,000++ per person.
Embrace a more personal and soothing ambiance with Ramadhan High Tea sessions, prepared daily at The Lounge from 2pm PM to 7pm for IDR 188,000++ per person.
Express your gratitude and well wishes to others by gifting them with a scrumptious selection of Ramadan cakes. The light and fluffy Iftar Mousse Cake is the perfect companion to every meal, garnished with a combination of crunchy hazelnuts and sweet dates - available for IDR 338,000++. Enjoy a richer taste with the moist and fresh Lebaran Fruit cake. This classic dessert is ornately topped with a delicious union of appetizing dried fruits, mixed nuts and local spices, available for IDR 338,000++.
Jalan Metro Pondok Indah KAV. IV, Kebayoran Lama, South Jakarta. For more information and reservation, call +62 21 3950 7355 or visit www.icjakarta.com for direct booking.
---
DoubleTree by Hilton Jakarta-Diponegoro
Bringing different ambiences, offering and concepts during Ramadan, DoubleTree by Hilton Jakarta Diponegoro organises Kampung Air at OPEN} Restaurant and Eight Hands Iftar Culinary Journey at Sea Grain Restaurant & Bar,
The Hotel's culinary team has prepared an array of Ramadan dishes including local specialties with bold traditional flavours from the live cooking stations at OPEN} Restaurant. Explore over 400 buffet items during Ramadan featuring Indonesia lifetime favorites such as, Tuna Asam Pedas, Ayam Bakar Taliwang, Kambing Bakar and Balinese Chicken Salad. Guest can savor the indoor live stations serving International cuisine, including the special Lebanese corner with signature mouthwatering shawarma, Indian corner and other hand picked Ramadan favourites.
This year, OPEN} Restaurant showcases a real traditional night floating market outdoor that will start right after the bedug or drum sounds as the sign for iftar. Enjoy delicious hawker stall food directly from the boats lined up at the pool. Diners will be indulged with the highest culinary standards featuring a succulent Pempek Palembang, Siomay Bandung, Batagor, Bakso Malang, and Nasi Goreng Mawut.
OPEN} Restaurant offers an all-you-can-eat widely revered freshly cut durian from 7 – 8 pm daily. Complete the satisfying dining experience with a delightful treats and dessert including Turkish Ice Cream and Warung Kopi at the 'warung' (traditional shopt) at Makara Garden.
Enjoy the Ramadan delicacies at Kampung Air, priced at IDR 468,000++. Enjoy Pay 1 For 2 starting from 9pm to 10.30pm for late breakfasting session at OPEN} Restaurant with special price available from IDR 368,000++ on the first week of Ramadan. Ramadan dining experience at DoubleTree is valid until 4 June.
At Sea Grain Restaurant, four different chefs from different origins around the world host the taste of Mediterranean delicacies during iftar session. With the collaboration of four chefs and different specialties, guest will experience the true Lebanese spices, Jordan's flavourful ingredients, the best Tunisian food, Spain's all-time favourites and Indonesia's premium local taste.
---
Also Read: Enjoy Special Ramadan Promos Around Jakarta. There are Aston, The Dharmawangsa, Fairmont, Hotel Indonesia Kempinski and many more...
---
Specially flown from Hilton Dead Sea Resort & Spa in Jordan, Chef Ali Abed Al-Razek Qadoom bring his skills in Lebanese and Jordan special dishes. Chef Ali will implement his advanced cooking skills from the preparation to the traditional cooking method for the duration Ramadan at Sea Grain Restaurant. Savour Chef Ali's culinary creation of Chicken Moussaka, Mixed Grills (such as Shish Taouk and Lamb Kofta), Whole Fish with Harra Sauce and other authentic Lebanese and Jordan delicacies.
To bring an array of sumptuous Tunisian dishes, Sea Grain Restaurant also have the native Tunisian Chef, Guettat Sirine. To present an exceptional Iftar experience at Sea Grain, she will showcase the authentic Tunisian dishes such as, Tunisian Grilled Salad, Doigt de Fatma (Tunisian Spring Rolls), Beef "Mloukhia", Verrines Couscous au Poisson (Grouper Fish Couscous) and other Tunisian mouthwatering dishes.
Both Chef Ali and Chef Sirine will collaborate with the Sea Grain Chef De Cuisine, Alvaro Bonache Utiel. During Ramadan Chef Alvaro is bringing Spain's all-time favorites dishes featuring Spanish Salad, Seafood Paella and Pan Fried Lamb Chops with Aioli.
The Hotel's Executive Chef Zulkarnain has also prepared a range of local delicacies that are worth trying. Experience an exquisite iftar with a sumptuous buffet at Sea Grain Restaurant, priced at IDR 428,000++ per person and special price IDR 318,000++ per person on the first and last week of Ramadan.

Jl. Pegangsaan Timur No.17, Cikini, Central Jakarta. For more information and reservation, call +62 21 2985 7093 or email to [email protected].
---
Pullman Jakarta Central Park
During the holy month of Ramadan, Pullman Jakarta Central Park invites guest to share the breakfasting moment with wide array of International and Middle East dishes specially crafted by the renowned chef, Chef Kamel Hassan from Movenpick Anwar Al Madina. The dishes — inspired by centuries old tradition of sharing iftar — is served in open kitchen buffet that includes a variety of takjil, Moroccan Tea and Turkish coffee. There will be Arabic live music and dance performances to add the festivities at Collage All Day Dining. Available from 6 May – 5 June, the Middle Eastern iftar experience is priced at IDR 588,000++ per person. Starting from 5.30pm to 10 pm, the guests could also get exclusive offer up to 50 per cent, available for Accor Plus members and select bank partners.
For those who look for a unique Iftar experience, Hilal at Pullman Jakarta Central Park offers a tasteful Indonesian buffet and few of Middle Eastern favorite dishes at the newly renovated ballroom, adorned beautifully in a charming Indonesian decoration. There will be also a live music performance to complete the breakfasting experience. In addition, the hotel also provide a convenient praying space adjacent to Pullman Ballroom.
Hilal Iftar Gathering menu includes tantalizing array of takjil, appetizers (gado-gado, rujak, selections of Indonesian soup), signature dishes (mix of Indonesian and Asian selections), and desserts. The menu will be rotated daily.
Hilal is available daily from 13 – 26 May and priced at IDR 250,000 nett per person, and open from 5.30pm – 10pm. Exclusive offer Pay 2 Get 3 is available at Hilal for Accor Plus member.

Podomoro City, Jalan Letjen S. Parman, South Tanjung Duren, West Jakarta. For further information and to make a reservation, call +62 21 2920 7777 / WhatsApp +62 815-8043-999 or email to [email protected] for Collage All Day Dining. Contact +62 21 2920 0088 ext. 3001 or email to H7536-fb[email protected] for Hilal at Pullman Jakarta Central Park.