For one night only, 1945 Restaurant at Fairmont presents a special Indonesian Tropical Dinner where diners can enjoy an eight course meal featuring homegrown tropical fruits as the main ingredient.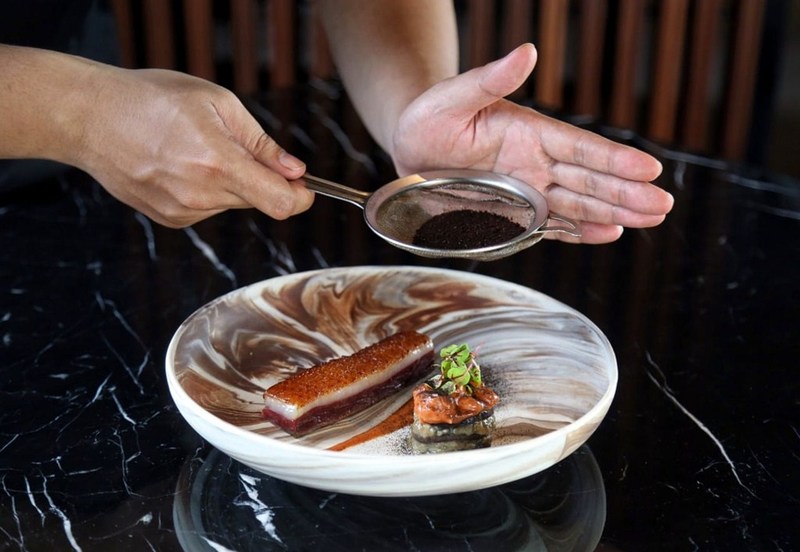 On 26 April, the eight course set menu dinner will feature some of Indonesia's tropical fruits which will be adapted in sweet and savoury dishes to accentuate its natural flavour profile.
Rambutan (Rambutan Relish, Purple Yams Chips, Prawn in Honey Mustard, Sesame Seed), Salak (Deep Fry Oyster, Salak Dabu Dabu, Crispy Chives, Smoked Green Chili Pure), and Pisang (Banana Chips, Sambal Roa Emulsion, Ikura, Aging of Roa Fish) are among amuse-bouche.
For appetisers, guests will be treated to Apel Malang Compote served with Crab Arancini, Black Sago Crackers, and Cassava Puree as well as Bengkuang served in Lumpia Basah Sayur, with Acar, and Tamarind Sauce.
Entree menu will features mangosteen and durian on the table. The Manggis menu serves Duck, Red Curry, Mangosteen, Kemangi Powder, and Mantau Goreng. The guest could also choose to savour the Durian menu serves Halibut, Durian Tempoyak, Corn Puree, Gohu Manga, Papaya Flower, and Burnt Corn.
As a closing dish, the sweet note of Pineapple featuring Pineapple Cake with unique Brown Sugar Sorbet for that perfect finish.
During the occasion, Indonesian fruit-based cocktail pairings are on offer. Diageo World Class guest bartenders from Bali, Arrey Barker (Bikini Bar) and Ayip Dzuhri (Seasalt) will prepare limited-edition cocktails.
The cocktails White Negroni (Seagrams I Fuzion Alta I Mancino Bianco I Orange Bitters), Bloodless Martini (Smirnoff Fat Washed Bacon I Clarified Tomato I Chili I Salt I Citrus I Worcestershire Sauce), and Wooden Temple (JW Black Label I Roasted Honey Pineapple Juice I Coconut I Brown Sugar I Spices) are among the line up. The exquisite Black Velvet, a mix of Captain Morgan Fat Washed Sesame, Luxardo Amaretto, Singleton, Pineapple Juice, Avocado Pith Syrup, Takesumi Powder are sure to delight.
Indonesian Tropical Dinner is available at IDR 688,000++ includes a glass of rose. Cocktail pairing is available at additional IDR 400,000 nett for one sequence of four cocktails above.
1945 Restaurant
Jalan Asia Afrika No. 8
Jakarta Pusat 10270
T: +62 (21) 2970 3333
E: [email protected]
This venue participated in the 2019 BRBCA. See the winners here!