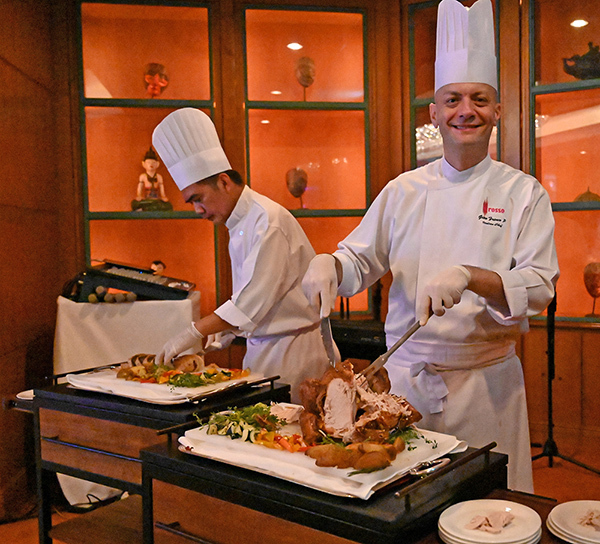 Thanksgiving is a welcome tradition in Jakarta and its international communities as they celebrate this annual American tradition at home or going out to enjoy restaurant in the city. This year, a number of dining establishments have prepared special Thanksgiving dining experience to be enjoyed with family and friends.
Shangri-La Hotel, Jakarta
The delight of Thanksgiving comes to SATOO Restaurant at Shangri-La Hotel, Jakarta which provides "Bring the Turkey Home", a great way for one who want to celebrate the November feast without having to do all the cooking. Available from 19 November to 31 December, one could take away the Whole Turkey with Cranberry Sauce, Mashed Potatoes, Potato Wedges, Mixed Vegetables and Giblet Gravy for only IDR 2,500,000 nett, a decent portion to be shared with family and friends.
On Thanksgiving day, SATOO will be presenting a special Dinner Buffet on 28 November featuring an abundant choice of cuisine available at the buffet station with price at IDR 458,000++ per person.
For more information and reservations, call +62 21 2922 9999, email to [email protected]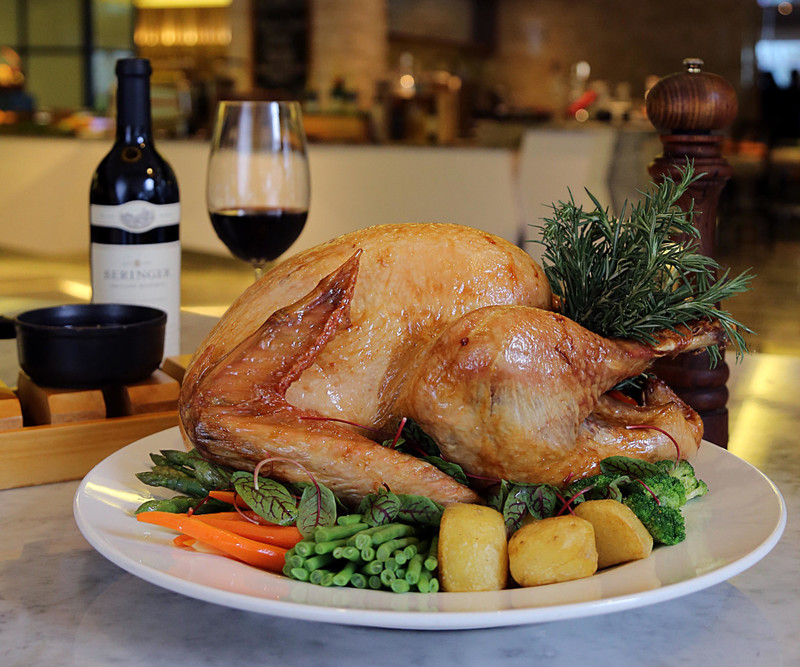 Pullman Jakara Indonesia
This year, Pullman Jakarta Indonesia goes classic with Thanksgiving. The hotel's restaurant, Sana Sini has prepared its signature Turkey dish paired with Californian Wines. The lavish restaurant will surprise the guest with their handcrafted cuisine to be highlighted for joyful family and group gathering at the restaurant overlooking Jakarta cityscape. The Thanksgiving dinner at Sana Sini Restaurant is available on 28 November and it is priced at IDR 480,000++. A special offer IDR 880,000++ will include the wine pairing.
For more information and reservations, call +62 21 3906 444.
The Dharmawangsa Jakarta
Starting from 1 November to 25 December, the Cake Shop at The Dharmawanga Jakarta provides Roasted Turkey To Go, a whole roasted US turkey with maple and sage with price at IDR 3,280,000 nett. One could buy it to have it home that large enough for twenty persons, including all the traditional side dishes; focaccia sage dumpling, brussel sprout, glazed carrots, roasted sweet potato, and pumpkin, as well as the cranberry jam and giblet gravy.
For those planning to have a Thanksgiving dinner, Sriwijaya Restaurant will welcome guests with Thanksgiving favorites 3 courses set menu to be indulged with the loved ones. The Thanksgiving dinner is available on 28 November at Sriwijaya Restaurant is priced at IDR 850,000++ per person inclusive of a glass of house wine. Pair the meal with Gluhwein with an additional price at IDR 995,000++ per person.
The Thanksgiving feast will not be completed without a barbecue at Jakarta Restaurant. On 29 November, the restaurant features a Thanksgiving menu such as a bounteous array of sizzling barbecued meat and seafood along with a maple glazed US roasted turkey gurriedon and an 'all about pumpkin' dessert. While appreciating the relaxing ambiance, one could have the Thanksgiving barbecue with only IDR 695,000++ per person inclusive of unlimited flow beverage and a glass of cocktail. Guests may enjoy an unlimited flow of red, white, and sparkling wine with an additional IDR 500,000++ per person. Kids in the age of 4 to 11 years old will be charged at IDR 495,000++ per person.
For information and reservations, call +62 21 7258181 ext. 6231 (Cake Shop), ext. 6228 (Sriwijaya Restaurant), and ext. 6237 (Jakarta Restaurant).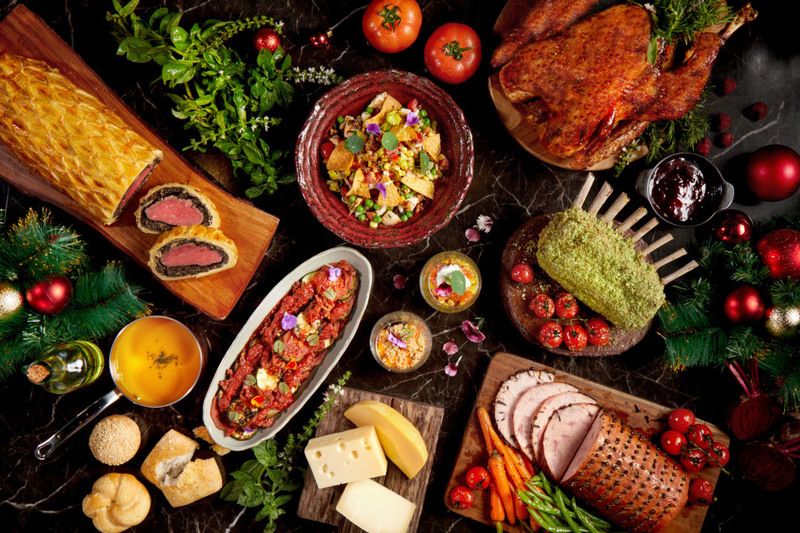 Fairmont Jakarta
Fairmont Jakarta brings the joy of Thanksgiving feast to one home as hotel culinary team has prepared Turkey and Ham To-Go featuring all the delicious trimming of toasted potatoes, pumpkin, and carrots with cranberry sauce. The Whole Roasted Turkey (6 kg) package is priced starting from IDR 4,000,000++ and the Roasted Honey Glazed Ham (4 kg) is priced at IDR 2,900,000++.
The Hotel also offers a wide range of festive treats for retails purchase to provide an option for guests who want different size celebration at their home. Complement the dish with signature Thanksgiving condiments and add with mouth-watering desserts such as Classic Pecan Pie, Blueberry Rhubarb Pie, and Lemon Meringue Pie, which are also available for retail purchase. The additional condiment is price from IDR 100,000++ to IDR 250,000++ per portion.
Thanksgiving dishes at Fairmont Jakarta is available until 31 December. For those wanting their meal to be delivered, the hotel offers the service with additional charge IDR 1000,000++ for delivery in Jakarta, Depok, Tangerang, and Bekasi.
For more information and reservations, call +62 21 2970 3333 or email [email protected]
Hotel Borobudur Jakarta
On 28 November, Hotel Borobudur Jakarta takes part in the annual celebration of Thanksgiving featuring a special corner at Bogor Cafe where the guest could relish classic Roasted Turkey served with Cranberry Sauce and a wide array of authentic Thanksgiving cuisine. At the Thanksgiving corner, patrons could pick up the favourite side dishes including Autumn Chicken Salad, Pumpkin Soup, Brussels Sprout with Bacon and Pear and Berry Crumble sweet treats.
Thanksgiving Buffet at Bogor Cafe could be enjoyed with the price at IDR 398,000++ per person. It's only 199,000++ for a child aged 5 to 12 years old and for senior citizens on 61 years old above.
Invite family and friends to have joyful Thanksgiving in the surrounding 23 acres of tropical gardens at Hotel Borobudur Jakarta. For more information and reservation, call Bogor Cafe +62 21 380 5555 ext. 73400/73441.
Mandarin Oriental Jakarta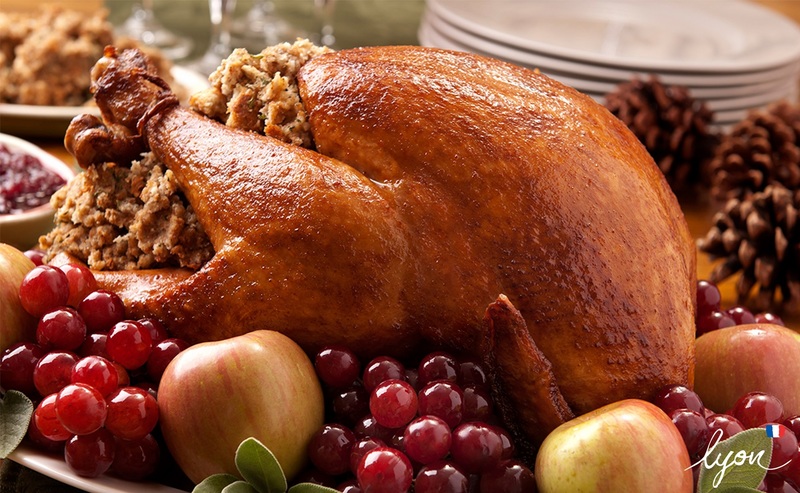 Mandarin Oriental Jakarta's French restaurant LYON is preparing something special on 30 November. There, you can enjoy scrumptious roasted turkey priced at IDR 519,000++ per person (non-alcoholic) and get Wine a Volonte with additional IDR 420,000++. They also have Thanksgiving "To Go" which is available at the Mandarin Cake Shop for delivery to Jakarta area.
For more information, call +62 21 2993 8824 or 0815 8532 1208 (WA). You can also send an email to [email protected].