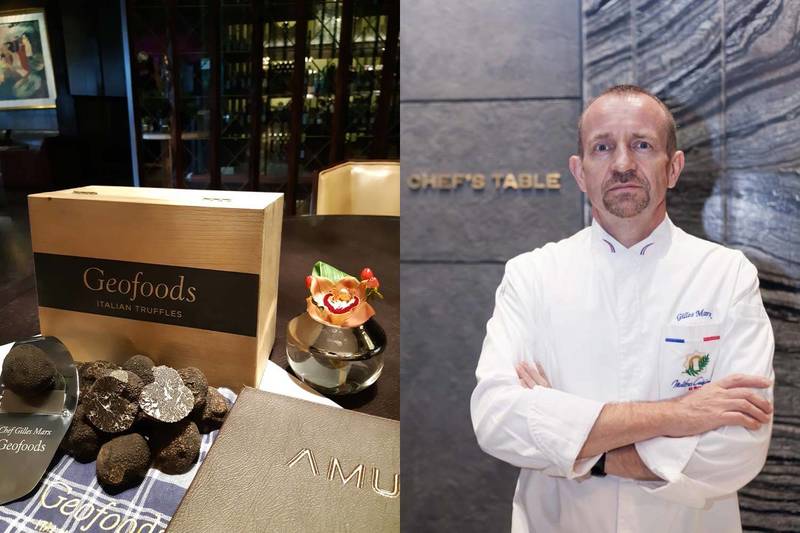 Fresh Black Winter Truffles, a much sought after delicacy, are now available in AMUZ Gourmet Jakarta, freshly air-flown from Italy. Botanically classified as Tuber Melanosporum, these are rare, highly desired truffles belonging to the Tuberaceae family.
What makes them so special? First, it's the aroma: they are aromatic and richly flavoured, naturally growing at the base of hazelnut and oak trees in temperate regions across Southern Europe, they take years to develop fully. They cannot be easily detected from above ground, but once the truffles are harvested from the earth, they emit an unmistakable, robust fragrance.
Then it's the size: the truffles widely vary in size and shape, generally developing a semi-spherical fruiting body covered with small, diamond-like projections. The truffles are often moulded by stones in the soil, giving each one a unique look, and can reach up to ten centimetres in diameter with a rounded, lumpy, and lopsided exterior.
An important feature is the colour: ranging in colour from brown-black, dark brown, to grey-black, they are textured and covered in many bumps and crevices. Underneath the surface, the flesh is firm, black, and smooth, marbled with white spider veining. They also have a pungent, musky aroma that is likened to a combination of garlic, forest floor, nuts, and cocoa.
Finally, of course, it's the taste: the truffles contain a robust, subtly sweet, savoury, and earthy flavour with peppery, nutty, and fruity nuances. Winter Truffles are at their best from mid-December to the end of February.
So it's time to indulge yourself in a feast with alluring ambience and a captivating experience at AMUZ with your loved ones. Of course, Chef Gilles Marx introduces a selection of dishes each starring the Black Winter Truffles and they are waiting for you!
Make your reservation now by WhatsApp to +62877 8855 2006 or direct call to 021- 2505064 or email to [email protected]
Due to the current pandemic situation AMUZ operational hour
Monday to Saturday, Lunch 11:30 – 14:30, Dinner starts at 17:00
Every Sunday closed
Follow AMUZ social media
Instagram: @amuzgourmet
Facebook: AMUZresto
Website: www.amuzgourmet.com