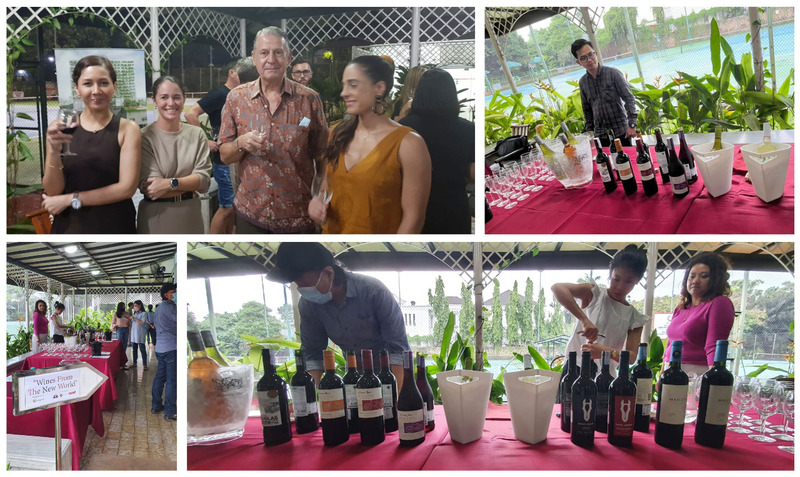 What better way to spend a balmy (well post-downpour!) evening in Jakarta then meet friends, nibble delicious canape's and sip delightful glasses of wine? Well it turns out that so well-healed and well-prepared folks thought so too and came to the breezy sports compound at Kemang 25 for a very well done wine tasting evening.
Co-hosted by Lembong House in whose luxury housing complex the tennis and squash courts are located, Society Wines, who provided the excellent wines, and NOW! Jakarta, the idea was introduce some new 'Wines of The New World' to old friends.
The Wines tasted were:
South Africa:
Douglas Green Rose
Douglas Green Chenin Blanc
Douglas Green Chardonnay Vlognier
Douglas Green Pinotage
Chile:
Cono Sur Bicicleta Sauvignon Blanc
Cono Sur Bicicleta Carmenere
Cono Sur Bicicleta Pinot Noir
Cono Sur Bicicleta Cabernet Sauvignon
California:
Dark Horse Sauvignon Blanc
Dark Horse Merlot
Dark Horse Double Down
Dark Horse Red Blend
Argentina:
La Mascota Cabernet Sauvignon
La Mascota Malbec
All of which were available to order for very reasonable process-including delivery.
Angkoso Soekadari, representing Lembong and Ra Hospitality took the opportunity to announce the imminent opening of Ra Suites Simatupang, a new luxury 5 Star hotel in South Jakarta and invited all participants to stay for one night free during the opening period. A truly generous offer.
The evening was one several wine tastings by Society Wines who can be contacted by email on [email protected] if you are in need of replenishing your wine stocks!