This festive season, Raffles Hotel Jakarta has prepared an array of experience where families can celebrate the joy of the season. The hotel will host a series of events and promotions during the season which are sure to delight diners.
Whether it's a MasterChef experience, a kids cookies decoration activity, or a spectacular open-air Countdown party, there is so much for the entire family to enjoy at Raffles Jakarta.
Christmas Dining with MasterChef Jess Liemantara
Jess Liemantara - one of the youngest contestants ever to make it to the finals of MasterChef Australia will be hosting special dining experience at Raffles Jakarta. Liemantara who is originally from Surabaya, Indonesia - will be presenting her signature dishes, especially dessert menu that has been reflecting his expertise during the competition. Her achievements on MasterChef Australia have certainly made Indonesia proud. And now, diners will have the unique opportunity to enjoy her culinary creations.
The MasterChef NYE Celebration
Jess Liemantara will be at the hotel for The New Year's Eve Celebration too. On 31 December, diners will have a chance to taste the dishes that Liemantara had throughout the competition.
On New Year's Eve, there is a special dinner accompanied by live music, free flow wine, beer and selected cocktails. After dinner, a spectacular open-air Countdown Party awaits on the 14th floor to witness the fireworks on the Jakarta skyline while you dance the night away to the tunes of the DJ.
NYE Celebration is IDR 1,500,000++ per person. Please make sure to book early as availability is limited.
Money Can't Buy Experience
For the first time, Raffles Jakarta offers "Money Can't Buy Experience" presented by AccorHotels. The guest could redeem Accor LeClub points to book amazing experience and challenge MasterChef Jess Liemantara with your own "Mystery Box Challenge"!
Exclusively for two people per night, the guest will determine which mystery ingredients Jess must cook with and then watch her live in action as she prepares dishes within the time limit. These are then served to the guest paired with selected wines, and finished with dessert served in a secret location within the hotel. Money Can't Buy Experience is available every night for two between 19 December and 4 January (Except the nights of the 24th, 25th and 31st December).
For more information visit https://lacollectionbyleclubaccorhotels.com/
Happy Hearts Indonesia
Though the commitment to give back to communities, Raffles Jakarta has partnered with Happy Hearts Indonesia, a non-profit organisation that envisions every child
in Indonesia having access to education by attending safe and earthquake-resistant schools.
Happy Hearts Indonesia is dedicated to rebuilding schools and restoring hope and
opportunity in the lives of children in underprivileged areas. The Writers Bar has been aging a Negroni in an oak barrel for the last one year especially for Happy Hearts Indonesia. Proceeds from sales of the "Happy Heart Aged Negroni" cocktail will go to this valuable cause.
In addition, Happy Hearts Indonesia has launched its #IAMCHANGE bracelet campaign during the Garden Tree Lighting Ceremony on 29 November 2018. Designed exclusively by Greco Barcelona, the bracelet is a fundraising initiative to rebuild 200 schools in Nusa Tenggara Timur (NTT) by 2023. To support the initiative, the guest could purchase the bracelet and get a complimentary Happy Hearts Aged Negroni.
Christmas Specials
Gather friends and family to revel in the festivities of Christmas at Arts Café by Raffles. Delight in the special desserts created by MasterChef Jess Liemantara during the Christmas dinner on 24 December and the Christmas Brunch on 25
December. Partake in a tantalising spread of delicious appetisers, beautifully
crafted desserts and live stations that include a variety of festive carvings at IDR
888,000++ per person.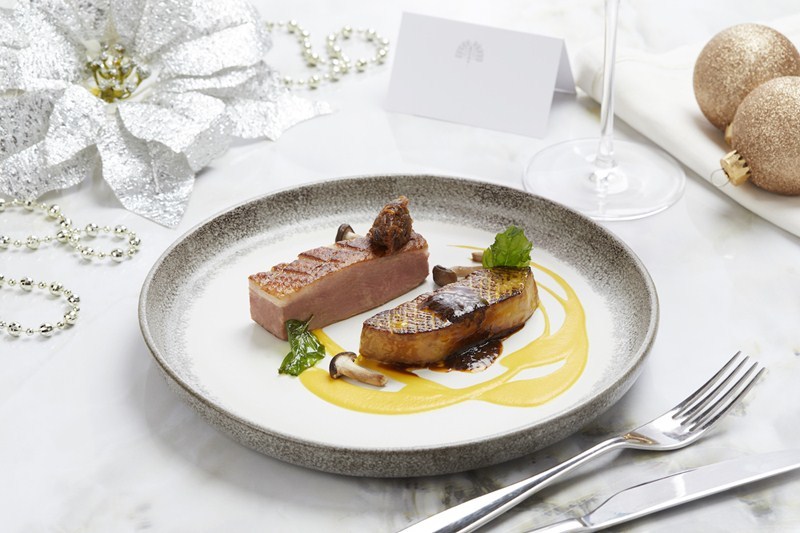 New Year's Eve Festivities
Aside from the MasterChef NYE Dinner, Raffles Jakarta also pleased to offer a magnificent New Year's Eve Buffet offering. At Arts Café by Raffles, expect a virtual tableau of art and cuisine, where the palette of sights, sounds, textures and aromas create a delightful sensory experience. Complementing the buffet experience is a variety of New Year's Eve Show Kitchen items by Chef Maria Wang.
Diners can also enjoy these additional buffet dishes and the many carving stations and food stalls on display accompanied with live music. It's going to be a truly intimate NYE night for family and friends. New Year's Eve Festivities are priced at IDR 888,000++ per person. The guest could have Free flow beer and wines and complimentary first drink at the Countdown Party with an addition of IDR 200,000++.
The Countdown Party
Whether the guest have enjoyed New Year's Eve dinner at Arts Café or with MasterChef Jess Liemantara, all are welcomed to the spectacular open-air Countdown Party on the 14th floor where the everyone could see the fireworks to celebrate the arrival of 2019 while dancing the night away to the tunes of the DJ. First drink included with dining package. Alternatively, admission at IDR 250,000++ for the first drink charge.
Children's Cupcakes and Cookies Decoration
MasterChef Jess Liemantara also hosts activities for the little ones. Kids can enjoy decorating cupcakes and cookies together with Liemantara. Sessions are available in the morning or afternoon where kids with ages from 3 to 12 years old could learn together about cupcakes and cookies decoration. Parents could have it for IDR 250,000++ per child including one adult as a companion.
Raffles Hotels & Resorts
Raffles Jakarta, Ciputra World 1
Jl Prof. Dr. Satrio, Jakarta 12940 – Indonesia
Tel: +62 21 2988 0888
Email: [email protected]
www.raffles.com/jakarta