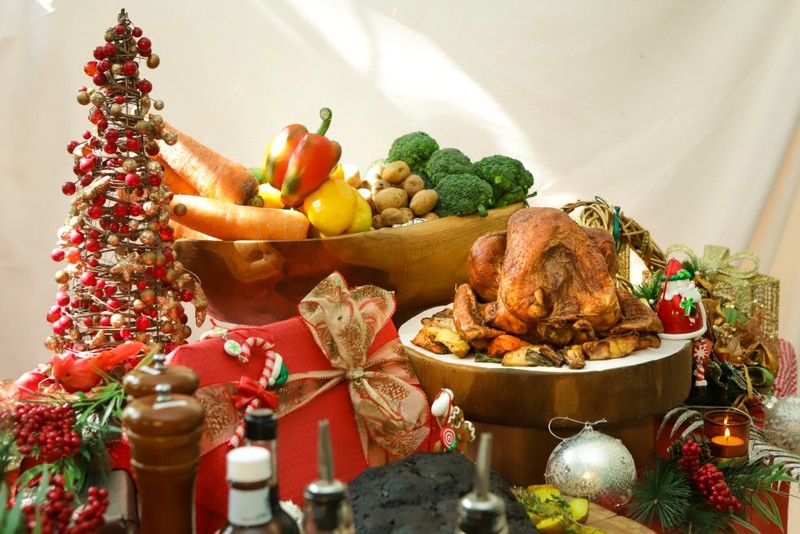 Known for its immaculate service, Royal Ambarrukmo has been echoing the wonderful experience of living like the sultanate's royalty including its culinary treats, and is offering these, especially during this holiday season. For those planning to visit Indonesia's special region this December, the hotel is ready to welcome you to provide everyone with a lavish dining experience during Christmas and New Year.
Located next to Plaza Ambarrukmo, the hotel occupies a strategic destination in the city where individuals, couples, and families can indulge themselves in luxurious festive celebrations. With a certification of CHSE from the Ministry of Tourism and Creative Economy, the hotel will make every guest feel comfortable and secure with strict health protocols to make sure everybody is safe from Covid-19.
If anyone spends Christmas at Royal Ambarrukmo Yogyakarta, the hotel's award-winning restaurant Samazana offers a sumptuous line up of festive menus including the iconic Christmas menu Oven Roasted Turkey, Salmon Wellington with Spinach and Lemon Butter Sauce, Australian Beef Striploin, Red Snapper Papillote, Grilled Lamb Chops with Honey Juice Prune, Roasted Beef Brisket Beef, and Gravy.
Live Cooking Stalls provide a wide selection of Asian Noodles, Pasta Noodles, Dim Sum menu, and Indonesian cuisine to be enjoyed with your friends and families. Assorted kids menu at dedicated Kids Station featuring Chicken Burger, Beef Hot Dog, Margaritta Pizza, Tuna Sandwich, French Fries, Crepes, Waffle, Punika homemade gelato and sorbet corner is kid's favourite snacks.
Available from 24 to 25 December, the Christmas menu is on service from 7 PM to 10 PM during dinner time where the guest could explore an array of abundant dishes presented in the buffet restaurant. If you are early, the performance of Christmas Carols from Revelo Kids Choir, Kids Violin Chamber, and soloist saxophone will welcome anyone at the lobby at 6 PM and lucky kids will get secret gifts from Santa Claus.
Christmas Eve and Christmas Day dinner is priced at IDR 225,000 net per person and IDR 120,000 net per person for kids 6-11 years old.
Join the 'Safe and Sound' New Year celebration at Royal Ambarrukmo Yogyakarta with a dining experience aligned with strict health protocols featuring full entertainment in all outlets with no more crowds in the ballroom.
Dinner starts with an attractive band performance to accompany guests having dinner at Samazana Restaurant indoor and Samazana Terrace. In Punika Deli, those who have a young soul and spirit can enjoy the live band and Female DJ performance starts at 7 PM to 1 AM after the countdown.
For another dining experience, the hotel's culinary team of Samazana and Punika Deli has curated delectable menus for New Year's Eve dinner on 31 December 2020. All are arranged carefully, yet without losing the moment of togetherness. Samazana and Punika for this festive season are only available for limited seating, therefore earlier bookings are essential.
Preference dining dishes for New Year are including Land & Sea Grill, Stir-Fried USA Scallop With Shimeji and Asparagus In Yam Ring, Steam Red Snapper with Ginger Sauce And Sesame Oil, Roasted Beef with Red Wine Sauce and Seared Mushroom, Braised Australian Lamb Guling Sauce served with Sweet Soy Sauce and Dabu-Dabu Sauce and many more available at the food station.
NYE Dinner for Samazana is priced at IDR 388,000 net per person. A big portion of Smoked Turkey Subway Sandwich only costs at IDR 158,000 net at for Punika Deli. Royal Ambarrukmo also launched newly gift called "Picnic Roll" at only IDR 235,000 net per box, a smooth large pastry filled with delicious high seasoned minced beef combined with egg, perfect for tasteful gift from the City of Yogyakarta.
Don't forget to take precautions and practice health protocols for everyone's safety. For more information and reservation, contact +62 274 488 488 or visit royalambarrukmo.com