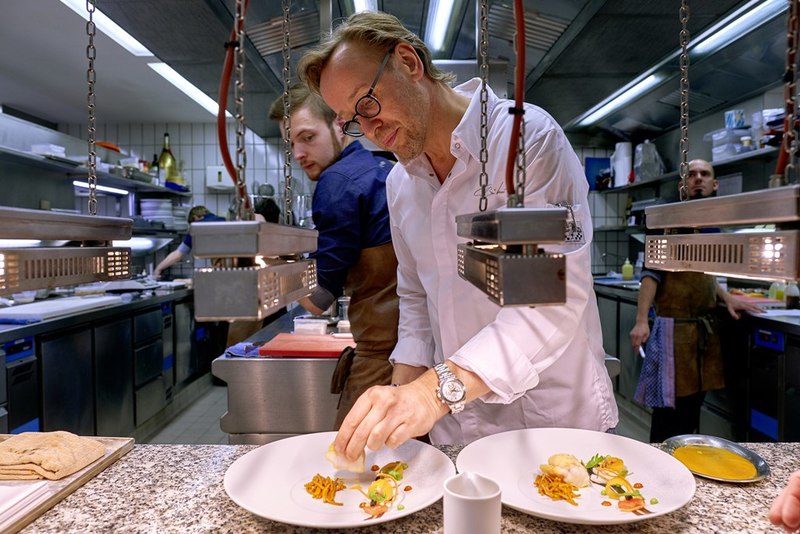 Three months following its opening, The Dining Room at Raffles Jakarta has successfully presented many renowned and award-winning Chefs to Jakarta's gastronomes. In the latest edition of the restaurant take over, The Dining Room invites three Michelin-starred Chef Thomas Buhner from Germany, who will present a 6-course dinner on 7 December.
Thomas Bühner is one of Germany's top chefs with more than twenty years of experience. He is one of only ten German chefs who are awarded three Michelin Star. Modern and three-dimensional aromatic cuisine is the character of his culinary creation. The German Chef highlights his creation with a dimension that constitutes each individual product's natural flavours, the preparation of the dishes and the extensive range of the cuisine.
Priced at IDR 2,900,000 net per person, the 6-course set menu is paired with top-quality wine. During the dinner, guests will be having pre cocktails/champagne with fermented melon mixed with water kefir and imperial caviar. Foie gras crème with coca cola gelee and lemon & rocket are among the sumptuous starters. The guest will also be impressed by Chef Buhmer's seafood creation Otoro tuna/wild cod/cod consommé l saffron.
On the entree, Mango gazpacho is presented with red gamba (carabeineros) venus shell and bouchot mussel. Potato foam with curry ice is palate cleanser before one has their second main course of protein Kagoshima wagyu a4 presented with beef tea, wagyu hollandaise and onion. The dining experience will be memorable with a handcrafted dessert, Guanaja lacteé (liquid savarin) with cherries and mulled wine.
Debuted in September, The Dining Room is a stylish and dynamic offer to Indonesian patrons, it's an innovative culinary concept that showcases a fully integrated show kitchen and a sophisticated main dining area. Through the versatility of its design, The Dining Room also hosts regular programmes including restaurant takeover with Chef Ton from Le Du, Bangkok and Chef Maxie Millian from Sangsaka Bali in September.
For more information and reservations, call +62 21 2988 0888 or email [email protected]