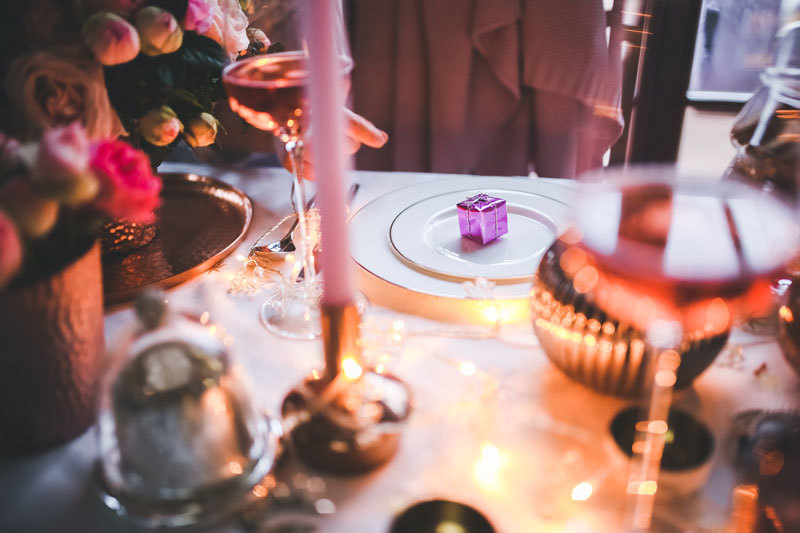 It's that time of the year again… As the world observes Valentine's Day and celebrates the magic of love, treat your sweetheart to something special this Valentine's Day. Here are some ideas where to take your significant other.
The Intercontinental Jakarta Midplaza
Channel the romantic spirit of Valentine's Day at Intercontinental Jakarta Midplaza with a choice of two exclusive dinner options at the hotel.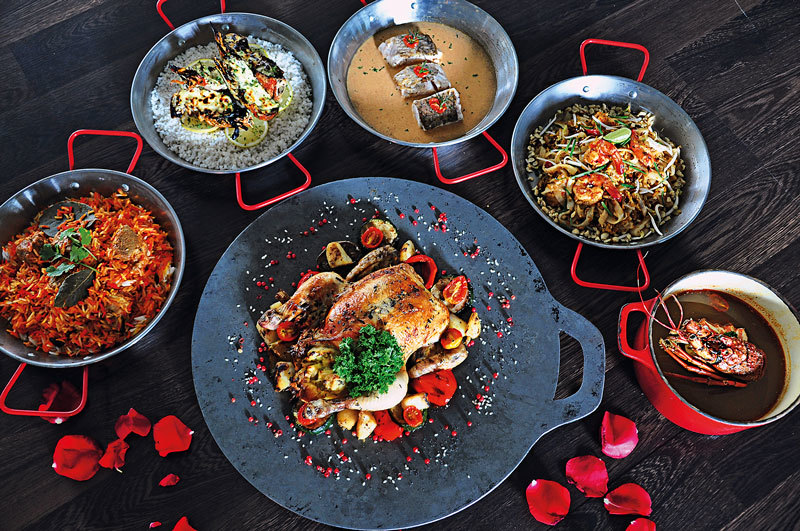 Rasa will present a stylish BBQ buffet dinner in a setting inspired by the colours of love as soft music plays in the background. There will be gourmet delicacies such as Lamb Biryani, Lobster Bisque and Roasted Lamb along with an array of decadent desserts. The restaurant will also feature an instant photo booth for couples to take fun shots together as a memento of their special evening.
For something a little more luxurious, couples can share an intimate Valentine's Day dinner in the elegant ambience of Scusa at a candlelit table filled with exotic flowers. The sophisticated six-course menu of culinary perfection including scallops, salmon, beef tenderloin will be paired with free flow of De Bortoli Sparkling Brut as live music sets the mood.
For information and reservation, please call +62 21 251 0888.
The Dharmawangsa Jakarta
The secluded Dharmawangsa Jakarta takes romance to the next level this year by showering couples with attention and luxury from the moment they set foot on the hotel grounds.
Enjoy a special Valentine's Day candlelight dinner at the hotel's private poolside cabana. The scrumptious menu consists of eight different courses including delicacies such as foie gras brioche, duck breast and organic lamb, as well as the mouthwatering Vanilla Rose Panna Cotta that will end the evening on the sweetest note possible. To complete the extraordinary experience, each cabana comes with a personal butler, while the dinner will be accompanied by the lovely tunes of violins.
Sriwijaya Restaurant, located on the hotel's ground floor, also offers a special Valentine's Day menu: set in a majestic ambience, guests can indulge in the creations of The Dharmawangsa Jakarta's culinary team. Dishes include scallops and oysters, beef tenderloin and raspberry mousse for dessert.
For more information and reservations, call +62 21 725 8181.
Grand Mercure Jakarta Harmoni
To celebrate Valentine's Day, the Grand Mercure Jakarta Harmoni offers couples to engage in a romantic poolside candle light dinner on the hotel's 5th floor.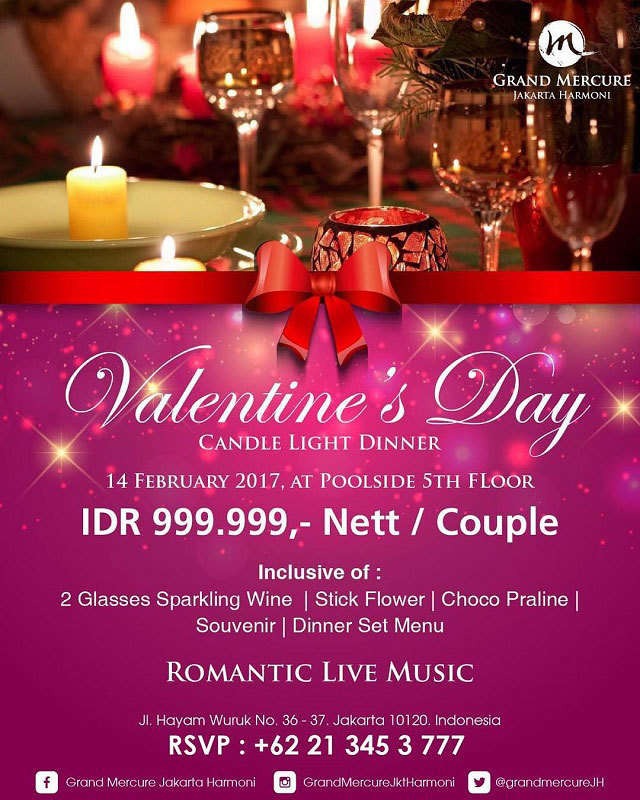 The set menu dinner includes an appetizer, main course and dessert as well as two glasses of sparkling wine, flowers, pralines and a surprise gift at the end of the evening that can be taken home as a memento of a lovely night. To add to the romantic atmosphere, a violinist will provide sweet and soft music.
For more information and reservations, call +62 21 345 3777.
Mandarin Oriental, Jakarta
This Valentine's Day, Mandarin Oriental, Jakarta invites guests to embark on a romantic journey of opulent dining experiences inspired by the Orient Express – the first and most iconic trans-European luxury train. Indulge in the beautifully designed Valentine's Day dinner menu symbolizing two of the train's legendary destinations: Paris and Venice. The journey includes a romantic dinner at Lyon restaurant presenting authentic French dishes crafted by Executive Chef Cyril Calmet.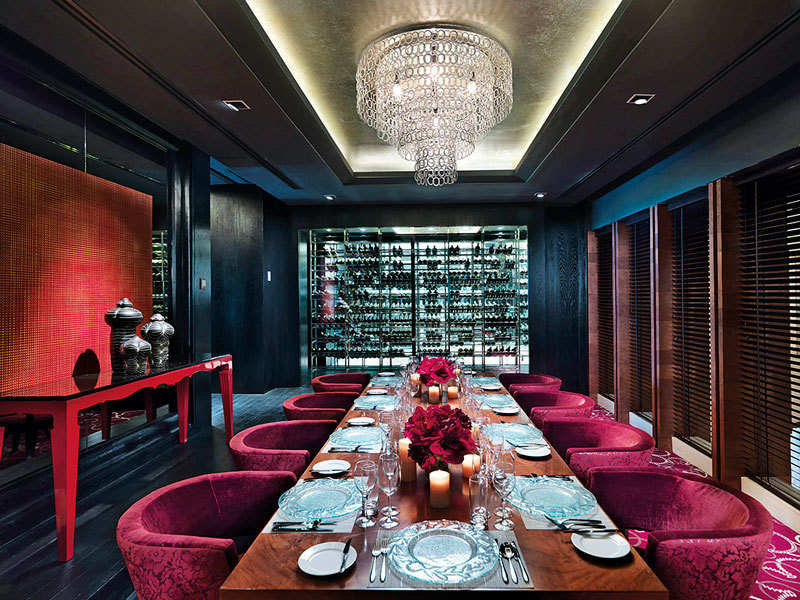 The exceptional five-course menu comprises of Valentine specials such as The Seared 'Rougie' Foie Gras, the Canadian Lobster and exclusive 'For Her' and 'For Him' desserts. Couples can also opt for the Venice-inspired 'Dine under the Stars' experience at the fifth-floor poolside. Illuminated by romantic lights, guests will be entertained by a unique water ballet performance with rhythmic love tunes from Tirta Taruna Group during the dinner. Both dinner packages include complimentary cocktails and vanilla rose tea pralines giveaway.
For more information and reservations, call +62 21 2993 8824.
The Ritz-Carlton Jakarta, Pacific Place
This Valentine, The Ritz-Carlton Jakarta, Pacific Place, will guide you in sharing the love with your partners through various romantic treats and culinary delights at the Pacific Restaurant and Lounge.
Located at the heart of Jakarta commercial district, surrounded by sparkling Jakarta skyscrapers, The Ritz-Carlton Jakarta, Pacific Place ranks among the most sought-after getaways for a luxurious Valentine's dinner date. The hotel invites couples to cherish each other's company and experience a unique candlelight dinner at the Pacific Restaurant and Lounge.
Executive Chef Sean Macdougall and his culinary team has prepared an array of delightful appetizers and main courses to elevate your romantic Valentine dining experience, to make sure you will have a night to remember.
For more information and reservations, call +62 21 2550 1888.
Gran Melia Jakarta
During this season of love, the Gran Melia Jakarta offers different choices for a romantic escape. A buffet dinner on Valentine's Day at the Cafe Gran Via is the perfect opportunity to celebrate your love. The available delectable dishes from around the world will guarantee a special Valentine's Day experience. The hotel's Japanese restaurant Yoshi Izakaya and Chinese restaurant Tien Chao also offer special menus to commemorate this special day.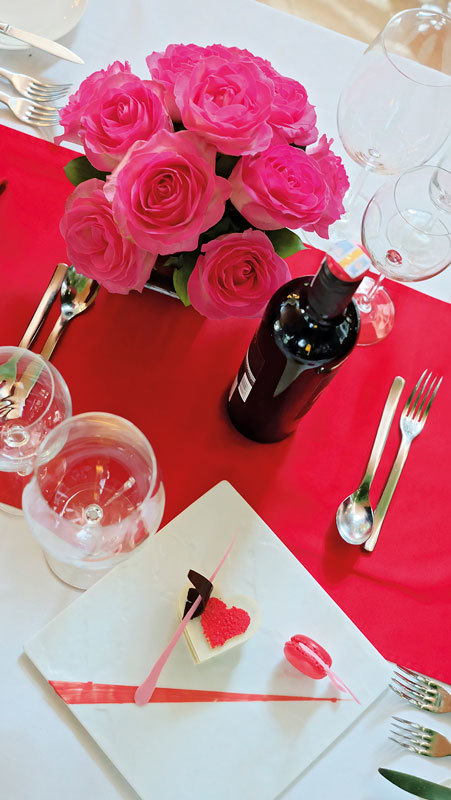 The hotel also organizes photo sessions, red roses for the ladies as well as a chance to win the lucky draw for a complimentary stay at Melia Hanoi, Melia Kuala Lumpur and Melia Bali.
During the whole month of February, Valentine's Day cupcakes, chocolate cakes and cake pops will be prepared at El Bombon Gourmet & Pastry.
Couples in need of an intimate, rejuvenating escape can book a treatment at the hotel's spa, and indulge in the two-hour Yhi signature massage at the couple's room.
For more information and reservations, call +62 21 526 8080.
Raffles Jakarta
Raffles Jakarta turns into an oasis of love during this month, inviting its guests where guests to celebrate Valentine's Day in luxurious and elegant surroundings: by dining under the stars, having a romantic dinner or enjoying a special afternoon tea.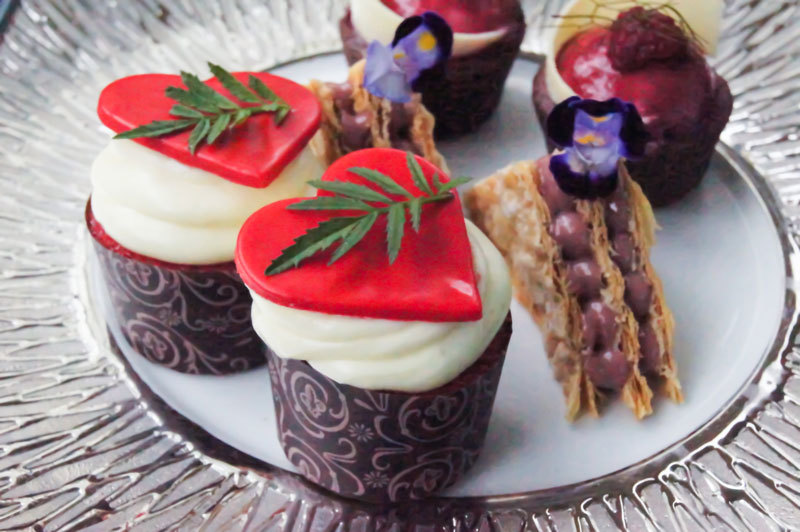 The intimate dinner under the stars takes place at Navina Pool Bar on 14 February. This unique experience begins with a pick up by the hotel's limo. As the couple arrives at the venue, Chef Daniel Patterson will have prepared a romantic six-course dinner, beginning with salmon and caviar as a starter to roast lamb as main course. The setting under the city's night sky sets the mood for an immaculate evening of romance, complete with a bottle of champagne, a special hand bouquet and a gift voucher for the spa. This special treat is available at IDR 9,999,000++ per couple; reservation should be made with a minimum of five days in advance.
A special Valentine's buffet dinner also awaits at Arts Cafe at IDR 1,088,000++ inclusive of half a bottle of wine. Guests who book this package immediately have a chance to win a Romantic Weekend Gateway at Raffles Jakarta. Enjoy the special day beginning in the afternoon with high tea at The Writers Bar, which offers a delightful spread of savouries and sweets, such as Mille Feuille of Raspberries, Grand Manier soaked Raisin Scones, Red Velvet Cup Cakes, Smoke Duck and Fig Bouche and many more at IDR 350,000++ for two persons.
For more information and reservation please visit www.rafflescom/jakarta or call +62 21 2988 0888.
Gran Mahakam
Valentine's Day is the best time to spend time with your loved ones and make it an unforgettable experience. Head to the Gran Mahakam for a Valentine's Dinner on 14 February to indulge in delightful dishes at the hotels' Le Gran Cafe or Aoki Japanese Cuisine, accompanied by live music performances.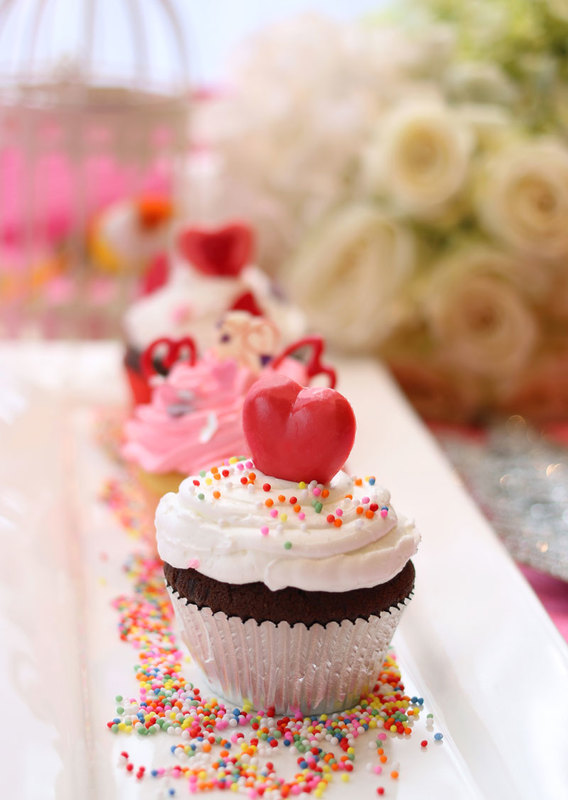 The chef will spoil you with special dishes, such as the Roulade of Smoked Scottish Salmon, Cream Cheese, Black Grapes and Dill served with Lemon and Caper Chutney. Other items on the menu include the delicious Double Cream of Tomato Soup with Lobster and Melba Toast, Herbed Crusted Cod Fish served with Carrot Puree and Roasted Fondant potatoes. A glass of sparkling wine, a stalk of rose for the beloved and a photograph of your memorable Valentine's Dinner will be given to you additionally.
Dinner at Le Gran Cafe costs IDR 338,000++ per person and IDR 349,000++ per person at Aoki Japanese Cuisine. The hotel also offers a private and romantic dinner set menu on the rooftop with a breathtaking view of Jakarta at IDR 2,500,00++ per couple.
For more information and reservation please visit www.granmahakam.com or call +62 21 720 9966.
DoubleTree By Hilton Jakarta-Diponegoro
The DoubleTree By Hilton Jakarta-Diponegoro offers three different options to couples who want to celebrate the most romantic day of the year on its premises.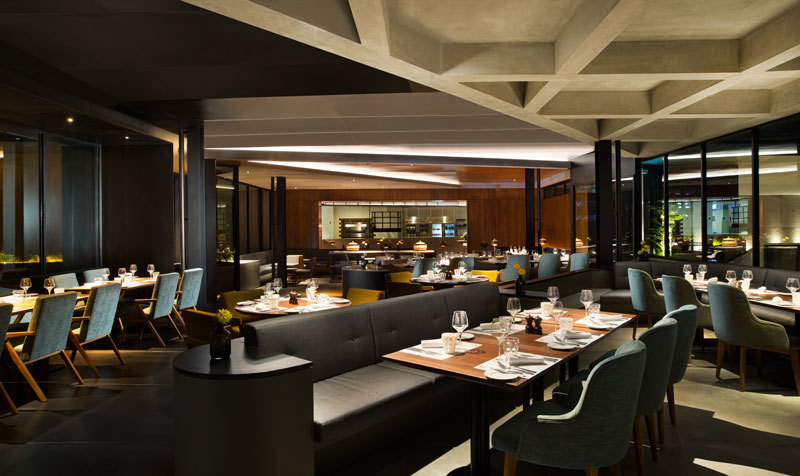 At Open} Restaurant, guests can enjoy a special arranged table set up with a stack of roses, a praline box while indulging in the special buffet dishes for dinner with priced at IDR 488,000++ including mocktail. A saxophone performance adds to the romantic ambience. If you prefer a course-seductive set menu with a glass of wine, Valentine Gift Box and a romantic solo violin performance, opt for dinner at Sea Grain Restaurant & Bar for IDR 988,000 ++ for two persons.
The Romantic Sky Beach Dinner offers a more intimate experience. The couple will have the privilege to take in the the view of the city's skyline. This dinner costs IDR 2,588,000++ for two persons. The package includes a special four-course set menu, a bottle of wine, a special arranged table set up and Valentine Gift Box.
For more information and reservation please visit JakartaDiponegoro.DoubleTree.com or call +62 21 2985 7093.
The Westin Jakarta
Take the time to enjoy a special Valentine's Afternoon Tea at the Westin Jakarta and witness nature's romantic scenery when the afternoon slowly turns into night. Appreciate every moment of this special day, by sampling the hotel's best selection of sandwiches such as Tuna Sriracha Tartare with Crispy Tortilla, Egg Bacon Salad, Prawn Cocktail with Avocado and Compressed Watermelon Feta Cheese Salad.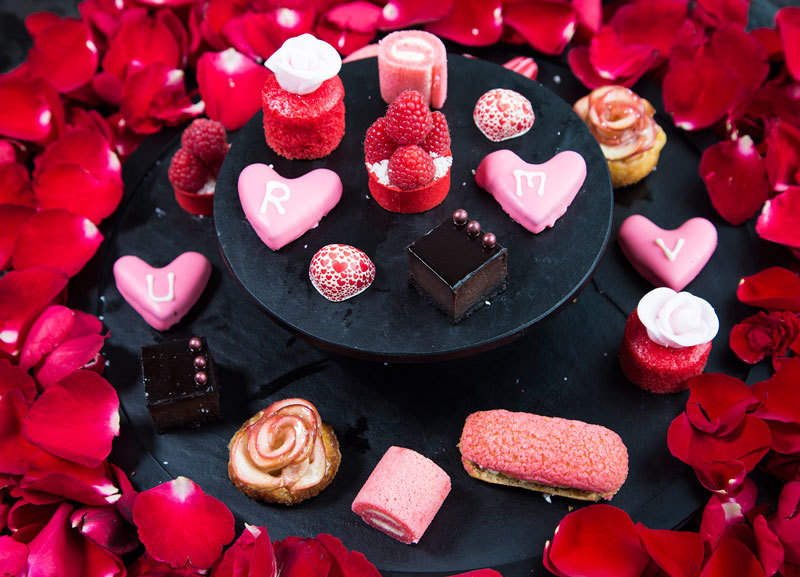 Guests can also try various mouthwatering pastries, like the Rose Apple Pie, Raspberry Tart, Slow-Baked Chocolate, Pink Eclairs, Mascarpone Roulade and Marshmallows as well as the Lemon Souffle with Coulis Sauce.
The cakes can be paired with one of the hotel's many tea selections, like English Breakfast, Earl Grey, Chamomile, Jade Sword Green Tea, Peppermint, Lemongrass & Ginger, Blackcurrant & Hibiscus and Jasmine Silver Needle. This promotion costs IDR 338,000++ per set including tea for two. It is available through 14 February at the Lobby Lounge (Level 52) of the hotel.
For more information and reservation please visit www.westin.com/jakarta or call +62 21 2788 7788 ext. 1034.
Hotel Borobudur Jakarta
Celebrate the month of love with Italian delights at Hotel Borobudur. The hotel's Italian restaurant Bruschetta serves a beautiful set menu for all lovebirds that includes an Amuse Bouche, Warm Fine de Claire Champagne Sabayon, Cep Mushroom Cappuccino Blue Cheese Tortellini, Salmon Bouchee, Bayaldi Gratin and Tomato Beurre Blanc, Beef Medallion and Crayfish, Vegetable Casserole, Foie Gras Cream and Velvet Heart and Mignardises as dessert. The package costs IDR 988,000++ per couple including two glasses of sparkling wine.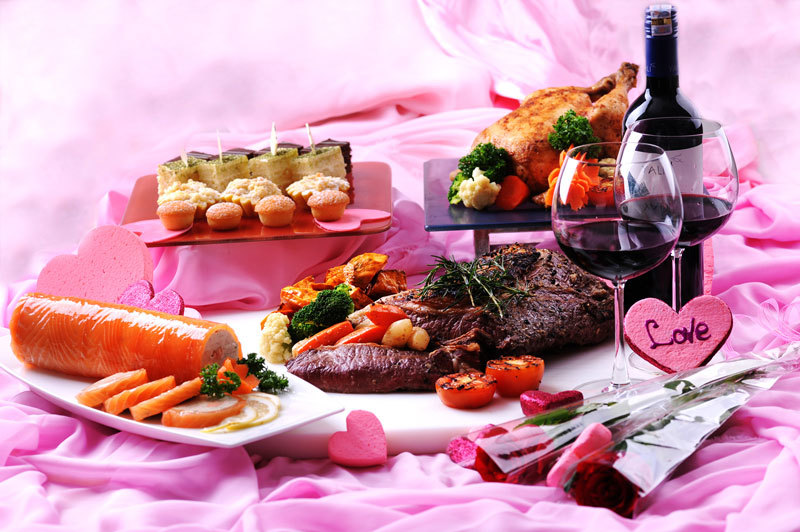 Hotel Borobudur's Bogor Cafe, famous for its legendary oxtail soup, also provides a lavish buffet that features prime rib of beef, BBQ station, fresh seafood, baked salmon and many more.
Besides an intimate dining experience, Hotel Borobudur Jakarta also offers a 150-minute spa treatment at the new Klub and Spa Borobudur where couples can relax during a side-by-side massage surrounded by soft lighting and soothing music, followed by a herbal bath with roses and fresh fruit as a complimentary. This spa experience costs IDR 1,870,000++ for two persons.
For more information and reservation please visit www.hotelborobudur.com or call +62 21 380 5555.
Sari Pan Pacific Jakarta
Celebrating the most romantic month of the year, Sari Pan Pacific Jakarta treats its guests with bold flavours in its signature restaurants. Keyaki Japanese Restaurant serves authentic Japanese cuisine in a five-course dinner set menu on 14 February for IDR 880,000++ per couple, including two complimentary welcome drinks.
Guests can also opt for the dinner buffet and experience the ultimate indulgence in a wide range of international dishes at Restoran Fiesta that range from the Chef's highlighted menus to the selected cake of the day at IDR 308,000++ per person including a welcome mocktail, a rose and chocolate giveaway.
The hotel also provides Choco de Love in a box at Sari Delicatessen as a perfect gift to express your love with sweet chocolate treats made fresh by the hotel's chef. A box with 8 pieces costs IDR 72,600 nett, while 12 pieces cost IDR 99,825 nett.
For more information and reservation please visit www.panpacific.com or call +62 21 2993 2888.
Pullman Jakarta Central Park
Pullman Jakarta Central Park has something special in store for this year's Valentine's Day. In partnership with the Palace National Jeweler, the hotel offers one happy couple celebrating their love at Collage All Dining restaurant the chance to win an exclusive Grand Prize - a special pendant worth IDR 15,000,000.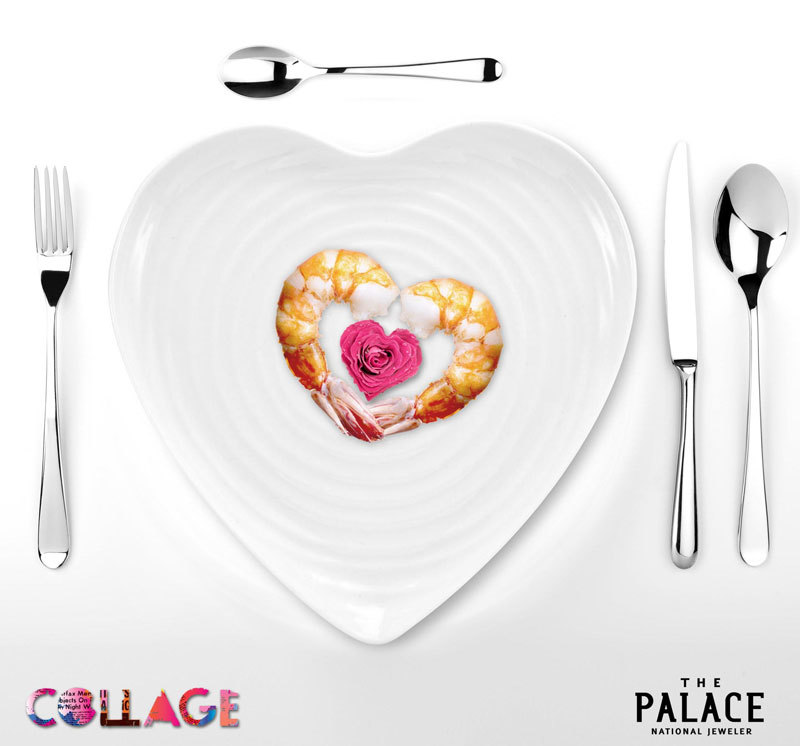 In addition, the hotel makes sure that couples enjoy the day of love from the moment they arrive by handing out a rose and an exquisite collection of Raspberry Macaroon for the lady on the table for the lady and two glasses of cocktail for the pair to toast to a special night, followed by a romantic Valentine-themed dinner, accompanied by live music performances to make for a perfect evening.
The package is available on 14 February from 6 to 10 pm priced at IDR 498,000++ per person and IDR 988,000++ per couple.
For more information and reservation please visit www.pullmanjakartacentralpark.com or call +62 21 2920 0088.
The Sultan Hotel & Residence Jakarta
To celebrate the most romantic day of the year, the Sultan Hotel & Residence Jakarta's culinary team will pamper its guests with a buffet dinner themed "Red Heart" at Lagoon Cafe on Valentine's Day. Priced at IDR 688,000 nett per couple, this scrumptious dinner includes various kinds of alluring dishes as well as two glasses of house wine. On all other days until 28 February, the hotel offers a special promotion where couples can dine together for the price of one.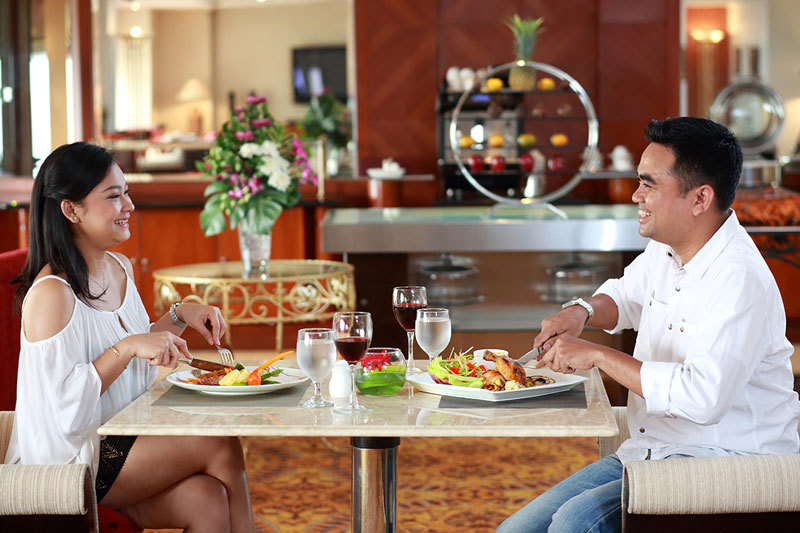 Guests can also enjoy a special room package in the hotel's Deluxe Room with a free upgrade, a special couple treatment at Lagoon Spa with a 30% discount and access to the swimming pool and fitness center, priced at IDR 1,305,000++ per room per night for a stay from 14 to 28 February.
For more information and reservation please visit www.sultanjakarta.com or call +62 21 570 3600.